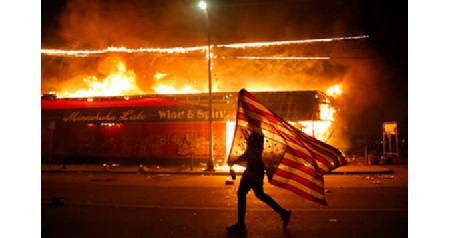 When the NFL inevitably decides that the name Vikings insults by exclusion Somalians who live in the state, I suggest the team change its name to Minnesota Looters. From late May to early June, looting was the top industry in Minneapolis.
The Democrat mayor sanctioned this by not protecting private property. Furthermore, his city council has no plans to protect anyone foolish enough to rebuild, as it voted 12-0 to begin defunding the police.
The Pioneer Press reported on Thursday
, "Top law enforcement leaders on Thursday said earlier deployment of National Guard members to assist in the response to protests, arson fires and looting in Minneapolis and St. Paul could've mitigated the damage that resulted in May.
"It's the first time state law enforcement officers have chronicled in-depth their efforts to respond to the protests.
"Tens of thousands of people took to the streets in the Twin Cities to demonstrate after George Floyd's death after former Minneapolis police officer Derek Chauvin knelt on his neck on May 25. And after a night of initial protests, some began setting fire to businesses and breaking into dozens of stores.
"The fires and looting affected or destroyed 1,500 businesses and racked up more than $500 million in damages. Gov. Tim Walz has sought federal help from the Trump administration to rebuild."
These were not protests.
The Antifa and BLM wings of the Democrat Party rioted.
Now the Democrat governor wants taxpayers in 49 other states to pay for the damage by his fellow Democrats.
Hahaha.
President Donald John Trump told him no.
The Star-Tribune just reported
, "The federal government has denied Gov. Tim Walz's request for aid to help rebuild and repair Twin Cities structures that were damaged in the unrest following George Floyd's death.
"Walz asked President Donald Trump to declare a "major disaster" for the state of Minnesota in his request to the Federal Emergency Management Agency (FEMA) on July 2. More than 1,500 buildings were damaged by fires, looting and vandalism in the days of unrest that followed Floyd's May 25 death in Minneapolis police custody, racking up more than $500 million in damages, according to Walz."
It was not unrest. It was organized chaos.
Republican Congressman Tom Emmer of Minnesota wrote to the president, "If the federal government is expected to assist in the clean-up of these unfortunate weeks, it has an obligation to every American — prior to the release of funding — to fully understand the events which allowed for this level of destruction to occur and ensure it never happens again."
I am open to relief.
Federal aid to the state should be a loan. Let Minnesotans pay the price of choosing to be a one-party state.