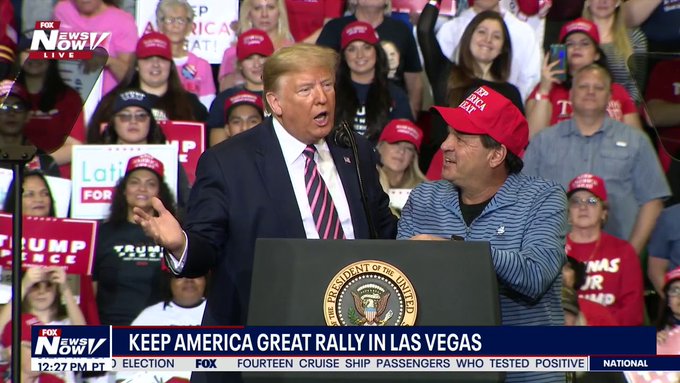 Nevada has gone Republican only twice in the last 7 presidential elections. New Mexico went Republican once in that time, for Bush by 6,000 votes in 2004. But President Donald John Trump's re-election campaign is confident about both states.
Speaking for the campaign,
Erin Perrine told the Las Vegas Review-Journal
, "In 2016, President Trump lost Nevada by 2.4%. Romney lost by 7.6% and McCain lost Nevada by 12.4%. President Trump closed the margin significantly in Nevada and had the best Republican result since (President George W.) Bush in 2004."
He lost Nevada by 2.4%.
But the pandemic panic hit Las Vegas hard and Democrats enjoy a voter registration edge of 624,673 to 530,000 Republicans, with 367,345 independents.
That's about the same, however, as in 2016 when Democrats enjoyed a 595,816 to 498,550 edge.
Overconfidence may give President Trump an advantage.
The newspaper reported, "A June memo written by Nevada Democrats' coordinated campaign director Shelby Wiltz noted, 'Among registered voters in Clark County, Republicans are now comparable to a third party.' Wiltz described Nevada Democrats' position as the strongest the party has seen heading into a general election."
The surprise is New Mexico being in play, after Hillary won by 8 points last time. That followed Obama's 10-point win in 2012, and his 15-point win in 2008.
New Mexico Republican Chairman Steve Pearce told Breitbart News
, "100 days out I still say that President Trump is going to win New Mexico and New Mexico is going to carry him over the top. I think it's going to be very close nationally, but we'll carry him over the top."
The open Senate seat may boost President Trump in New Mexico.
And Democrat riots help the president in New Mexico.
Pearce said, "New Mexico is also in the news this week because Albuquerque is one of the cities that President Trump is sending federal agents to as part of Operation LeGend. The Democrats in the state, whether it be Democrat Senator Martin Heinrich or Albuquerque Mayor Tim Keller, they've been out there attacking President Trump and the federal law enforcement officers, calling them 'storm troopers' or 'secret police,' all sorts of nasty terminology for those who seek to restore law and order to the crime ridden city there. Tell us what's going on in Albuquerque, with the president sending in federal law enforcement officers to help restore order."
Nixon flipped Nevada and New Mexico in 1968. Each state went Republican in the six presidential elections from 1968 to 1988, inclusive.
Clinton flipped them Democrat.
President Trump is well on his way to flipping them back.
He was the first Republican to be elected without Nevada in 108 years in 2016.
MNRA.
Make Nevada Red Again.