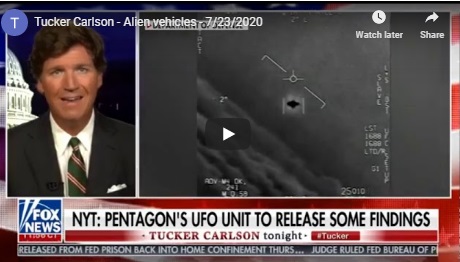 Tucker Carlson jumped the shark last night by embracing the Ancient Aliens myth. He said, "The Pentagon has been conducting classified hearings on UFOs for more than a decade. We know very little about what they found, but apparently just recovered are off-world vehicles not made on this earth."
He based this on a New York Times report
based on a former subcontractor who based it on something someone still at the Pentagon said someone else knew.
Oh, I suppose you can rationalize the story. Sure, someone at the Pentagon may have said something about UFOs, but Carlson gets only an hour a night. Surely between covid 19, Democrat riots, revelations of the Russian collusion by Democrats, the upcoming conventions, Biden's dementia, Elon Musk building the largest car plant in the world (in Texas), baseball's return, and the president's news conference on Thursday, Carlson did not have to go whack job on his viewers. That's what CNN is for.
But he did.
Jumping the shark is not the end of the show. Indeed, Happy Days went on for nearly 7 more years after Fonzi jumped the shark on September 20, 1977. At $6 million a year, another 7 years will set Carlson for life, again.
But it is not journalism.
His embrace of UFOs is like the History Channel's embrace of Ancient Aliens. He may think it will help his already nosebleed high (for cable news) ratings.
Oh well.
Weaker journalism was exhibited in a Fox story on Thursday
, "Tom Cotton rips NY Times for running China scientist's op-ed slamming US virus response."
Writer Dom Calicchio managed to write a story without interviewing anyone. He took a couple of tweets, a quote from a Times article, and a quote from a Fox show 3 days ago.
We call that blogging.
I mean it serves a purpose or I would not be doing it. But what he should have done was call the senator to confirm he meant what he said. The article began by saying Cotton "appeared to take offense." Why guess? Ask.
And the charge by the senator that the Times ran Chinese propaganda was pretty serious. He should have called the Times to get its side of the story. And if he did, he should have mentioned either what the response was or said the Times did not reply.
He is blogging. Fox can run blogs but it should not pretend blog posts are news stories.
Finally some good news. Nicholas Sandmann received an 18th birthday present from the Washington Post called vindication.
On 2/19/19, I filed $250M defamation lawsuit against Washington Post. Today, I turned 18 & WaPo settled my lawsuit. Thanks to

@ToddMcMurtry

&

@LLinWood

for their advocacy. Thanks to my family & millions of you who have stood your ground by supporting me. I still have more to do.

— Nicholas Sandmann (@N1ckSandmann) July 24, 2020
Exit Sandmann
with more than I had at 18. Much more.
Then again, I did not suffer death threats at 16 because of the bad reporting of the Washington Post.
Jesus said turn the other cheek.
The kid did.
Likely he will sock the money away, but he should also spend a little on himself. I suggest a convertible.
Newport Convertible Engineering will turn a Tesla
into a ragtop for a small fee of $39,500.
The president should invite Mister Sandmann to the White House and have him address the press corps.
Remember: this is a blog post, not a news story.
Also remember: Ancient Aliens and UFOs are not real.