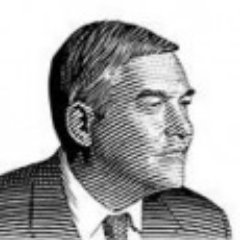 Conrad Black, Canada's gift to American conservatism, gave an insight into the Democrat Party's misfortunes that I have not seen elsewhere nor had I considered.
The party is almost leaderless.
The target of his column on the Mount Rushmore speech ostensibly was his fellows who bailed on the American people and retreated to Never Trumpland. Imagine Bill Kristol as Captain Hook playing pirate with David French as Peter Pan, sprinkled with pixie dust by Ben Shapirobell. You can fly, you can fly, you can fly.
But that target aside, Black carpet-bombed Democrats.
He wrote
, "As the leadership of Black Lives Matter is professedly Marxist and rejects the proposition that all lives matter, it is an overtly and violently anti-white, racist institution of the far Left. Antifa are violent, racist fellow-travelers. In failing to condemn these groups unequivocally, the Democratic Party will soon discover that it has been mortally infected by cohabitation with them."
Black sees prosecution.
He wrote, "It is inconceivable that the FBI — particularly with the opprobrium it has rightly attracted for its antics in the Russian collusion canard — is not close to being able to indict the leadership of Black Lives Matter and Antifa for sedition and incitement to a range of violent crimes, including murder and arson. It is also inconceivable that the country could fail to choose the president's championship of patriotic continuity with strong emphasis on racial equality and the highest standards of civilized law enforcement over the nihilism and Americo-phobic mob rule of the post-George Floyd rioters whom the Democrats in their decadent insipidity have appeased."
Finally, Black issued a strong warning to neo-conservatives, writing, "Former conservatives and pillars of the pre-Trump Republican Party are now facing the point of no return. If they confirm their support for the almost leaderless Democratic Party now closely allied with pestilence and racist mayhem, they will never have any political influence in any party again. The time to choose between irreconcilable opposites is almost at hand."
Almost leaderless means weak leadership.
The party placed Nancy Pelosi two heartbeats from the presidency simply to annoy President Trump. Four rookie congresswomen drive the party agenda whose platform now is to the left of the BLM and Antifa goons.
Biden is propped up by old guard black leaders who fear losing their supporters to the Squaws Squad and President Trump.
Black leaders do not want to admit that Obama did nothing for black Americans except raise their hopes only to dash them. Imagine if that $170 billion he gave Iran were used to build factories in black communities instead.
Republicans were not much better when it came to leaders. Donald Trump's hostile takeover revived the brand. As Black observed, 2020 is the point of no return for Never Trumpers.
Democrats reached that point when they impeached Donald Trump. Now their party kneels to a nihilistic and Americo-phobic mob -- and four Karens of color.