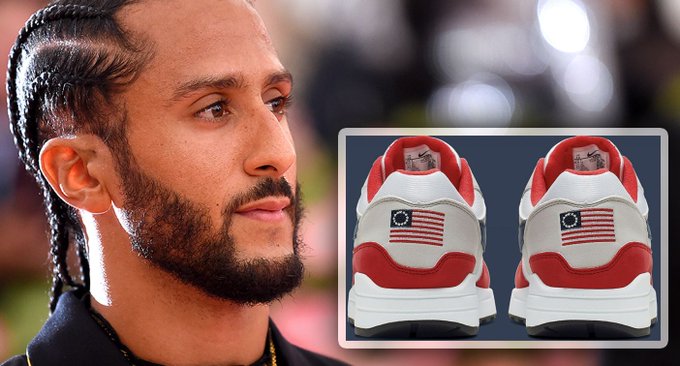 Last summer, Nike was going to offer patriotic Betsy Ross Flag shoes. Then Nike's frontman, Colin Kaepernick, complained.
On July 2, 2019,
Yahoo Sports reported
, "Nike spokesman Mark Rhodes released a statement Monday declaring: 'Nike has chosen not to release the Air Max 1 Quick Strike Fourth of July as it featured an old version of the American flag.'
"A source who went into more detail about the decision told Yahoo Sports that a significant part of the shoe's removal from circulation stemmed from complaints from Kaepernick and others about the symbolism of the Ross flag, which rose to prominence in the 1790s. Further backlash began to build on a smattering of social media platforms last week, while Nike began quietly recalling the shoes from stores as debates over the sensitivity of the product bubbled up on sneaker-centric accounts."
Rose to prominence in the 1790s?
Betsy Ross made the first one in 1776.
But what are facts in an Age of Feelings, nothing more than feelings?
Nike makes its shoes in slave-labor camps in Red China. For all his sanctimony about slavery in America more than 150 years after we ended it, Kaepernick has made millions off fronting for shoes made by slaves.
Thanks to the BLM and Antifa riots, people have begun to notice and make the connection. It is not just Nike and this nimrod. Scores of other American In Name Only companies profit off slavery.
Daniel Greenfield wrote, "The Congressional-Executive Commission on China had released a report in March on China's forced labor practices. The CECC is a bipartisan group that includes a wide range of national politicians from Senator Tom Cotton and Senator Marco Rubio to Senator Dianne Feinstein and Rep. Marcy Kaptur.
"That report led to the Uyghur Forced Labor Prevention Act which, among others, named Coca Cola and Nike. Why did the media bury the story? Because it had bad things to say about its advertisers.
"The CECC report and the accompanying legislation noted that Coca-Cola, Adidas, Calvin Klein, the Campbell Soup Company, Costco, Esprit, H&M, Tommy Hilfiger, Patagonia, and Nike were among those companies suspected of complicity in China's forced labor camps.
"Coke and some of the other companies involved denied everything, but a Wall Street Journal article noted that COFCO Tunhe supplies sugar to Coca-Cola and tomatoes to Heinz and Campbell. The Chinese state-owned company is the country's largest food processor, the world's second largest tomato processor, and one of the largest sugar processors in the world, with vast networks of plantations.
"The corporations that decry racism in America allegedly benefit from the new Communist plantations."
***
Instead of worrying about dead Confederate generals, we should be concerned about corporate slavery.
You can see why they scorn the American flag.
America ended slavery.
These companies haven't.
And we know why they vehemently oppose President Donald John Trump. He fights Red Chinese slavery.
The Trump administration announced last week
, "The U.S. Department of the Treasury's Office of Foreign Assets Control (OFAC) sanctioned one Chinese government entity and four current or former government officials in connection with serious rights abuses against ethnic minorities in the Xinjiang Uyghur Autonomous Region (XUAR).
"These designations include Chen Quanguo, the Communist Party Secretary of XUAR, and Zhu Hailun, a former Deputy Party Secretary of the XUAR. Also designated today is the Xinjiang Public Security Bureau (XPSB), as well as the current Director and Communist Party Secretary of the XPSB, Wang Mingshan, and the former Party Secretary of the XPSB, Huo Liujun.
"The entity and officials are being designated for their connection to serious human rights abuse against ethnic minorities in Xinjiang, which reportedly include mass arbitrary detention and severe physical abuse, among other serious abuses targeting Uyghurs, a Turkic Muslim population indigenous to Xinjiang, and other ethnic minorities in the region."
***
Vote Trump, end slavery.
Buy Nike, support slavery.