July is Patriot Month.
The final score was Rocky IV, Russians 0.
ITEM 1
: Start your day with some good news.
United Press International reported
, "Assembly on the world's largest nuclear fusion project began Tuesday in France as a coalition of 35 countries seek to replicate the reactions that power the sun to generate clean energy.
"The approximately $23 billion International Thermonuclear Experimental Reactor, or ITER, is expected to be assembled by 2025 when it is expected to become the first to achieve a burning of self-heating plasma that can generate 10 times more heat than is originally provided.
"'Constructing the machine piece-by-piece will be like assembling a three-dimensional puzzle on an intricate timeline and with the precision of a Swiss watch,' ITER director-general Bernard Bigot said.
"Millions of components including 3,000 tons of superconducting magnets and more than 100 miles of superconducting cables will be combined to assemble the reactor that will weigh 23,000 tons."
I hope it works.
ITEM 2
: Bill Barr testified before Congress on Tuesday. Democrats asked him questions but refused to let him answer.
Democratic Rep. Greg Stanton speaking to Attorney General Bill Barr, in a line that sums up today's Judiciary Committee appearance: 'You'll have a chance to comment after your testimony is over today.'

— Byron York (@ByronYork) July 28, 2020
The Democrat re-write of 1984 is lit.
Republicans should file that away for future use.
But I can see why they did it.
— Elizabeth Harrington (@LizRNC) July 28, 2020
Why do idiots like Jamie Raskin think they can go one-on-one with the man?
ITEM 3
:
Breitbart News reported
, "Twitter deleted Breitbart News' Periscope livestream of a Washington D.C. press conference held on Monday by the group America's Frontline Doctors and organized and sponsored by the Tea Party Patriots."
And it reported, "Twitter has restricted Donald Trump Jr.'s account after he shared a viral video of Monday's Capitol Hill press conference with America's Frontline Doctors, asserting that he violated the policy 'on spreading misleading and potentially harmful information related to COVID-19.'"
The doctors say HCQ and zinc works. It does. Twitter and the rest want covid 19 to spread because it hurts America.
How much do you want to bet Chairman Xi has a crate filled with this stuff?
ITEM 4
:
The New York Post reported
, "Two women accused of assaulting a Wisconsin state senator as he took photos of a crowd that toppled two statues during a protest last month have been arrested, police said.
"State Sen. Tim Carpenter, a Democrat from Milwaukee, was attacked in Madison on June 24 as he pointed his phone at a group of protesters who tore down two statues on Capitol grounds. He was repeatedly punched and kicked in the head and later required surgery for his wounds, the Milwaukee Journal Sentinel reports."
The story also said, "A nearby reporter told police roughly 10 people proceeded to kick and punch Carpenter as he 'tried to explain' that he was an ally to the demonstrators, police said."
I don't want anyone to ever be beat up.
Mobs always turn on the politicians who try to use them to gain and expand power.
ITEM 5
:
Anthony Watts, who usually writes about global warming, reported
, "People send me stuff. I got Facebook messages this past weekend inviting me to like both Donald Trump's and Joe Biden's pages. What I found most interesting was the HUGE disparity in likes and followers, and I thought it worth noting here.
"Trump has 28,449,428 likes, with 30,249,329 followers, while Biden has 2,182,873 likes and 2,383,321 followers.
"That's greater than a 10 to 1 ratio in likes and followers between the two candidates. While there's certainly nothing scientific about Facebook, the numbers themselves fly in the face of all these recent news polls that show Biden leading by widened margins in key states."
Hmm.
I don't know how that translates into actual votes, but I do know it shows a great disparity between Facebook's anti-Trump management and Facebook's customers. That does not seem to be a good business model.
ITEM 6
:
David Siders reported
, "Donald Trump says Joe Biden wants to abolish the suburbs. But polls show a different truth: The suburbs want to abolish Donald Trump.
"If current numbers hold, the Republican Party will suffer its worst defeat in the suburbs in decades — with implications reaching far beyond November.
"It was in the suburbs two years ago that Democrats built their House majority, ripping through Republican-held territory across the country, from Minnesota and Texas to Georgia, Virginia and Illinois.
"It would be bad enough for the GOP if that had been a temporary setback. But with the prospect of a second straight collapse in the suburbs this year, it is beginning to look like a wholesale retreat."
I probably have socks older than David Siders.
2018 was a midterm election. Every midterm runs against the incumbent president.
The tsunami of 1946 gave Republicans control of the House for the first time since the Depression began. Truman won in 1948.
The tsunami of 1994 gave Republicans control of the House for the first time in 40 years. Clinton won in 1996.
To Democrats, I say, they are eggs, not chickens.
ITEM 7
: Soy boy in a mask says what???
— Anti-Marxist GadsdenJazz (@GadsdenJazz) July 28, 2020
He is a disgrace to the race.
ITEM 8
:
United Press International reported
, "The Trump administration won't accept new applications for the Deferred Action for Childhood Arrivals program, the Department of Homeland Security said in a memo released Tuesday.
"The announcement comes more than a month after the Supreme Court ruled against the administration's attempts to end the program, which gives protections to undocumented immigrants brought to the United States as children.
"In addition to blocking new applications, the department said it would only renew applications on a case-by-case basis and renewals will be for one year instead of two."
DACA is illegal and unconstitutional because it violates federal law and was written by Obama.
The Supreme Court has not been this stupid since Roe v. Wade.
ITEM 9
: Beauty queen from Superman's Bizarro World lands the cover of Sports Illustrated.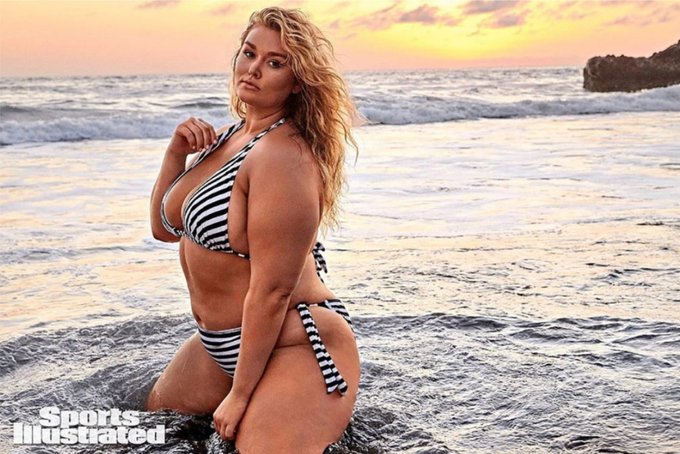 Bring back Kate Upton!
ITEM 10
:
Breitbart News reported
, "Two polls released on Tuesday show that presumptive Democrat nominee Joe Biden's lead over President Donald Trump has slipped in the key battleground state of Minnesota.
"A Trafalgar Group poll of 1,129 likely voters conducted between July 23 and July 25 with a 2.8 percent margin of error shows that Biden's lead has slipped to five points, 49 percent to 44 percent, while a Morning Consult poll shows his lead has slipped to three points."
12 days before the last election,
Hillary held a 10-point lead in Minnesota
.
She won by 1.52%.
ITEM 11
:
The Associated Press reported
, "Roughly three months before Election Day, a new poll from The Associated Press-NORC Center for Public Affairs Research finds that Biden's supporters are less enthusiastic than Trump's — both about the campaign itself and about their candidate — although the Democrat's coalition may be equally motivated by anxiety."
42% of President Trump's supporters are excited.
31% of Basement Biden's supporters are.
Dishrags are more appealing than Plugs.
ITEM 12
:
Syracuse.com
reported, "14 colleges in NY likely to 'perish' in coronavirus pandemic, new analysis says."
The list includes:
Adelphi University
Bard College
Daemen College
Fordham University
Hofstra University
Long Island University
Pace University
Sarah Lawrence College
Skidmore College
St. John's University
St. Lawrence University
The New School
The Sage Colleges
Yeshiva University
Learn to code.
ITEM 13
: Axios reported, "Some swing voters in Warren, Mich., question Joe Biden's ability to lead the country — calling him a puppet who's not mentally capable of being president — while admitting they haven't paid much attention to his events, platforms or speeches."
The story also said
, "Many of these voters prioritize the economy as their #1 issue in this election and continue to trust Trump on that issue, saying the economy was doing well before the pandemic."
The problem for Democrats is too many voters have suffered watching relatives go through this. We know.
ITEM 14
:
CNBC reported
, "Eastman Kodak stock soared on Tuesday after President Donald Trump announced a deal to work with the photography pioneer to produce ingredients in generic drugs in response to the corona virus pandemic.
"Shares of Kodak soared more than 50% in extended trading. The stock more than tripled during Tuesday's regular trading for its best day ever after the U.S. government awarded the company a $765 million loan to start producing drug ingredients under the Defense Production Act, the first of its kind."
The president said, "Our 33rd use of the Defense Production Act will mobilize Kodak to make generic, active pharmaceutical ingredients. We will bring back our jobs and we will make America the world's premier medical manufacturer and supplier."
— The White House (@WhiteHouse) July 28, 2020
Red China hardest hit.
ITEM 15
:
The Chicago Tribune reported
, "More than 100 police agencies are withdrawing from agreements to send personnel to bolster security at next month's Democratic National Convention in Milwaukee, in part because they're concerned about a recent directive ordering police in the city to stop using tear gas to control crowds.
"A citizen oversight commission last week directed Milwaukee's police chief to publicly account for why the department used tear gas during protests in late May and early June after the killing of George Floyd in Minneapolis and to change Milwaukee's police policies to ban the use of tear gas and pepper spray. The Milwaukee Fire and Police Commission said in its order that Police Chief Alfonso Morales could be fired if he fails to comply.
"That order came amid intense scrutiny of police tactics at protests in Portland, Oregon, and elsewhere.
"Since the Milwaukee order was issued, more than 100 law enforcement agencies in Wisconsin and across the country decided against coming to Milwaukee, Morales told WTMJ-TV on Tuesday. They were concerned with directives placed on the police department, including not allowing tear gas or pepper spray, he said."
Maybe they can get those Antifa hooligans to protect them.
ITEM 16
: Fascism in action.
Videos from a concert held in Southampton on Saturday show egregious social distancing violations. I am appalled.

The Department of Health will conduct an investigation.

We have no tolerance for the illegal & reckless endangerment of public health.

pic.twitter.com/gf9kggdo8w

— Andrew Cuomo (@NYGovCuomo) July 28, 2020
I want an investigation of the NYC mayor's painting of the BLM "mural" in front of Trump Tower.
ITEM 17
:
The Daily Caller reported
, "Neil Bush, a relative of two former presidents, is the co-chairman of a Beijing-based real estate firm that partnered last year with China's main producer of space and military equipment, which the Pentagon recently deemed an arm of China's military.
"Bush and Wang Tianyi, his co-chairman at the real estate developer CIIC, organized a symposium in November that hosted Chinese and Russian space officials as well as managers from the China Aerospace Science and Technology Corporation (CASC), which produces China's space equipment and much of its military arsenal.
"CIIC signed a strategic cooperation framework agreement with CASC in May 2019 that included hosting the symposium, according to a brochure of the event."
His daddy was president.
Hunter Biden Bush.
ITEM 18
: Meanwhile the sons of President Trump build stuff and aren't pawns of Red China.
— Eric Trump (@EricTrump) July 28, 2020
— Eric Trump (@EricTrump) July 28, 2020
Good family. Clean as a hound's tooth. We know because they have been investigated. The Bidens and Neil Bush have not.
ITEM 19
:
The Department of Justice announced
, "The former Chairman of Harvard University's Chemistry and Chemical Biology Department was charged today in a superseding indictment with tax offenses for failing to report income he received from Wuhan University of Technology (WUT) in Wuhan, China.
"Dr. Charles Lieber, 61, was indicted by a federal grand jury in Boston on two counts of making and subscribing a false income tax return and two counts of failing to file reports of foreign bank and financial accounts with the Internal Revenue Service. In June 2020, Lieber was indicted on two counts of making false statements to federal authorities. Lieber was arrested on Jan. 28, 2020.
"The superseding indictment alleges that Lieber served as the Principal Investigator of the Lieber Research Group at Harvard University, which received more than $15 million in federal research grants between 2008 and 2019. Unbeknownst to his employer, Harvard University, Lieber allegedly became a Strategic Scientist at WUT and, later, a contractual participant in China's Thousand Talents Plan from at least 2012 through 2015. China's Thousand Talents Plan is one of the most prominent Chinese talent recruitment plans designed to attract, recruit and cultivate high-level scientific talent in furtherance of China's scientific development, economic prosperity and national security."
Ah, the irony of a communist not paying taxes.