July is Patriot Month. Columbia, the Gem of the Ocean was the unofficial national anthem for decades. "Thy Banners make tyranny tremble, when borne by the red, white and blue."
Never forget, this country defeated the best military in the world to become free, and brought down Imperial Japan, Fascist Italy, and Nazi Germany. Has anyone seen the Soviet Union lately?
ITEM 1
:
Zero Hedge reported
, "China's Foreign Minister Wang Yi, one of the most visible senior officials in the President Xi-led Communist Party, said Friday that the current 'difficult situation' in US-Sino relations was 'entirely the fault of the US.'
"Meanwhile, CCP mouthpiece the Global Times warned in an article published roughly an hour ago that the closure of the US consulate in Chengdu will cause more strategic losses on the US side as 'Washington has long used its diplomats in Chengdu to infiltrate Tibet and other regions in Southwest China, interfering in China's domestic affairs.'
"In a statement that alludes to the western powers' criticisms of China's blatant and widespread abuses of human rights in Xinjiang, the GT cited a top Foreign Ministry spokesman, who said during a briefing on Friday that the US's consulate in Chengdu was a thinly veiled espionage operation."
I hope that Chengdu is a nest of espionage. I wish we spied on Red China as hard as Obama spied on President Donald John Trump.
ITEM 2
:
Politico reported
, "A judge on Friday denied the Oregon attorney general's request for a temporary restraining order to rein in the activities of federal agents responding to protests and unrest in Portland.
"As part of a lawsuit against federal agents in the city, Oregon Attorney General Ellen Rosenblum had requested that federal officers clearly identify themselves when seizing protesters and stop arrests without probable cause.
"But U.S. District Court Judge Michael Mosman rejected the motion, arguing that she did not present enough evidence that future harm would continue at the hands of the agents. The judge also raised doubts about whether the state had legal standing to pursue a suit on behalf of protesters or others who might be targeted by the federal officers."
It did not help the state that what the press calls protesters were trying to burn down the federal courthouse.
The Constitution is not a suicide pact
.
ITEM 3
:
The Wall Street Journal reported
, "Ratings for Disney's A&E Network have plummeted since it canceled the hit police reality show Live PD on June 10, a sign of how much the network relies on law-enforcement programming.
"Average prime-time viewership for A&E between June 11 and July 19 was 498,000 people, down 49% from the same period last year, according to data from Nielsen. In the key demographics of adults 18-49 and 25-54, the declines are 55% and 53%, respectively.
"The show, which follows police on their rounds in multiple cities simultaneously, averaged about 1.9 million viewers for its Friday and Saturday night episodes, repeatedly re-aired on other days. It spawned several successful spinoff shows, also canceled."
Bring back Mysteries of the Bible.
ITEM 4
:
United Press International reported
, "Minnesota Gov. Tim Walz signed into a law police reforms following weeks of protests in response to the killing of George Floyd by a Minneapolis police officer.
"The bipartisan Minnesota Police Accountability Act, which passed the Democratic-led House and the Republican-led Senate earlier this week, provides for mental health and crisis intervention training for officers, mandates monthly reports for each use of force incident and bans so-called warrior training and chokeholds, like the one former officer Derek Chauvin used on Floyd.
"The law also creates a new advisory council with citizen input, mandates officers to intervene when another officer uses force beyond what is reasonable and a slew of types of training."
We have been training and re-training police for decades.
How about if we try teaching communities to behave themselves and when confronted by the police to be polite?
ITEM 5
:
Just the News reported
, "President Trump said Friday that he's 'unrigging the system' with executive orders aimed at reducing the prices of prescription drugs in the U.S.
"One of the executive orders would provide discounted insulin and EpiPens to low-income Americans, which Trump said would bring the cost down to 'pennies a day.'
"The president explained that community health centers would have to pass the savings they receive on the drugs onto their patients.
"Another order would allow 'states, wholesalers and pharmacies' to safely import prescription drugs from Canada – a change Trump said the Obama-Biden administration wasn't able to make."
De-coupling Republicans from Big Pharma and other groups is liberating.
And attractive to Democrat voters abandoned by their party.
Dropping insulin prices will help plenty of West Virginians.
ITEM 6
:
Just the News reported
, "Key Republicans who led the effort to expose FBI abuses in the Russia collusion probe say newly declassified memos show agents improperly spied on candidate Donald Trump in 2016, recording his answers and actions during counterintelligence briefings.
"The new memos released Thursday by Director of National Intelligence John Ratcliffe detail the FBI's conduct during a mid-August 2016 counterintelligence briefing, Trump's first as the GOP nominee, in which an agent was secretly inserted to gather evidence of later-disproven Russia collusion.
"The agent's post-briefing memo recorded near verbatim the specific questions the future president was asking intelligence officials, even comments Trump made about his youngest son, as well as sizing up national security adviser Michael Flynn's behavior."
They still are spying on him.
Remember, Schumer bragged that the intelligence community can get you six ways to Sunday. How many other people did Obama, Schumer, and the rest of the Democrat Party have the FBI spy on?
ITEM 7
: Flashback to January 19, 2019,
when Memeorandum and the rest of the media
were all abuzz about a teenager allegedly smirking at an Indian.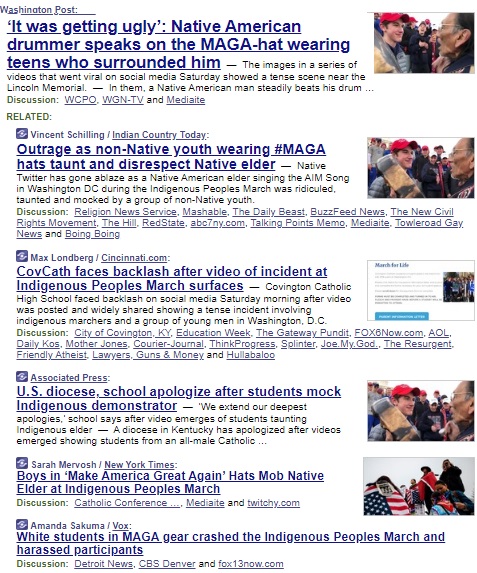 Yesterday, the Washington Post paid the teenage victim of this slander up to $250 million to settle his libel suit. CNN settled earlier.
Memorandum had not one story
linked to the settlement last night.
Compare the coverage of Smirkingate to the media's cover up of arson, rioting and looting by Democrat operatives with the blessing of Democrat mayors.
ITEM 8
:
Red State reported
, "Today, the Ninth Circuit Court of Appeals issued an opinion reversing a jury verdict and ordering dismissal of a case that was the biggest of Michael Avenatti's career in his prior profession as an attorney in Southern California.
"The case was a class-action lawsuit brought by Avenatti on behalf of Plaintiff Bahamas Surgery Center and against defendant multinational health care company Kimberly-Clark Corp."
The jury said $454 million. The Ninth said zero.
That pretty much sums up the legal career of the Creepy Porn Lawyer.
ITEM 9
: Subvet said in comments yesterday, "I know most of your readers probably won't see this as I am posting late in the day. I'm going to do it anyway.
"I am and have been a baseball fan ever since I can remember. My Father played with me in the back yard. I was 4 when I attended my first game to see the Washington Senators play the Cleveland Indians. Senators lost but I was seriously hooked. We moved to New England and the Red Sox became my team. I suffered through years of The Sox bringing us to the brink and then losing in the World Series. 1967, 1975, 1986 and then the devastating loss in 2003 play off to the HATED New York Yankees in 1983, 2004 was our redemption. The Sox won after defeating the Yankees and plowing through the St. Louis Cardinals. We finally won! I wait all winter for spring training.
"Yesterday the Red Sox unfurled a 250 foot Black Lives Matter Banner at Fenway Park. That is that, I am done. The Red Sox and MLB can kiss my *ss. I have removed my Red Sox towel from my golf bag, my ball marker from my pocket, my vintage 1986 Red Sox jacket and hat are in the trash. 65 years of my love of professional baseball has ended.
"My wife looked at me said are you sure? Yes, I am sure. BLACK LIVES DO MATTER BUT SO DO ALL OTHER LIVES. My heart is broken but the million dollar players and billionaire owners can suck it. I'll spend my money on other things. NO MORE PROFESSIONAL BASEBALL FOR THIS GUY!!!! Let them wither on the vine. I have struggled to keep the expletives out of this post. I AM FURIOUS. BTW all other professional sports are done as well."
He speaks for me and many others.
I started as an Indians fan in 1960 after they traded Colavito, which killed the team. The team had 6 winning seasons in the 35 years from 1960 to 1993, inclusive. Our glory days were Joe Charbonneau winning Rookie of the Year.
Then in 1994 came a new ballpark, a new hope, and 2 World Series lost in extra innings in Game 7.
It was nice, but it is over.
Nobody wins
.
ITEM 10
: Antifa meets the irresistible force.
— Katie Daviscourt🇺🇸 (@KatieDaviscourt) July 24, 2020
(In Howard Cossell voice): "Down goes Stay Puft Marshmallow Man! Down goes Stay Puft Marshmallow Man!"
ITEM 11
:
Fox reported
, "A Christian ministry in the United Kingdom said it received death threats and had its accounts shut down after a mob rule campaign by LGBTQ activists, falsely accusing it of conversion therapy.
"Core Issues Trust (CIT), a non-profit Christian ministry that supports men and women who voluntarily seek change in sexual preference and expression, was targeted at the end of June as the U.K. seeks to ban conversion therapy.
"Earlier this week, Barclays Bank notified CIT that it was closing the group's accounts after several other companies took action against the group. Mailchimp and Paypal suspended its services, and both Facebook and Instagram removed content from its pages."
I sure hope British law allows CIT to sue Barclays, Mailchimp, and Paypal, the latter I have never trusted and used only once.
Facebook and Instagram also need to pay for cowering to fascists.
ITEM 12
:
Reuters reported
, "Ghislaine Maxwell, the former associate of late financier Jeffrey Epstein, suffered dual setbacks in a U.S. court on Thursday, as a judge authorized the release of new materials related to her, while another judge refused to block prosecutors and lawyers from publicly discussing her criminal case.
"U.S. District Judge Loretta Preska in Manhattan directed the release of large portions of more than 80 documents from a 2015 civil lawsuit against Maxwell, the British socialite now facing criminal charges that she lured girls for Epstein to sexually abuse.
"The materials ordered unsealed include flight logs from Epstein's private jets, testimony from depositions in 2016 in which Maxwell's lawyers said she was asked 'intrusive questions' about her sex life, and police reports from Palm Beach, Florida, where Epstein had a home."
(In fake outrage voice): How dare they ask a person who aided and abetted a pedophile about her sex life.
Preska is a Bush 41 appointee.
Put her on Arkancide Watch.
ITEM 13
: Vogue reported,
San Francisco Mayor London Breed, a black Democrat, said of BLM
, "I have a real problem with the takeover of the movement by white people.
"I want people to respect the opinions and feelings of black people and allow us to decide what is in our best interest. I talk about the plan to reduce the police budget and reallocate those resources to the African American community, and a large number of non-blacks reached out to tell me what I should do for the black community. Then, they say what their community deserves because of their challenges as well. That really bothered me. The black community is capable of speaking for ourselves and deciding what's in our best interest."
Black community.
Is there a white community? If so, does it have autonomy? Can it demand defunding of socialist programs and reallocating the funds to the Caucasian American community?
White liberals did not hijack this movement.
They set it up.
But Breed is using race just as George Wallace and all those southern governors did. She was elected mayor of the whole city, not just this mythical black community.
ITEM 14
:
Fox reported
, "Five Seattle news organizations were ordered by a judge Thursday to turn over unpublished photos and videos from a May 30 protest to the police department.
"King County Superior Court Judge Nelson Lee ruled the news outlets must comply with a subpoena, saying the images of videos were needed for an investigation into the alleged arson of Seattle Police Department vehicles and the theft of police-issued weapons, the Seattle Times reported.
"The media companies subpoenaed are the Times and television stations KIRO 7, KING 5, KOMO 4 and KCPQ 13. The subpoena seeks images and videos during a 90-minute span of the protest.
"Protesters damaged six police vehicles, stole equipment and set five vehicles on fire, authorities said. A loaded Glock 43 semi-automatic pistol and a loaded Colt M4 carbine rifle with a suppressor remain missing."
Fox called vandalism and theft a protest.
Roger Ailes rolls his eyes in his grave.
ITEM 15
:
Paul Bedard reported
, "The draft 2020 Democratic National Committee platform being circulated in Washington aims to reinforce the view that liberals are best situated to battle for minorities seeking higher wages, better housing and jobs, and more money for schools.
"With the August convention coming on the heels of the Black Lives Matter protests, it features support for the movement and an expanded pledge to root out racism.
"The preamble says, 'We will give hate no safe harbor. We will never amplify or legitimize the voices of bigotry, racism, misogyny, anti-Semitism, Islamophobia, or white supremacy.'
"In promising change, it sets up one group that has it too good and is holding minorities back: whites.
"In more than 80 pages in the draft platform published by Politico, whites are mentioned 15 times, all critical, including three references to white supremacy or supremacists and one to white nationalists. The document doesn't capitalize white as it does Black, Latinos, Asian Americans, and Native Americans."
They gonna boo God again?
ITEM 16
:
The Daily Wire reported
, "Although the FBI has arrested three Chinese visa holders suspected of having memberships in the People's Liberation Army, a fourth research visa fraud suspect is being protected in the Chinese consulate in San Francisco, where U.S. law enforcement cannot enter unless invited."
Under Biden, the PLA will have a suite in the White House.
Crack down, Mister President.
ITEM 17
:
The Chicago Sun-Times reported
, "Wielding a hatchet, Otis Williams slaughtered a man and woman in Kankakee County in 1974 to keep them from talking to the police about meat, candy, cigarettes, vegetables and fruit he'd stolen from a market.
"Convicted in their deaths, Williams and an accomplice got prison terms of 800 to 2,400 years. In 2013, making his 30th appearance before the Illinois Prisoner Review Board, Williams finally succeeded in winning his freedom. The board said he was remorseful, a model inmate and no risk to the public. He was paroled by a vote of 11-4."
Model inmate.
He should have been executed 40+ years ago.