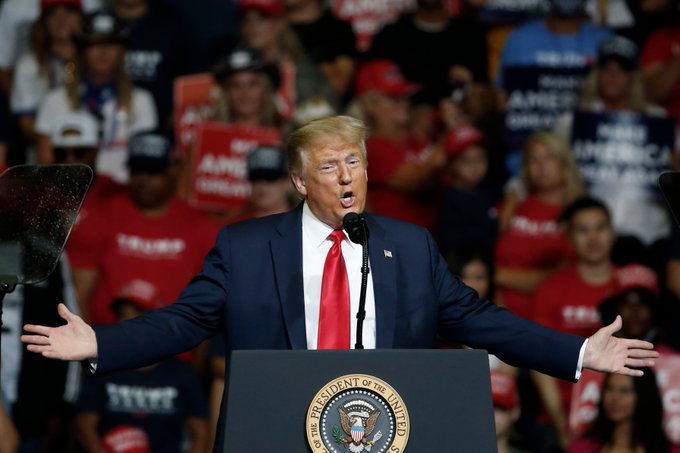 When it comes to the polls, it is what they don't say that counts.
And what the polls don't say is how many 2016 voters for President Donald John Trump are bailing on him.
That is very telling because as long as President Trump's voters stick with him, he will win re-election because they were enough in 2016.
Via Power Line
, CNN let that tidbit slip.
Before I get into that, let us examine the importance of sticking with Donald Trump.
Democrats are hung up on 46%. That's the percentage of the votes he got in 2016. Hillary got 48%. Democrats figure that without as many third-party voters, Biden will get 51% or more to President Trump's 46%.
So?
Give Basement Biden 54% and it still does not matter because most of those votes would be in blue states where Democrats run the elections and can run up the score.
I get that Californians are moving to other states. Many blame the exodus from California for the communism in coastal Oregon and Washington state. Those expatriates went north for the scenery.
Today's Reverse Okies are economic refugees. My sense is they are conservative by nature. They leave for safety reasons.
Exoduses can turn blue states red. We saw that throughout the South in the 1990s. State after state flipped Republican for the first time since Reconstruction.
West Virginia flipped red largely because Republicans fled Washington DC and Maryland to live in the Eastern Panhandle. Both our state attorney general and 2nd District congressman are refugees. The 2nd District congressman also is Hispanic, representing the least Hispanic state in the nation.
My point is, do not buy the Democrat narrative/media spin that Arizona or other places with flip blue as Californians flee the insanity.
And President Trump is keeping his base, including the Obama supporters who voted for Donald Trump in 2016.
Most prefer him over Obama.
Rich Thau in a CNN column reported
, "Each month for the past 17 months, I've had a unique window into the Americans largely responsible for giving the president his slim Electoral College victory: so-called "Obama-Trump" swing voters across the upper Midwest.
"Our Swing Voter Project has uncovered that many of these people, who live in places such as Canton, Ohio; Davenport, Iowa; Erie, Pennsylvania; and Macomb County, Michigan, prefer Trump over Biden. In fact, 22 of 33 respondents in these four most recent locations feel this way.
And over the first year of the project, from March 2019 through February 2020, more than two-thirds of the Obama-Trump voters said they would take Trump over Obama in a hypothetical match-up."
Of course, in February, the whole world went bonkers.
Thau wrote, "It's critical to understand why so many of them continue to support Trump.
They think a businessman is best suited to turn the country around economically. They feel Covid-19 was not Trump's fault, and he's doing the best he can to contain it. They conflate the Black Lives Matter protesters with the rioters attacking federal buildings and retail shops. They don't want historic monuments torn down. And they dismiss defunding the police as ridiculous.
"These voters tell me they want America finally to be put first; they oppose immigration and trade policies they say give benefits to foreigners at their expense. And they want a non-politician who relentlessly fights back, after witnessing too many office holders fold in the face of special interests."
Now the Democrats and their handmaidens in the press will tell you Donald Trump is losing white suburban women.
Oh?
They wouldn't vote for Hillary in 2016 when she was running to be the first Woman President.
Logic is not a strong suit for Democrats.
***
NOTE: I am inundated with spam comments. I spend a lot of time deleting them. If you see it, email me at DonSurber@GMail.com
Please bear with me.