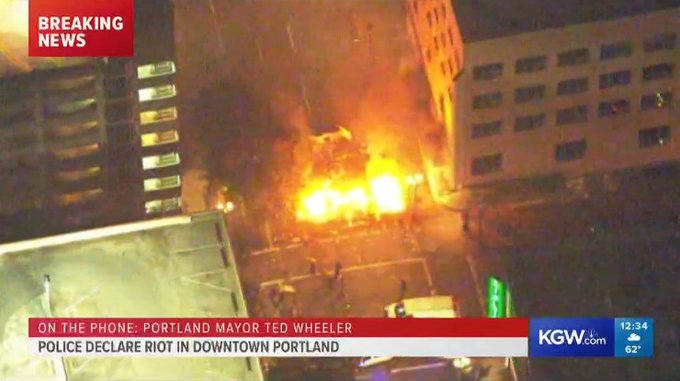 It would be less than accurate to say that rioters have taken over Portland, Oregon. Democrat Mayor Ted Wheeler turned the city over to rioters. They are his shock troops.
Democrat Governor Kate Brown, and Democrat Attorney General Ellen Rosenblum now are protecting Wheeler's violent mob from federal officers.
The media is complicit in this, insisting on describing the takeover by looters and rioters as a protest.
*reporter*

12 paragraphs of Democrat propaganda before the officers got a chance to tell their side.

You know most people won't read that deep into a story.

Your editors know this.

Please rewrite.

https://t.co/VlHwIhfZoV

— Don Surber (@donsurber) July 18, 2020
The Associated Press is promoting this violence and intimidation. Its report on Portlandia's insurrection was Pravda worthy.
AP said, "The mayor of Portland demanded Friday that President Donald Trump remove militarized federal agents he deployed to the city after some detained people on streets far from federal property they were sent to protect.
"'Keep your troops in your own buildings, or have them leave our city,"' Mayor Ted Wheeler said at a news conference.
"Democrat Gov. Kate Brown said Trump is looking for a confrontation in the hopes of winning political points elsewhere. It also serves as a distraction from the corona virus pandemic, which is causing spiking numbers of infections in Oregon and the nation. [AP failed to mention riots spread covid 19 in Portland and elsewhere.]
"Brown's spokesman, Charles Boyle, said Friday that arresting people without probable cause is 'extraordinarily concerning and a violation of their civil liberties and constitutional rights.'
"Oregon Attorney General Ellen Rosenblum said she would file a lawsuit in federal court against the U.S. Department of Homeland Security, the Marshals Service, Customs and Border Protection and Federal Protection Service alleging they have violated the civil rights of Oregonians by detaining them without probable cause. She will also seek a temporary restraining order against them.
"The ACLU of Oregon said the federal agents appear to be violating people's rights, which 'should concern everyone in the United States.'"
***
What should -- and does -- concern people is the loss of safety in city after city as Democrat mayors use gangs and Antifa to create chaos in the streets in an attempt once again to get President Trump.
In New York City, the mayor painted Black Lives Matter -- dog whistle racism -- in the streets, cut a billion dollars from the next police budget, and failed to protect (or even speak out against) the looting of high-priced jewelry in stores in Manhattan.
Democrat Oracle AOC said they were stealing bread. They must have made Rolex sandwiches then.
The New York Post reported that bats were delivered to rioters. (The Post called them protesters.) Later that day, a woman attacked and beat three police officers.
This is not an uprising. Street violence is a de facto tool of the Democrat Party in its obsession to revoke the 2016 election results.
Most Americans are appalled by the violence, the looting, and the arson. Most Americans favor funding the police. Most Americans do not want to live in Portland, New York, Chicago, Baltimore, and the rest of the big cities where mayors encourage rumors.
Sadly, millions of residents of those urban wastelands are stuck there.
But they can vote their way out on November 3. In a second term, President Trump will have more flexibility to take on the Democrats who torment America.