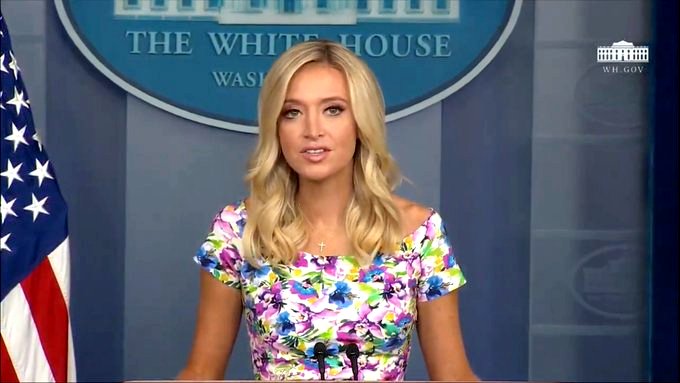 Kayleigh McEnany has nothing to do with this post but I figure readers would rather look at her than my botched attempt to make Donald John Trump look like Paul Newman as Cool Hand Luke.
As the president takes heat from
Chicken Littles who whine about acting presidential
, President Trump remains coolly presidential in handling two nation-paralyzing events simultaneously.
In both cases, the president gave Democrats plenty of rope and watched them hang themselves.
Governor Andrew Cuomo, D-Covid 19, started out as
the dreamy Democrat alternative to President Trump
. He ended up turning his state into Covid 19 Central, and feuding with fellow Democrat Mayor Julio de Castro. Excuse me, Bill de Blasio.
Across the land, President Trump deferred to governors. States took responsibility with governors taking the flak and the laurels. Americans are not used to handling a national crisis like that.
President Trump instead focused on the economic fallout from the pandemic panic. He led the federal government to do what it could with a mass aid program of $3 trillion or so.
Every American taxpayer got a check for $1,200. Mine came the first day through a direct deposit to the account I settle my federal taxes when my CPA files my taxes. The unemployed got a $600 a week stipend on top of their unemployment insurance.
This kept the economy from falling into an actual recession. It did drop abruptly but the quick bounceback was stunning.
The federal government announced today a net gain of 4.8 million jobs in June, which dropped unemployment to 11.1%. Experts told us two months ago it would be thrice as high and would top 30%.
Democrats thought their lockdowns had wrecked his MAGA economy, which they believed would lead to a landslide for Doctor Demented and the end of capitalism. Instead, President Trump is making America great again -- again.
Voters notice.
Covid 19 so failed Democrats that they unleashed Antifa to turn cities aflame in the summertime.
How is that working for them? Seattle's Karen mayor, Jenny Durkan, stuck her tongue out at the president and turned six blocks of her city over to these thugs. Three weeks later, she had police shut it down after the thugs went to Her House. How dare they? She wants to talk to their manager.
Democrats thought President Trump would send the riot police to shut them down. He did when the thugs took over the park across from the White House and torched a church. The press made it look awful. President Trump adapted to the situation. He took a step back. Democrats went crazy and tore up city after city after city. Their thugs acted like the criminals they are and eventually got arrested.
The Washington Post today complained, "Trump's Twitter feed reads like a local crime blotter as he stokes a culture war."
Hahaha.
No, dearie, he is just shining the light on these hooligans because otherwise, democracy dies in the darkness of a mob of Democrats.
And as Democrats whine about the tweets, I laugh at conservatives who wet themselves over his tweets because those tweets were very educational.
Democrats now realize that they went way too far. My goodness, they tried to tear down the Lincoln emancipation statue which was purchased by grateful freed slaves.
Douglas Brinkley, whom Democrats bill as a presidential historian, told the Post, "His argument is Main Street values against a crazy wave of anarchy. A lot will depend on how inflamed the monument issue gets. Trump has a vested issue in this. He's actually cheering the anarchists on, daring them to take more down."
Ann Althouse, a sage and a retired law professor, wrote
, "This dynamic of Trump taking advantage of the iconoclasm and the iconoclasts ramping up their destruction might hurt the moderate Democrats who are trying to win the 2020 elections. It's not a good issue for them, and hanging back and waiting for it to die down and go away on its own isn't working."
Americans know our history is not perfect. We also know Lincoln freed the slaves. And we suspect if Democrats get away with this, Martin Luther King is next.
We also know if we want to make America great again, there is only one way to vote.
Readers know how optimistic I am. The increase in number of jobs even blew me away. President Trump gets full credit. He did not panic. He knew what to do and did it.
The last 24 hours have returned the election to normal. Democrats are doomed.
The sky is the limit, America. For the first time since Coolidge, we will have a second-term Republican president who controls the House and the Senate.
President Trump will eye the people most responsible for our woes in 2020 and rally the world against Red China.
But we have a long way to go and Democrats have some more bullshit to try. It won't work, but Acme keeps peddling its shoddy merchandise, and Democrats keep buying.
Road Runner must own Acme. That is the only explanation.
Keep the faith, dear readers. As someone brighter than you or I said, "America Will Never Be A Socialist Country," and "We Were Born Free And We Will Stay Free."