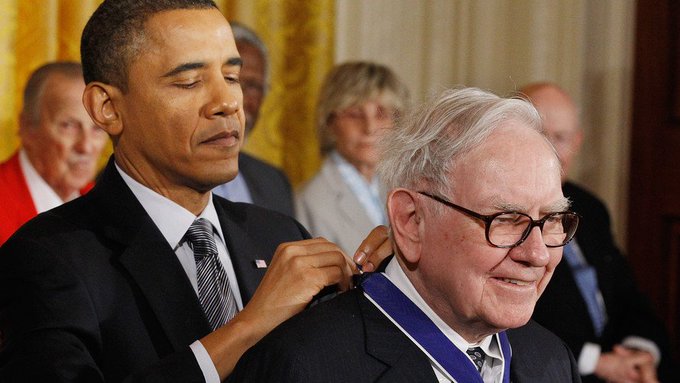 When E.F. Hutton talked, people listened. But death silenced him in 1962, and his firm folded in 2012. So now Wall Street listens to Warren Buffett, and I believe he just shouted re-election.
The Motley Fool reported
, "Between July 5 and July 22, Warren Buffett and his team deployed over $10 billion of the company's capital.
"During the first week of July, Berkshire Hathaway announced that it would be acquiring an assortment of natural gas transmission pipelines and storage assets from Dominion Energy (NYSE:D) for $9.7 billion. This effectively includes paying $4 billion for the assets and assuming $5.7 billion in debt from Dominion tied to these assets.
"For Dominion, the disposition of these transmission and storage assets will allow it to focus almost exclusively on its utility operations. The roughly $3 billion in cash received from Berkshire Hathaway, after taxes, will be used repurchase shares of the company's common stock, which may have a positive impact on earnings per share and perceived attractiveness by investors.
"As for Berkshire Hathaway, it more than doubled its share of interstate natural gas transmission in the U.S. from 8% to 18% and landed itself a cash cow in the process. It also doesn't hurt that Berkshire nabbed a 25% stake in liquid natural gas export, import and storage facility in Cove Point, Maryland. This is one of only six LNG import/export points in the U.S."
He is still sitting on, as Taggart said in Blazing Saddles, "a shitload a dimes" and waiting for an opportunity to get as rich as Jeff Bezos.
But Buffett's move into fossil fuels is telling. The man loved Obama's presidency, which thanks to squashing the Keystone XL pipeline protected his railroad monopoly on hauling oil out of North Dakota which produces a million barrels of oil a day. (1.22 million in April even as demand crumbled.)
Biden is a whole 'nother deal.
Fox reported
, "A 2020 presidential election win by former Vice President Joe Biden represents the 'biggest risk' to Warren Buffett's latest deal, according to one industry expert.
"Buffett's Berkshire Hathway on Sunday announced plans to purchase Dominion Energy's natural gas transmission and storage network for $9.7 billion, including debt. A Biden presidency would likely lead to stricter regulations on the energy industry."
Crazy Joe is pushing the Green Deal.
The last thing you want to own under President Biden would be a fossil fuel company.
There is a possibility that Buffett plans to ship the natural gas overseas to Europe, but that would require a cogent foreign policy from a Democrat. Biden's party stopped standing up to Russia when Oswald assassinated Kennedy.
All of which makes Buffett's move into fossil fuels telling politically.
Fox reported, "Berkshire's deal for Dominion's natural gas assets is 'classic Buffett in the sense that it's a best-in-class operator whose valuation is discounted because of macro or exogenous forces,' Cathy Seifert, director at New York-based CFRA Research, told Fox Business.
"The deal, which includes more than 7,700 miles of natural gas transmission lines and 20.8 billion cubic feet per day of transportation capacity, will help Berkshire increase its scale and presence in the energy space."
Buffett does not like Donald John Trump
, but he just bet $10 billion on President Trump's re-election.
Actions speak louder than polls.