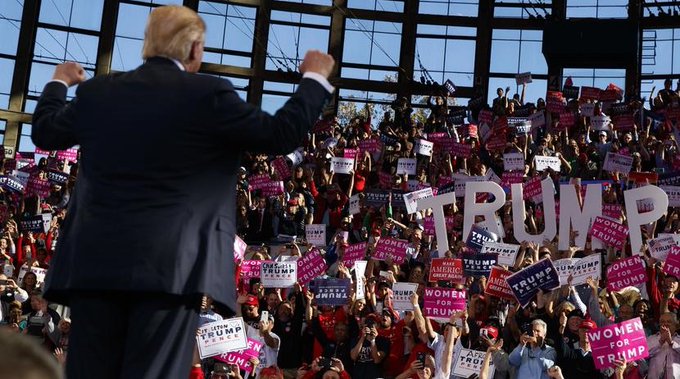 What is with these Rose Garden lectures? President Donald John Trump has become a prisoner of the White House. The way to get the people to get out of the house is to leave the White House and get back into America.
You lead by example. The president is calling for schools to re-open.
OK.
He can begin by re-opening his campaign.
President Trump needs to hold a rally a day. The venue does not matter. The crowd size does not matter. Being out and about does.
Daily White House press conferences put him at the mercy of the press. While we like a combative president, we want him to go one-on-one with Chairman Xi, not Jim Acosta.
The daily covid 19 briefings were a disaster that elevated Fauci to Yoda status while demoting the president to sidekick. Fauci has been wrong on covid 19 every single time. Yet he has credibility on the subject.
Likewise, Andrew Cuomo has killed more nursing home patients than Jack the Ripper, and yet New Yorkers love him.
That daily briefing game is rigged. It is the press equivalent of three-card monte. The president should not play it.
He needs to go back to what worked for him. There won't be an Iowa State Fair this year or any other normal activity out of doors. Red China has seen to that.
But he can make the outdoors fun again. Instead of discouraging him, Tulsa should have encouraged him. Instead of looking at it as 19,000 people not showing up, he should look at the 6,500 people who did.
President Trump should measure the crowd's enthusiasm, not its size. Size does not matter. Being out and about does. People need a reason to vote for him that does not involve hating the New York Times. We do that regardless of who is president.
In 1948, Harry Truman faced the governor of the nation's largest state who was well ahead in the polls.
In 1980, Jimmy Carter faced the governor of the nation's largest state. The polls were even.
Truman hit the road in a train of 16 railroad cars as he toured the country. Give 'em hell, Harry, was his slogan.
Carter adopted a Rose Garden strategy. Iran didn't hold just 51 Americans hostage. Iran held him hostage in the White House.
Truman would go on to win his election, while Carter suffered the biggest loss for an incumbent since Hoover.
President Trump must make his case for winning a second term. He must reassure the public that he will make America great again -- again. He is a salesman. If he has to go door-to-door selling his candidacy, then he should do it.
I get that he is well on his way to raising a billion bucks. But money doesn't matter in a presidential race. States do. Donald Trump proved that in 2016.
He must learn from that experience. President Trump has to hit the road and win those states.
America needs you, Donald J. Trump. Donald, could you please come home?