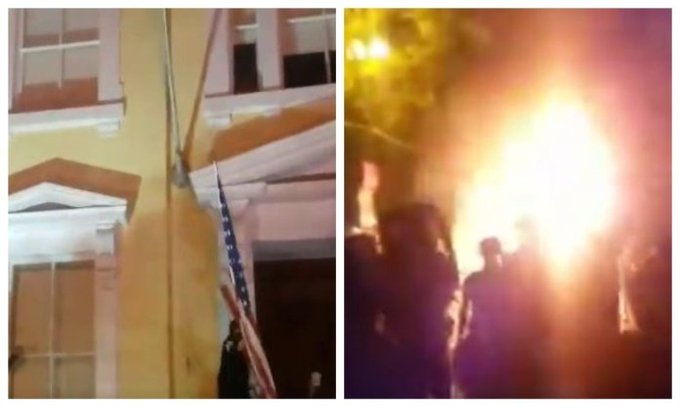 Wattles are a-quiver within the mainstream religious hierarchy. President Donald John Trump visited a church.
In their Greta Thunberg voices they demanded How Dare He!
NBC reported
, "Lawmakers, former elected officials and religious leaders voiced outrage at President Donald Trump after police used tear gas and flash bangs against peaceful protesters outside the White House to clear the crowd for Trump to do a photo-op at St. John's church on Monday evening.
"House Speaker Nancy Pelosi, D-Calif, and Senate Minority Leader Chuck Schumer, D-N.Y., said in a joint statement that Trump is ripping the country apart when Americans are crying out for unity over the murder of George Floyd in Minneapolis last week."
[UPDATE:
Park Police deny they used tear gas
.]
The peaceful-by-day, arsonist-by-night protesters had tried to burn the church down the night before.
They are trying to tear the nation apart.
I cannot find any condemnation by Pelosi or Schumer of the violence and destruction by Antifa and other Democrats.
Instead Pelosi and Schumer said, "Tear-gassing peaceful protesters without provocation just so that the president could pose for photos outside a church dishonors every value that faith teaches us. We call upon the president, law enforcement and all entrusted with responsibility to respect the dignity and rights of all Americans."
Yawn.
Chief Justice John Roberts and the four Democrat justices just voted to allow Democrats in California to ban attending church on Sunday.
The peaceful and arsonist protesters would not move. The military moved them.
NBC quoted Father James Martin, whom it described as a prominent Jesuit priest and author.
He said, "Using the Bible as a prop while talking about sending in the military, bragging about how your country is the greatest in the world, and publicly mocking people on a daily basis, is pretty much the opposite of all Jesus stood for."
Lincoln used the Bible and prayed for the troops he sent to fight to end slavery.
Then there is the bishop of St. John's, Mariann Edgar Budde.
She said
, "I am outraged. The president did not pray when he came to St John's nor, as you just articulated, did he acknowledge the agony of our country right now — in particular, that of the people of color in our nation who wonder is anyone in public power will ever acknowledge their sacred worth and who are rightfully demanding an end to 400 years of systemic racism and white supremacy in our country … We distance ourselves from the incendiary language of this President."
Our president called for ending the violence that almost destroyed her church.
He never mentioned race.
The politicization of the Bible by Martin, Budde, and other leaders of mainstream churches explains why
the Christian Post reported
, "Presbyterian Church (USA) recently reported that it lost around 50,000 members and over 100 congregations in 2019, which was hailed as a slowing of their years-long decline.
"The largest Presbyterian denomination in the United States released a report last Thursday regarding the current membership and church numbers.
"From 2018 to 2019, PC(USA) went from approximately 1,352,000 active members to approximately 1,302,000 members, or a drop of around 50,000.
"The number of congregations belonging to PC(USA) also declined, going from 9,161 in 2018 to 9,041 in 2019. This is around 400 fewer congregations than the denomination had in 2016.
"The Rev. Dr. J. Herbert Nelson, II, stated clerk of the PC(USA) General Assembly, said that report was good news since membership did not drop below the 1.3 million mark."
Communists are destroying American churches from within through mobs on the outside and liberals on the inside.