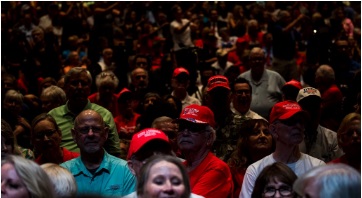 The New York Times alleged, "Trump Faces Mounting Defections From a Once-Loyal Group: Older White Voters."
But despite the headline, the Times could not find one supporter of President Donald John Trump who flipped.
And therein lies the key to President Trump's re-election. His supporters are not abandoning him. He took 30 states in 2016 with them. He will take 30 with them again, and as his army of supporters grows, 7 other states could flip in his direction.
In fact, Karen Gamble, 65, of Reidsville, North Carolina, told the paper she is voting for him again. She said, "We can't blame him for covid-19 — how many presidents could really do any better than what he's done?"
In Tucson, Gerald Lankin, 77, told the paper, "He hasn't really done anything that I can say I'm against. I think what he's doing is the best he can. But, boy, he is tough to take. He is a tough guy to take."
The closest the Times came to a defector was Frederick Monk, 73, of Mesa, Arizona, who told the paper he has not made up his mind. But he said, "Hopefully the Democrats retake the Senate and make his next four years miserable, if he lasts that long."
That is an interesting take.
While President Trump draws criticism from the media for not showing leadership, the fact is the public knows better than the pundits. Americans know President Trump is not responsible for covid-19 or the death of George Floyd. That is why the Times posted that ridiculous Russia Offered Bounties In Afghanistan hoax story.
We know it is a hoax because under President Trump, 63 American soldiers died in Afghanistan.
Under Obama, 1,729 American soldiers died in Afghanistan.
Under Bush, 562 American soldiers died in Afghanistan.
Speaking of hoaxes, the press is running polls so skewed in Biden's favor that a few people have begun to worry if Biden can pull it off.
The Hill ran a column
, "Are Trump supporters punking the polls?"
I doubt it. The polls are just bad.
But the first Rule of Reading a News Story is to look for what the reporter does not say.
I have noticed that the stories on the polls are not showing what percentage of the president voters are voting for Biden.
In 2016, Donald Trump won with 8% of the black vote. His approval among black likely voters was 22% the day George Floyd died.
A month later, President Trump's approval among black likely voters is 37%.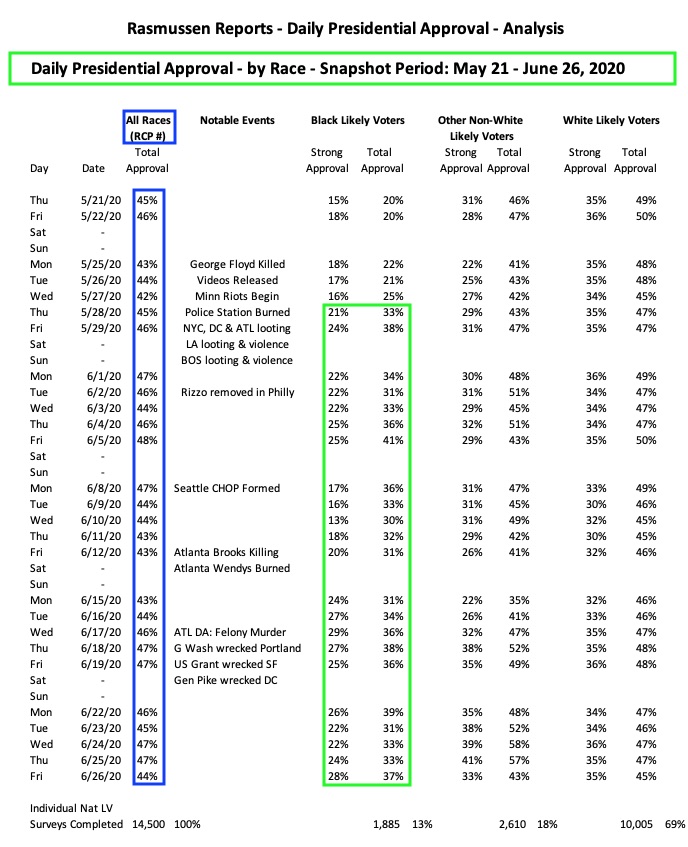 The bottom line is President Trump's voters ain't budging; Democrat voters are.