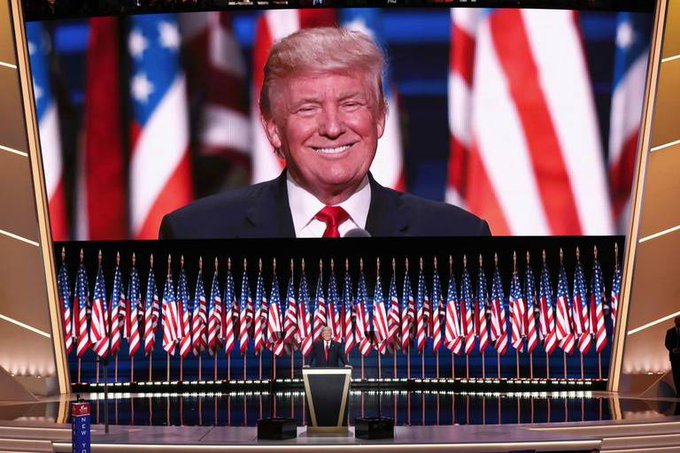 Charlotte will not host the 2020 Republican convention because North Carolina's Democrat governor would rather bankrupt the state than play fair.
Fox reported, "President Trump announced late Tuesday that Republicans are forced to seek another state to host their convention, saying North Carolina's governor was still in Shelter-In-Place Mode" and had 'refused to guarantee that we can have use of the Spectrum Arena in Charlotte, despite earlier assurances.
"The president didn't name an alternative venue. Earlier in the day, GOP officials said they had started visiting potential alternative sites after Gov. Roy Cooper, a Democrat, told them the corona virus pandemic required them to prepare for a scaled-back event if they wanted to hold it in Charlotte."
Had long planned to have the Republican National Convention in Charlotte, North Carolina, a place I love. Now,

@NC_Governor

Roy Cooper and his representatives refuse to guarantee that we can have use of the Spectrum Arena - Spend millions of dollars, have everybody arrive, and...

— Donald J. Trump (@realDonaldTrump) June 3, 2020
...millions of dollars, and jobs, for the State. Because of

@NC_Governor

, we are now forced to seek another State to host the 2020 Republican National Convention.

— Donald J. Trump (@realDonaldTrump) June 3, 2020
Once again, Democrats are being petty.
Remember Pelosi denying President Trump a venue for his State of the Union address in 2019.
After that, she allowed it and gave him her Mean Girls clapback.
This year, she tore up his speech.
Of course the worst actor was Obama who failed to be decent and American by giving him a peaceful transition of power.
Obama instead spied and embedded a resistance within the new administration.
I would move the convention to Savannah, and book all the hotels in a 20-mile radius. Let the press and the protesters pound salt. The president could stay at Fort Stewart, a helicopter ride away.
President Trump could always host it at Trump National Doral Golf Resort, where he wanted to host a G-7 summit. Only 643 rooms but Miami has plenty of hotels which likely sit empty in August.
The city of Charlotte plans to sue. Unless it could guarantee the convention could go on in full, it has no case.
Or maybe this is just a feint to gain leverage.