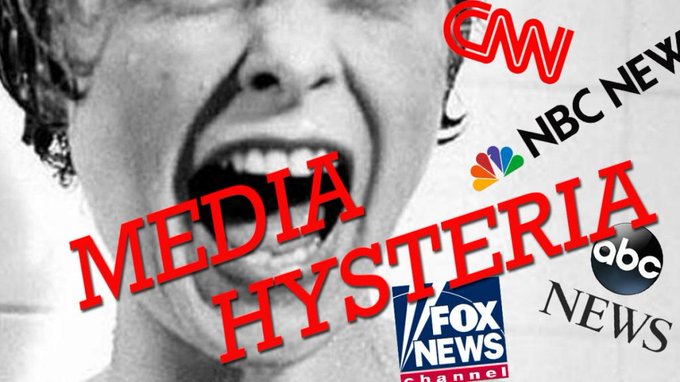 Hysteria pays.
The media has successfully sold impeachment, pandemic panic, and racial animosity to the American people this year, and reaped rewards. Americans reward this irresponsibility by tuning in and accepting the reality presented.
100 years after Warren G. Harding campaigned from his porch to win the presidency, Biden may go from the basement to the Oval Office.
The Associated Press reported
, "Since George Floyd's death on Memorial Day in the custody of Minneapolis police, CNN's prime-time audience is up 238% over last year, the Nielsen company said. Fox News Channel is up 61% and MSNBC up 40% in the same period.
"Fox News remains the most-watched cable network. But in the past two weeks, CNN has vaulted past MSNBC into second place."
The story also said, "Fox News Channel averaged 3.86 million viewers for the week. CNN had 2.46 million, MSNBC had 2.2 million, HGTV had 1.35 million and TLC had 1.12 million."
In fact, only CBS eclipsed Fox News Channel in the ratings in the two weeks the Associated Press report covered.
Black funerals traditionally are good for CNN's ratings. The deaths of Michael Jackson, Whitney Houston and Aretha Franklin all boosted ratings, which may explain why Mister Floyd has had so many.
His death sparked riots and protests in large part due to the media's promotion of virtue signaling against racism and in favor of justice. Never mind that America has banned racism, and was founded on justice for all. While it is true that the system is not perfect, calling it systemic racism is an exaggeration worthy of communist propaganda.
But it is a successful marketing campaign that, fairly or unfairly, has flipped law and order calls. Democrats did their research well. The 1972 scenario has given way to 1976, with Biden as Carter.
I wonder why educated and well-read Americans fall for all this, and indeed want more.
But then again, 90 years ago, Germans were the best-read and educated people in the world when they fell for Nazism.
We are on a roller coaster of news, and the American people by and large enjoy it. The ride offers cheap thrills. Both corona virus and George Floyd brought people together in self-righteousness. The Corporate Media's promotion of the Alone Together nonsense made it somehow patriotic to sit at home playing video games and watching too much TV.
Now we are all Martin Luther King as we protest against racism and for justice.
UPDATE: Well, either readers are misreading this post, or I was not very clear. Given my track record, I would say the former is true. A negative post? Pshaw.
I mock the hell out of these people. They are re-fighting a battle won 55 years ago.
Never Bet Against Donald John Trump.