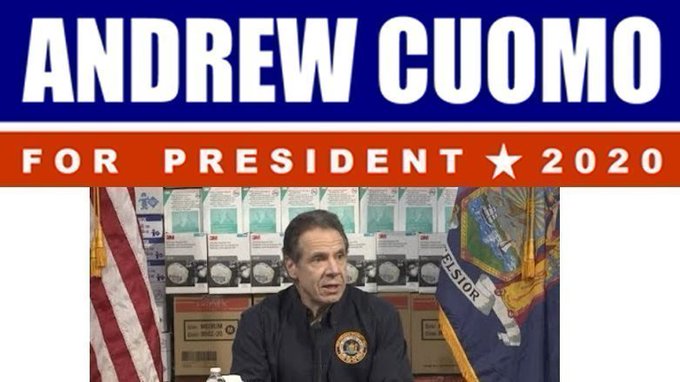 Becket Adams of the Washington Examiner reminded everyone that the media praised Democrat Governor Andrew Cuomo of New York for his response to covid-19.
If only dreamy Cuomo were president some fantasized
.
I did the math. 527,096 Americans would be dead today under President Cuomo -- more than four times the 122,659 covid-19 deaths we suffered.
527,096 deaths are New York's death rate times the U.S. population.
Before covid-19 went out of control in New York,
Molly Jong Fast wrote on March 22
, "Why We Are Crushing on Andrew Cuomo Right Now."
She wrote, "What a difference a pandemic makes. All of a sudden, I love Governor Cuomo, his soothing Queens accent, his stories about his dad Mario (himself a three-time governor of New York) and his 88-year-old mother Matilda. And then there's Andrew the dad, embarrassing his kids with stories of their upbringing after his divorce, when he was a single father, and bringing his 22-year-old daughter Michaela to one of his corona virus press briefings, suggesting it was cooler to be with him there than to be on the spring break vacation she had just wisely cancelled."
Soothing Queens accent -- as opposed to President Trump's Queens accent.
On March 27, sexagenarian Maureen Dowd wrote, "It's no wonder that watching Andrew Cuomo's daily briefings can make some people crave Chianti and meatballs.
"Besides coolly explaining the facts in this terrifying and stultifying plague season, the governor of New York evokes the feeling of a big Italian family dinner table.
"And that is the intended effect."
Dowd also said Bill Maher told her, "I see Cuomo as the Democrat nominee this year. If we could switch Biden out for him, that's the winner. He's unlikable, which I really like."
Unlike the unlikableness of President Trump, right?
Her headline read, "Let's 'Kick Corona Virus's Ass.'"
The virus kicked New York's ass because tough-talking Cuomo is a pansy.
This week,
the headline on the Adams column read
, "All that media praise for Andrew Cuomo looks pretty stupid right about now."
It looked stupid then, too.
Adams offered examples from the Wall Street Journal and Pro-Publica, but I like my examples better because they display the girly views of women journalists who cast themselves as feminists.
Part of this Cuomosexuality is the realization that Biden is Demented Man Walking.
Dowd wrote, "It is jarring to watch officials like Governor Cuomo and Dr. Anthony Fauci, the head of the National Institute of Allergy and Infectious Diseases, who have worked their way up through the system, gaining valuable wisdom, have to delicately deal with Donald Trump, the barbarian who crashed through the gates and who is ignorant about — and disdains — the bureaucracy he leads."
Not only did Cuomo's policies lead to a death rate four times the national average, but Fauci just admitted he lied in February when he said masks don't work and the chances of getting covid-19 are minuscule.
'Tis funny that the media likes the tough-talking New York style when it comes from a New Yorker who is incompetent and in way over his head as governor, but mock that style when displayed by a competent but Republican president.
Governor Cuomo managed to kill his state's economy while killing more people than any other state, both in number and death rate.
Next time, New York should disinfect the subways first.
Or better yet, go back to having Republican governors and mayors.
The press will mock them. Sure. Look at how they treat Governor Ron De Santis of Florida. But people won't drop like flies. Again, look at Governor De Santis.