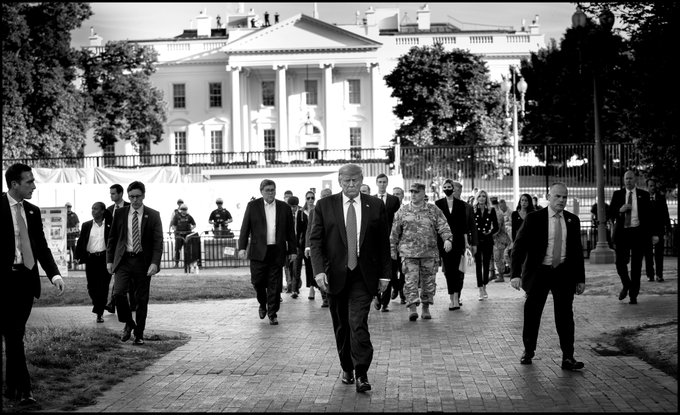 "If it's about the lives of my soldiers at stake, I'd go through hell with a gasoline can." -- Lieutenant Colonel Allen West upon accepting an Article 15 reprimand for putting the fear of God in a terrorist in violation of the rules of engagement.
Ever wonder what he would be like as president?
Wonder no more.
Today, with Democrats setting fire to city after city in an attempt to burn the republic to the ground, President Donald John Trump walked through Lafayette Park with the mother of all targets on him. The imagery was not unlike a leader carrying a gasoline can under each arm.
Democrats had torched St. John's Episcopal Church. Bible in hand, the president visited the church.
Its bishop, Mariann Edgar Budde, was all upset not because arsonists tried to burn the building down but because the president dared visit HER church.
She told Anderson Cooper of CNN
, "I am outraged. The president did not pray when he came to St John's nor, as you just articulated, did he acknowledge the agony of our country right now — in particular, that of the people of color in our nation who wonder is anyone in public power will ever acknowledge their sacred worth and who are rightfully demanding an end to 400 years of systemic racism and white supremacy in our country … We distance ourselves from the incendiary language of this President."
The bishop sided with the barbarians. I suppose turncoat bishops have done that over the centuries.
Slavery ended 155 years ago. Budde needs to update her rhetoric.
Democrats created this mess.
President Trump is cleaning it up by channeling his inner Allen West.