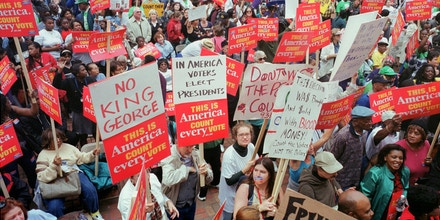 Rich Lowry, editor of the turncoat National Review, is at it again. He wants to be
a Judas Goat
who leads Republicans to slaughter. 4 months ahead of the election, Lowry is pushing the Democrat narrative that President Donald John Trump will send the military to stop Democrats from voting.
In a column posted today
, he cribbed so much from Biden's playbook that he might as well have warned that Trump will put you in chains.
Lowry took as gospel Biden saying, "It's my greatest concern. My single greatest concern. This president is going to try to steal this election."
Lowry wrote, "Democrat lawyer Marc Elias told the New York Times that Trump might try to keep people in urban centers from voting by calling out the National Guard, declaring a state of emergency or banning gatherings of more than 10 people."
Well, if a Democrat lawyer and a Democrat presidential candidate agree, it must be true.
Lowry wrote, "If there is one thing we know about Donald Trump, it's that he is not one to accept defeat with high-mindedness and dignity. If he loses, there's unlikely to be a concession phone call — one of the little grace notes of our democracy — and he will argue that he was undone by Democratic cheating.
"Heck, he won in 2016 and still maintained he'd been cheated.
"The transition would surely be unlike any we've ever seen, with the incumbent routinely insulting his soon-to-be successor. The chances would be better that Trump would live-tweet Biden's inauguration from Trump Tower than he'd honor the tradition of attending in person."
Really?
Is President Trump going to spy on Biden?
Is President Trump going to prosecute Biden's friends and ex-campaign manager?
Is President Trump going to set up Biden for a two-year witch hunt by 17 Republican prosecutors?
Is President Trump going to hold classes for government workers on how to defy presidential orders?
Lowry's attacks on President Trump are based on conjecture, fantasy, and Democrat projections.
To be fair, Lowry did admit, "There were protests in the streets after he won in 2016."
The truth is, Democrats don't accept defeat in a presidential election.
But before writing off the 2020 election as a trainwreck (caused only by President Trump, of course), how about we hold the election and see what happens?
In law, not only is a defendant innocent until proven guilty, he is innocent until there is a crime.
That is not how things work in Lowryland.