American liberals are some of the best educated and stone cold stupid people in the world. Witness the 3 people charged this weekend for throwing Molotov cocktails at police vehicles in New York City.
Samantha Shader, 27, of Catskill, NY, decided to protest in Brooklyn over the death of a black man in Minnesota apparently at the hands of police. One officer already was arrested and charged with third-degree murder and manslaughter. I am puzzled by what the protests hope to accomplish because it seems the man's death is being taken extremely seriously, as it should.
NBC reported
, "According to the charging documents, Shader allegedly threw a Molotov cocktail at 1:12 a.m. in Brooklyn Saturday morning. The FBI says that shattered two windows of the NYPD vehicle and caused damage to the vehicle while officers were inside. The complaint says that the FBI was able to get video of the incident from a witness."
The New York Daily News was a little more explicit.
It said
, "Shader at first blended in with the diverse crowd of angry young protesters yelling at police outside the Brooklyn Museum after midnight Saturday.
"But suddenly, Shader, 27, of Catskill, New York, allegedly pulled out a bottle and emerged from the crowd. Apparently lighting the incendiary device, she shouted at other protesters as she ran toward the NYPD car.
"'Get out of my mother-f-ing way,' she screeched.
"That's when she tossed the makeshift explosive at the police car with four officers inside."
Among the charges are four counts of attempted murder.
The woman from the Catskills was the first to land on Molotov Island. Saturday night, a couple of young and upcoming lawyers joined her.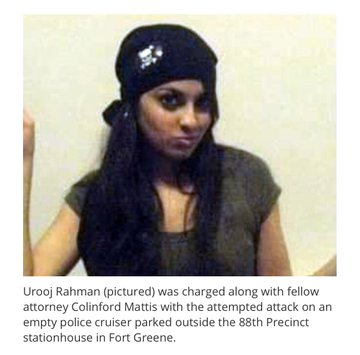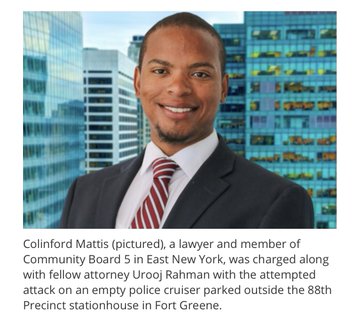 The Daily News reported
, "Two Brooklyn lawyers, including an Ivy League graduate corporate attorney, are facing federal charges over accusations they tossed a Molotov cocktail into an NYPD vehicle early Saturday morning during a protest over the police killing of George Floyd.
"Colinford Mattis, 32, a corporate lawyer and member of Community Board 5 in East New York, was charged along with fellow attorney Urooj Rahman with the attempted attack on an empty police cruiser parked outside the 88th Precinct station house in Fort Greene."
The report said he is with Times Square law firm Pryor Cashman.
That community board gig is a big deal. Jerry Nadler started off as a community board appointee. In fact, as a member of the community board, Mattis is in a position to make change.
The story said, "Authorities say Rahman, 31, tossed a bottle filled with gasoline through a broken window into the cruiser just before 1 am Saturday but the Molotov cocktail failed to ignite. Rahman jumped into a van driven by Mattis and they sped off, court papers allege.
"The attempted torching was captured by video surveillance cameras outside the precinct stationhouse on DeKalb Ave., according to court papers.
"Cops gave chase and stopped the van nearby on Willoughby St. They found the makings of another Molotov cocktail in the back seat along with a gasoline container, authorities say."
I doubt we will see justice for these three weekend terrorists. They are members of the protected class.
This is where American liberalism is today. No one will call them out for their acts of violence. Already their mob justice have killed one federal officer,
Patrick Underwood, who was shot and killed by rioters in Oakland
.
The press refuses to condemn the riots or the rioters.
Wolf Blitzer on several occasions has used his show on CNN to try to chastise the president for criticizing the press because this somehow endangers reporters.
Now would be a good time for Blitzer to denounce the real violence that not only endangers lives, but takes them.
Shader, Rahman, and Mattis give Blitzer (or anyone else) ample opportunity to denounce violence as thuggish without fear of being called racist because all three of them are privileged people.
They will walk. They shouldn't.