At least till PDJT is re-elected,
please reconsider Sunday posts.

— Strzuk Strzok (@consvtv0NTX) June 7, 2020
Have a little faith. We will re-elect Donald John Trump as president. My blog is keeping the Sabbath.
ITEM 1
:
NBC reported
, "13 days after the murder of George Floyd on a Minneapolis street by a Minneapolis police officer, the Minneapolis City Council has announced its intention to disband the Minneapolis Police Department."
But who will enforce those Stay At Home orders?
The story said, "With the Vikings staging at least 10 games per year in Minneapolis, the end of the Minneapolis Police Department will surely have a dramatic impact on security arrangements in and around the stadium."
Wasn't that the plan? Isn't that why the players kneel?
ITEM 2
:
St. Louis Today reported
, "Charges have been filed against a 24-year-old man who police believe fatally shot retired St. Louis police Capt. David Dorn, 77, on the sidewalk outside Lee's Pawn and Jewelry early Tuesday morning.
"Stephan Cannon, 24, of Glasgow Village, has been charged with first-degree murder. He is being held without bond.
"As downtown St. Louis descended into violence and chaos Monday night into Tuesday morning, Dorn, also a retired municipal police chief, attempted to protect the pawn shop from looting. He was shot multiple times, and his killing was broadcast on Facebook Live."
The story said, "A stolen television was later found where Cannon was arrested. He admitted to police that he changed his hair and appearance once he saw his image being distributed to the public."
Dorn was black. Cannon is black. Dorn was about Cannon's age when he joined the police force. He rose through the ranks.
ITEM 3
: Ever wonder what happened to
Pajama Boy
?
He became mayor of Minneapolis.
Whoa.

@MayorFrey

is asked "Will you commit to defunding police, yes or no?" Speaker says his re-election hinges on the answer. Couldn't hear answer but the crowd erupts in boos, chanting "GO HOME JACOB."

Full video:

pic.twitter.com/zODcbYGdeS

— David Schuman (@david_schuman) June 6, 2020
The Black Liberation Movement is doing well under its new moniker, Black Lives Matter.
ITEM 4
: Readers should not despair over the lunacy of looting and kneeling and the like.
These protests stem from fear. Democrats fear that the black vote is slipping away. Their plan was to lock up the black vote and the brown vote ahead of that day in 2050 or so when white people no longer are a majority in America.
But Donald Trump came along and did the things that Democrats said they would do someday. Black and Hispanic employment hit record highs. His prison reform gave a second-chance to thousands of black felons. His immigration service is battling MS-13 which terrorizes Hispanic neighborhoods.
Democrats meanwhile keep getting loonier.
Hillary got 88% of the black vote, and lost.
Hillary got 65% of the Hispanic vote, and lost.
Does anyone seriously believe Biden will do better?
And so we get this protest theater. The mob is expanding its vision and losing focus. The walk of shame, the abuse of Drew Brees, and the general unforgiving spirit of the mob will turn many liberals off. We shall see how this plays out, but it looks like both a tactical and strategic error on the part of Democrats. Democrats.
ITEM 5
:
Deadline reported
, "New 'Looney Tunes' Cartoons Ban Elmer Fudd From Having A Gun – But Other Mayhem Is Okay."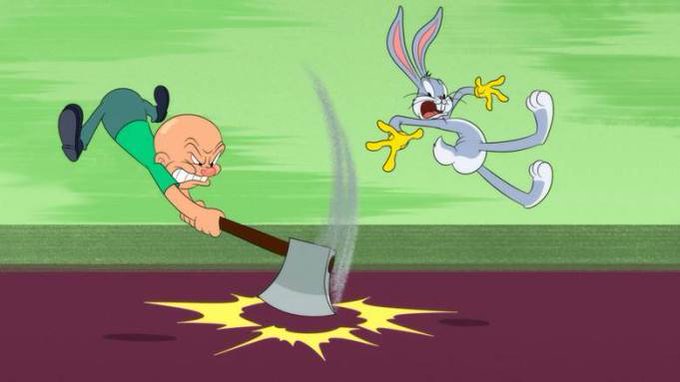 What's with the yellow gloves on Bugs? They used to be white.
ITEM 6
:
The New York Post reported
, "The Queens man arrested for scarring the landmarked façade of St. Patrick's Cathedral during a George Floyd protest is now free — because the Manhattan District Attorney's office declined to prosecute him.
"Yadir Avila Rosas, 26, was taken into custody at 5:30 a.m. Saturday, an NYPD spokeswoman told The Post.
"Police charged Rosas with criminal mischief in the third degree and making graffiti, alleging that he was the getaway driver for two women who tagged the famous house of worship with spray-painted slogans on May 30.
"But an expected Saturday afternoon arraignment never happened, at the DA office's discretion."
In New York, you cannot go to church to pray but you can go there to desecrate it.
Maybe Bill Barr should make a federal case out of it.
ITEM 7
:
Just the News reported
, "Doctors across the world are offering preliminary but encouraging reports that the corona virus may be losing steam and becoming less deadly: a behavior observed in at least one respiratory pandemic before, and a welcome sign for a world weary of nonstop covid-19 fears.
"Optimism over the corona virus has been in short supply since January, when public health officials and politicians began publicly and repeatedly speculating that covid-19 may be a semi-permanent fixture of global life for the foreseeable future, possibly for years."
The pandemic panic is over for now. Democrats will try to revive it before the election, especially after the BLM rioting backfires.
ITEM 8
:
Salena Zito reported
, "Despite a deadly pandemic, staggering unemployment and racial unrest, Pennsylvania voters showed up in record numbers to take part in their presidential primary Tuesday — even though the results were a foregone conclusion."
Oh?
Zito said, "Judging by the numbers so far, President Trump drew voters out in force. With almost 98% of districts counted, Republicans have cast more than 861,000 ballots for Donald Trump, with 734,000 Democrats voting for Joe Biden. And while it's still unclear how many people voted in person versus mail-in ballot, some counties are reporting that Trump drew plenty of supporters out of their homes."
In 2016, Hillary had 935,107 votes in the Pennsylvania primary. President Trump had 902,593. Nevertheless, he carried the state that November.
ITEM 9
: The quickest way to stupidity is trusting media accounts.
Experts told us a million protesters would show up in DC.

It was barely 10,000 -- in a 85% democrat city an area, on a Saturday night, with the full force of the corrupt media promoting it...

This is not a national movement. It's a deep blue temper tantrum over phantom racism.

— Burn, Democrat-Run Cities, Burn! (@NolteNC) June 7, 2020
Before trusting a media prediction ask yourself were they right about Hillary's election? Were they right about Russian Collusion? Were they right about covid-19 killing 2.2 million Americans?
Then flip the dial, and watch Looney Tunes. Gun or no gun, Elmer Fudd is still amusing.
ITEM 10
:
The Daily Wire reported
, "The New York Police Department reportedly took a protester into custody after he allegedly threatened to burn down the Diamond District during a live television interview on Fox News."
In New York, desecrating an historic cathedral is OK. Just don't threaten the Diamond District.
ITEM 11
: The election will be brutal.
— JT Lewis (@thejtlewis) June 5, 2020
Joe needs to stand up for America.
ITEM 12
:
The Washington Free Beacon reported
, "The Fifth U.S. Circuit Court of Appeals on Thursday blocked an order requiring Texas officials to make mail-in ballots available to any voter who wants one due to the corona virus ahead of elections in July."
Oh?
The story said, "U.S. District Judge Fred Biery sided with the Democratic plaintiffs in a May 19 order requiring the state to make vote-by-mail available to virtually all Texans. The Fifth Circuit decision includes pointed rebukes of Biery's order, predicting his decision 'will be remembered more for audacity than legal reasoning.'"
The decision said, "Instead of searching for a conceivable basis for the rules, the court jerry-rigged some straw men and proceeded to burn them."
Biery is a Clinton appointee.
The three appellate judges who rejected and mocked him were appointed by Ronald Reagan, President Trump and Obama. You really have to screw up to get an Obama judge to do the right thing.
ITEM 13
: Yahoo found a way to make it appear covid-19 is spread evenly across the USA.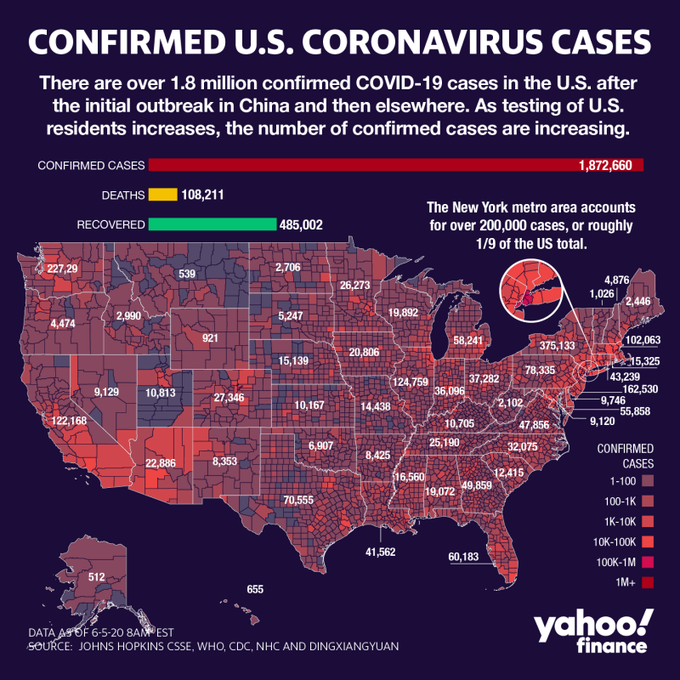 Use colors that blend in. Thus 921 cases in Wyoming look about the same as 375,133 cases in New York. Oh and go by cases, not deaths.
ITEM 14
:
Michelle Obama said
, "What's happening right now is the direct result of decades of unaddressed prejudice and inequality. The truth is, when it comes to all those tidy stories of hard work and self-determination that we like to tell ourselves about America, well, the reality is a lot more complicated than that. Because for too many people in this country, no matter how hard they work, there are structural barriers working against them that just make the road longer and rockier. And sometimes it's almost impossible to move upward at all. Because what if you're required to work during a pandemic, but don't have enough protective equipment or health insurance from your employer, or paid sick leave? What is more essential: your work or your life? If you don't feel safe driving your own car in your own neighborhood? Or going for a jog or buying some candy at 7-11, or birdwatching? If you can't even approach the police without fearing for your life, then how do you even begin to chart your own course?"
LOL.
The last five decades have seen progress for American black people unparalleled by any other ethnic group.
Her husband's election proved that.
Such a brave woman she is to encourage violence while protected by Secret Service.
The hardest thing in her life is deciding which of her mansions to sleep in each night.
ITEM 15
: Never Trumper Charlie Sykes tweeted, "This is *huge* in-kind contribution to the Trump campaign. A gift."
The gift in question is a street painted, "Black Lives Matter = Defund the Police."

That is how Never Trumpers think. There is no right or wrong. The only evil they see are things that help President Trump.
ITEM 16
:
The College Fix reported
, "The UCLA Anderson School of Management has pulled an accounting lecturer from teaching because of his response to a student who asked for 'special treatment,' in the lecturer's words, for black students.
"Gordon Klein joined the Anderson School in 1981 and has also taught in the UCLA law school and Loyola Law School, according to his faculty page.
"An Anderson spokesperson refused to tell The College Fix what policy or policies Klein is alleged to have violated, only confirming that he was 'on leave from campus and his classes have been reassigned to other faculty.' She implied, however, that he was the subject of a discrimination complaint."
Treating black students the same as white students is racist. This is not new. This is what we mean by affirmative action, and it has been the law for 40-plus years.
ITEM 17
:
The Wrap reported
, "New York Times Op-Ed section editor James Bennet has resigned."
He got the job because his brother is a senator. Fredo Bennet was best known for libeling Sarah Palin.
That did not cost him his job.
Publisher A.G. Sulzberger said in an email, "James is a journalist of enormous talent and integrity who believes deeply in the mission of The Times."
Sulzberger, too, is a journalist of enormous talent whose talent was being born the oldest son of the previous publisher. If it weren't for nepotism, half the management at newspapers would disappear.
ITEM 18
: The New York Times reported Mitt, Bush, and all those other RINOs who did not support President Trump in 2016 will not vote for him in 2020.
Matt Drudge made this his banner headline on Sunday. I laughed and laughed and laughed.
Meanwhile, I have a world exclusive that the Obamas, the Clintons, and Rosie O'Donnell also will not vote for President Trump in 2020.
I predict this Won't Vote For Trump story will resurface a few more times before November 3. They have no candidate. They have no policy. They have no hope. All they have is hate and fear.
ITEM 19
:
The Sun reported
, "The US has officially demanded Britain hand over Prince Andrew to be quizzed over his links to billionaire pedophile pal Jeffrey Epstein.
"And in a bombshell move, the Department of Justice has formally told the UK the Duke of York is now caught up in a criminal probe for the first time."
Boris Johnson should say, sure, we will turn him over as soon as Bill Barr indicts a few of your millionaire pedos.
ITEM 20
: The Feel Good Story of the Day.
Red.
Mustang.
Convertible.
What's not to like?
And it is a key to the plot twist in the story
.
ITEM 21
:
Fox News reported
, "The Philadelphia Inquirer's top editor is resigning after a staff uproar over a Buildings Matter, Too headline that ran on an article lamenting damage to businesses amid turbulent protests over the death of George Floyd in police custody, according to reports.
"Stan Wischnowski, 58, stepped down Saturday as executive editor at the Inquirer – one of the country's most prominent newspapers – which has struggled as journalism has tried to adapt to the digital age.
"The day after the headline ran Wischnowski and senior editors posted an apology on the paper's website, calling it offensive and saying it never should have run."
He apologized.
Never apologize.
Apologizing empowers the mindless mob, and rationalizes any and all the punishment they may heap on you, while discouraging others to speak out.
I don't know whom I respect less, Wischnowski or the Walk of Shame mayor.
FINALLY
, as part of National Accordion Awareness Month, I offer Fred Astaire.
He also played drums and piano. Danced a little. Just not at the same time.