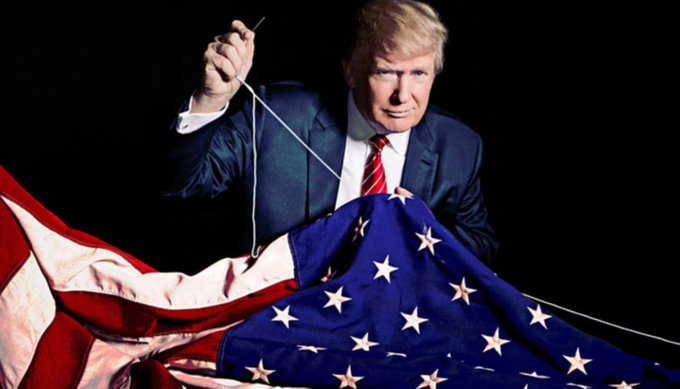 Donald John Trump is still our president. Thank God and 62 million deplorable voters.
ITEM 1
: Experts said 2.2 million Americans will die by June, unemployment will hit 19.8% in May, and Biden will be president.
Finally some positive economic news in the

#JobsReport

. Forecasters expected 7.5M job losses in May; instead 2.5M jobs were added.

The role of

#PPP

in this is beyond dispute.

It provided a critical lifeline to workers employed by small businesses.

#PPPworks

— Marco Rubio (@marcorubio) June 5, 2020
Horoscopes are more accurate.
Oh and there is no media bias, you deplorable rube.
Welcome to jobs day. t's going to be another terrible one but perhaps not as terrible as many previously feared. Consensus is for a loss of 7.8 million jobs in May and a jump in the unemployment rate to 19.5 percent.

https://t.co/T1nrxYYEaY

— POLITICO (@politico) June 5, 2020
OK, maybe a little.
OK, maybe a lot.
Well, I'm guessing that after today, the economy is back to not being

@realDonaldTrump

's ...

— Kurt Schlichter (@KurtSchlichter) June 6, 2020
ITEM 2
: A reader wrote, "The condition of the black community is of importance to me. I became intimate with their environment, over the course of eight years as a volunteer instructor/facilitator for sentenced men at the [REDACTED JAIL IN A BIG CITY].
"During the current orgy of mass violence, burning and looting in response to the killing of George Floyd and the odious virtue signaling by whites the true, documented, undeniable reality of murder in the black community has been suppressed, ignored and discounted. Their terror, misery and death is of little import compared to the accolades heaped upon those engaging in so much destruction of businesses, employment and lives in the most vulnerable communities. Whites have been trampling one another to signal their solidarity, bemoan racism or engage in ritual public admission of guilt.
"Perhaps it is to be expected from a culture for which cause and effect, (i.e. policies, ideologies, compilation of data, accountability, and responsibility) are consider manifestations of suppressive privilege. Are black men, women and children people being murdered? Absolutely. How many, why and by whom (and what sort of cultural conditioning preceded this reign of death) is a discussion that will not take place.
"The horrific reality is that the misery of the black condition is a revenue stream for both the public and private sectors. Black Lives Matter? Black lives comprise the raw material that is fed into fraudulent public education, (little more than holding pens) until they are of age for the crime/punishment, social services and abortion industries. Their misery is exploited by white and black politicians, community organizers and crime syndicates. The current fiasco is a case in point.
"Being up close with incarcerated black men for several years, exposed me to a human dignity, ingenuity and potential that while a flickering spark was not extinguished. Helping these men reclaim their inherent value and dignity was the greatest privilege of my life. There is no word of contempt sufficient for those, black and white, that profit from and manipulate black lives while stripping them of their human dignity and potential."
I thanked the reader.
People profit off this misery.
It sickens me.
ITEM 3
:
The left got on Emma Watson's case
, so she cut her hair.
— Mulder's Lying Dog-faced Coping Pony Soldier (@proteinwisdom) June 5, 2020
Bald for BLM? They can get liberals to do anything because liberalism is a mental disorder.
(UPDATE:
Bald for BLM is a rightwing prank
.)
Speaking of mental disorders.
Now it's the "Russian disinformation campaign" and not "Trump-Russian collusion." Neat switch.

https://t.co/HEB4ZQ5cIM

— Julie Kelly (@julie_kelly2) June 5, 2020
Only a fellow squirrel would be attracted to Peter Strzok.
But now we know who fed NBC its anti-Trump lies over the years.
ITEM 4
: President Trump got Iran to release an American.
— Team Trump (Text TRUMP to 88022) (@TeamTrump) June 4, 2020
He did not give them $170 billion to spend on nuclear bombs and an attempt to destroy Israel because he is not a Muslim.
ITEM 5
: Biden said, 10% to 15% Americans are just not very good people.
— Jeremy Frankel (@FrankelJeremy) June 5, 2020
10% to 15%? Oh come on. There are more Democrats than that.
ITEM 6
: The New York Times said, "In late March, Brooks Brothers was showered with praise after announcing it would use its three clothing factories in the United States to make personal protective equipment to help fight Covid-19.
"Now those factories may become casualties of the coronavirus, and the future of Brooks Brothers — not to mention its identity as the ultimate Made in America brand, one that has dressed presidents and former presidents dating to James Madison — is uncertain.
"Brooks Brothers plans to lay off nearly 700 employees this summer at the factories, in Massachusetts, New York and North Carolina. The company is also trying to find buyers for the factories by mid-July, and expects to close them if it can't."
Its owner said, "There are a very small percentage of our customers who told us they really care about Made in America. The vast majority of customers care more about quality and service than where a product is made. When we look at the sales, we really don't see a lot of reason to believe we would be penalized. I think we — I — am more sorry about closing the factories than the customers will be."
To the Times I say the only shoddy Made in America product is its newspapers.
Return the Russian Hoax Pulitzer.
You want proof?
OK.
From New York Times town hall: op-ed team pitched the piece TO Tom Cotton. Not the other way around.

— quarantine toddler task force (@PatrickCoffee) June 5, 2020
It was a set-up. They learned from Obama's attempted entrapment of General Flynn.
ITEM 7
: A reader sent me a panicked email that said if the election were held tomorrow, President Trump would lose.
I sent back a note, the election won't be held tomorrow. It will be held on November 3.
— Rasmussen Reports (@Rasmussen_Poll) June 5, 2020
I did not sell off my stocks in March, and I sure as heck ain't selling out my president.
No, I am not knocking my reader. People are human. We live in interesting times that test our faith in God, so why would they not test our faith in a mere mortal?
Just bear in mind this one little rule: Never Bet Against Donald John Trump.
If you get down, email me. We did it before in 2016. We shall do it again in 2020.
ITEM 8
:
The Buffalo News reported
, "All 57 of the members of the Buffalo Police Department's Emergency Response Team resigned Friday from the unit which responds to riots and other crowd control situations, the president of the union that represents Buffalo police officers told The Buffalo News.
"Two law enforcement sources confirmed the resignations.
"Two members of the Emergency Response Team were suspended without pay late Thursday after they were involved in pushing a 75-year-old protester to the ground as they were clearing the area in front of Buffalo City Hall at the emergency curfew. The Erie County District Attorney's Office is investigating the incident. No charges have been filed.
"The Emergency Response Team members have not quit the police department, but have stepped down from the tactical unit, according to the sources."
I saw the video.
I also know that viral videos only show part of the story. I have known that since 1991 when the Rodney King video appeared.
The presumption of innocence applies to everyone.
ITEM 9
:
NBC reported
, "District of Columbia Mayor Muriel Bowser on Friday had Black Lives Matter painted on the street that leads to the White House where protesters have been demonstrating following George Floyd's death in police custody."
Bowser is a black racist.
Her town, she can do what she wants, but she is following a Democrat tactic of dividing people by race that led to segregation in the South.
Don't get caught up in the mayor's Bull Connor.
ITEM 10
:
The Guardian reported
, "President Donald Trump has ordered the US military to remove nearly 9,500 troops from Germany in a move likely to raise concerns in Europe about the US commitment to the region.
"The move would reduce US troop numbers in Germany to 25,000, compared with the 34,500 currently there, a senior US official said.
"The official said the move was the result of months of work by America's top military officer, General Mark Milley, chairman of the joint chiefs of staff, and had nothing to do with tensions between Trump and the German chancellor, Angela Merkel, who thwarted Trump's plan to host a G7 meeting this month."
If true, it is about time.
We should have done this 29 years ago when the Soviet Union collapsed. World War II ended 75 years ago.
ITEM 11
:
The New York Post reported
, "Public Advocate Jumaane Williams just made his criticism of Bill de Blasio's handling of Big Apple protests personal — accusing the mayor of using his biracial family as a political shield."
The story said, "De Blasio's wife, first lady Chirlane McCray, is black, and they share two biracial children, Dante, 23 and Chiara, 25."
And the story said, "Thousands of cops turned their backs on the mayor at the funerals for a pair of officers who were shot just weeks after an interview in which de Blasio said he and McCray had taught Dante about the "dangers" posed by the police to young black men.
"Williams' rebuke comes a day after de Blasio was booed off the stage at a George Floyd memorial in Brooklyn."
Mayor Groundhog Killer has brought police, Black Lives Matter, and everyone else together
ITEM 12
: Alisha Haridasani Gupta of the New York Times wrote a column, "Why Aren't We All Talking About Breonna Taylor?"
Because it is an open-and-shut case that would not divide people.
Police killed her in her home after getting the address wrong in a no-knock warrant.
Black lives matter only if their death can divide the people.
ITEM 13
:
Sister Toldjah reported
, "Paul Krugman Caught in Hilarious Self-Own After Furiously Spinning Conspiracy Theories About Good Jobs Report."
The Nobel-winning economist said (without evidence) that President Trump strong-armed the bureaucracy to lie. Well, he does write for that paranoid conspiracy publication, the New York Times, which insists that Russia rigged the last election for President Trump.
He ended his tweeting with "Whatever happened, these numbers should make you more, not less, pessimistic about the economic outlook. Why? Because they will reinforce the White House inclination to do nothing and let emergency aid expire."
Jason Furman, Obama's chief economic adviser, tweeted, "You can 100% discount the possibility that Trump got to the BLS. Not 98% discount, not 99.9% discount, but 100% discount. BLS has 2,400 career staff of enormous integrity and one political appointee with no scope to change this number."
In case Krugman is wondering what that object is in his hands right now, it is his ass. Furman handed it to him.
ITEM 14
: What if we are not in a recession?
If the second-quarter GDP numbers numbers show growth that would mean we are not in a recession, as defined by having 2 or more quarters of negative growth.
The economy shrank 4.8% in January, February, and March. But in May, unemployment fell by 1.4%, the biggest monthly drop on record. Depending on how well we do in June, we may see a little growth.
The stock market is recovering from a 23% dive in March. The NASDAQ index is up for the year, while the S&P 500 is down only 0.28% since January 1. That shows Corporate America is doing well, even as Main Street businesses suffer.
But we know the worst is over because Democrats staged the BLM riots to divert our attention.
ITEM 15
:
Hot Air reported
, "Chicago Riots Wipe Out Most Grocery Sources For Minority Residents."
Burn, baby, burn, will become starve, baby, starve.
Sad.
ITEM 16
: The court told Whitmer, hey baby, don't do the Manke Panky.
— Tammy Bruce (@HeyTammyBruce) June 6, 2020
Justice in America.
FINALLY
, June is National Accordion Awareness Month. Readers are sending suggestions. Never heard of this dude. Thanks!