Donald John Trump is still our president.
My handle at Parler is @DonSurber (same as my Twitter account).
ITEM 1
:
United Press International reported
, "Witnesses testified in congressional hearings Monday about teargas and police use-of-force when law enforcement officers cleared out peaceful protesters at Lafayette Square in advance of President Donald Trump's photo opportunity June 1."
The peaceful protesters had torched a church the night before and refused to obey the mayor's curfew.
ITEM 2
:
SBG reported
, "House Speaker Nancy Pelosi stated over the weekend she believes a mandate ordering the wearing of masks across the country is long overdue."
Doctor Tony Fauci in February, ""If you look at the masks that you buy in a drug store, the leakage around that doesn't really do much to protect you. People start saying, 'Should I start wearing a mask?' Now, in the United States, there is absolutely no reason whatsoever to wear a mask."
And of course, now he only wears a mask for the cameras.
— America MUST Unite ⚖️🇺🇸 (@chadkanera) June 29, 2020
Flashback to May 11
, "Dr. Russell Blaylock warns that not only do face masks fail to protect the healthy from getting sick, but they also create serious health risks to the wearer. The bottom line is that if you are not sick, you should not wear a face mask."
I have a better idea. Order everyone to paint their automobiles pink so we can become one big Pink Carnation. (It is an old joke, but I'm an old man.)
ITEM 3
:
United Press International reported
, "Malls in New York that seek to reopen under the state's Phase 3 status must have air conditioning filters that can help reduce air particulates that could spread the corona virus, Gov. Andrew Cuomo said on Monday."
Um, they already do.
ITEM 4
:
The National Association of Realtors announced
, "Pending home sales mounted a record comeback in May, seeing encouraging contract activity after two previous months of declines brought on by the corona virus pandemic. Every major region recorded an increase in month-over-month pending home sales transactions, while the South also experienced a year-over-year increase in pending transactions.
The Pending Home Sales Index,
www.nar.realtor/pending-home-sales
, a forward-looking indicator of home sales based on contract signings, rose 44.3% to 99.6 in May, chronicling the highest month-over-month gain in the index since NAR started this series in January 2001. Year-over-year, contract signings fell 5.1%. An index of 100 is equal to the level of contract activity in 2001."
This is America.
A little flu with a 'tude is not going to stop us.
ITEM 5
:
American Gothic
updated.
— Mint Chip 🇺🇸 (@MintChipMusic) June 29, 2020
Standing up to bullies is as American as tossing tea in Boston Bay.
Fox reported
, "A Missouri couple under fire for brandishing guns in the front yard of their home as protesters passed told police the group broke a gate to get onto the private street, and the pair say they only retrieved their firearms when they spotted multiple people who were already armed, department records show.
"Al Watkins, an attorney for Mark McCloskey, 63, and his 61-year-old wife, Patricia, said the protest was largely peaceful and the pair did not bring their guns outside of the home until two men in particular, both of whom were white, started menacing them."
God bless the McCloskeys. Democrats will make their lives hell. Pray for them.
ITEM 6
:
The New York Post reported
, "Mayor Bill de Blasio said Monday that he's come up with a plan to cut or transfer $1 billion from the NYPD's $6 billion budget and would not guarantee the department's headcount won't shrink — even as shootings surge across the city."
Move.
The communist mayor has the Obama Touch in which everything he touches turns to crap.
ITEM 7
:
Secretary of Commerce Wilbur Ross announced
, "With the Chinese Communist Party's imposition of new security measures on Hong Kong, the risk that sensitive U.S. technology will be diverted to the People's Liberation Army or Ministry of State Security has increased, all while undermining the territory's autonomy. Those are risks the U.S. refuses to accept and have resulted in the revocation of Hong Kong's special status.
"Commerce Department regulations affording preferential treatment to Hong Kong over China, including the availability of export license exceptions, are suspended. Further actions to eliminate differential treatment are also being evaluated. We urge Beijing to immediately reverse course and fulfill the promises it has made to the people of Hong Kong and the world."
Call it Red China.
And call him Chairman Xi. A "president for life" is an oxymoron.
ITEM 8
:
Flashback to NBC on September 5, 2010
, "Iran is paying Taliban fighters $1,000 for each U.S. soldier they kill in Afghanistan, according to a report in a British newspaper.
"The Sunday Times described how a man it said was a "Taliban treasurer" had gone to collect $18,000 from an Iranian firm in Kabul, a reward it said was for an attack in July which killed several Afghan government troops and destroyed an American armored vehicle.
"The treasurer left with the cash hidden in a sack of flour, the newspaper said, and then gave it to Taliban fighters in the province of Wardak. In the past six months, the treasurer claimed to have collected more than $77,000 from the company.
"The Sunday Times said its investigation had found that at least five Kabul-based Iranian companies were secretly passing funds to the Taliban.
"The newspaper's correspondent, Miles Amoore, said he met and interviewed the treasurer, who he said had been an illiterate farmer who was taught to read and write, plus basic accountancy, by the Taliban last winter."
Obama later reimbursed Iran by giving them $150 billion.
ITEM 9
:
Bloomberg reported
, Red "China's state-owned oil refining giants are in discussions to form a purchasing group to buy crude together, increasing their bargaining power and avoiding bidding wars.
"Senior executives from China Petroleum & Chemical Corp., PetroChina Co., Cnooc Ltd. and Sinochem Group Co. are in advanced talks to iron out details of the plan, said people familiar with the initiative, who asked not to be identified as discussions are private and ongoing. The proposal has won the support of the Chinese central government and relevant industry watchdogs, the people said.
"For a start, the group is set to collectively issue bids for certain Russian and African grades in the spot market, they said. While it's unclear how the cooperation will evolve, the group represents refiners that import more than 5 million barrels of oil a day. That's nearly a fifth of OPEC's total output, which would make it the world's largest crude buyer in theory. The initiative -- first mounted in 2019 -- gained traction this year as the corona virus spurred historic output cuts by OPEC and its allies to regain control of the market.
"The original epicenter of the pandemic, China was the first major economy to reopen and its consumption of transportation and industrial fuels is now almost back to pre-virus levels. The v-shaped recovery has in recent months prompted the country's state-owned and independent refiners to snap up Russian and Brazilian crude in the spot market, pushing up prices."
So Red China attacked the United States with covid-19, shut down our economy, and brought down world oil prices, which sent our oil industry reeling.
We are in the fight of our life.
Chairman Xi bought off Biden with money, and the Democrat Party with ideology.
ITEM 10
: As June ends, sadly National Accordion Awareness Month ends with it. Readers have liked it. We have had Bach and Beethoven, zydeco and polkas.
To end it, I offer a song that Pete Townshend regrets writing, and Roger Daltrey enjoys singing because it is a fun song.
Any compilation that includes Al Bundy and Columbo cannot be all that bad.
ITEM 11
:
The Post Millennial reported
, "Andy Ngo, editor-at-large for The Post Millennial, spoke to Congress today about Antifa violence. This is a subject that Ngo knows intimately, as he has been the target of violence from this group since he began investigating them some years ago. Yet ranking Democrats on the committee don't believe that Antifa exists.
"In speaking to the House Oversight Committee, Ngo spoke of his own experiences with Antifa, the threats that he and his family received, and the assault he suffered at his hands.
"Despite this experience, and the lawsuit that he recently brought against the Rose City Antifa group, with attorney Harmeet Dhillon, the ranking member of the committee, Rep. Jamie Raskin (D-MD 8th District), claimed that Antifa doesn't exist."
The media is not standing up for Ngo.
For shame.
ITEM 12
:
Fox reported
, "The Supreme Court on Monday ordered changes to a government consumer-finance watchdog created in the wake of the 2008 financial crisis, ruling the agency's structure was unconstitutional because its director held too much-unchecked power.
"The court in a 5-4 ruling said Congress overstepped constitutional lines in 2010 when it created the Consumer Financial Protection Bureau and placed it under the control of a single director who was insulated from the White House's political direction. Lawmakers, attempting to give the bureau a buffer from political influence, said the director could only be removed by the president for inefficiency, neglect of duty, or malfeasance in office.
"But the court, in an opinion by Chief Justice John Roberts, said the setup meant the CFPB's director was unaccountable to the executive branch, creating an unconstitutional diminishment of presidential power."
The ruling reaffirms that the president can fire an appointee with or without cause.
Roberts is still a turd
.
ITEM 13
:
The Anderson Economic Group announced
, "Experts at Anderson Economic Group reviewed news publications to identify where looting occurred in the 20 largest metropolitan areas across the country, and estimate that the total costs of looting between May 29 and June 3 in America's 20 largest metropolitan areas exceeded $400 million. This includes property damage, lost inventory, cleanup and reconstruction costs, and closure-related lost wages. They did not assign any costs to peaceful protests or demonstrations."
Readers will love this statement from Brian Peterson, the firm's director of public policy and economic analysis.
He said, "The looting is unfortunate. Many states were on the verge of reopening after a two-month-plus COVID-19 closure, and now some of these businesses will not be able to reopen."
Unfortunate?
I doubt he would be so calm if his company's headquarters were ransacked.
ITEM 14
:
CNBC reported
, "Iran's government has issued an arrest warrant for U.S. President Donald Trump over the killing of its top commander, Gen. Qasem Soleimani, in January, the country's semiofficial Fars news agency reported Monday."
Adam Schiff should thank Iran for the article of impeachment.
ITEM 15
:
The Blaze reported
, "Seattle Mayor Jenny Durkan expressed outrage after Black Lives Matter protesters showed up at her home Sunday afternoon, despite her previous support and defense of the CHOP (CHAZ) encampment."
The story said, "Durkan released a statement expressing her anger at the protest. She was especially upset that Seattle City Council member Kshama Sawant had joined the protesters at her home."
The statement said, "Mayor Durkan and her family are in the state program to keep their address confidential because of the death threats mostly related to her work as Seattle's U.S. Attorney under President Obama. Instead of working to make true change, Councilmember Sawant continues to choose political stunts.
"Tonight she did so without regard for the safety of the Mayor and her family. The Mayor was not even home — she was working at City Hall. Seattle can and should peacefully demonstrate but should not put families and children at risk."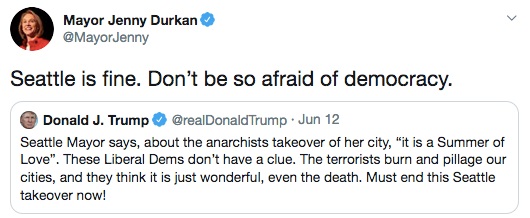 She wants to defund the police.
She can begin with her security team.
ITEM 16
: White privilege.
— Mark Dice (@MarkDice) June 30, 2020
Detroit PD doesn't play games.