Put on your white patent leather belts and white shoes because National Accordion Awareness Month is going
Full Cleveland
today with a clip from "
Hoolihan and Big Chuck
," complete with a misspelling of accordions.
ITEM 1
: Kimmel apologized for being the victim of "those who feign outrage."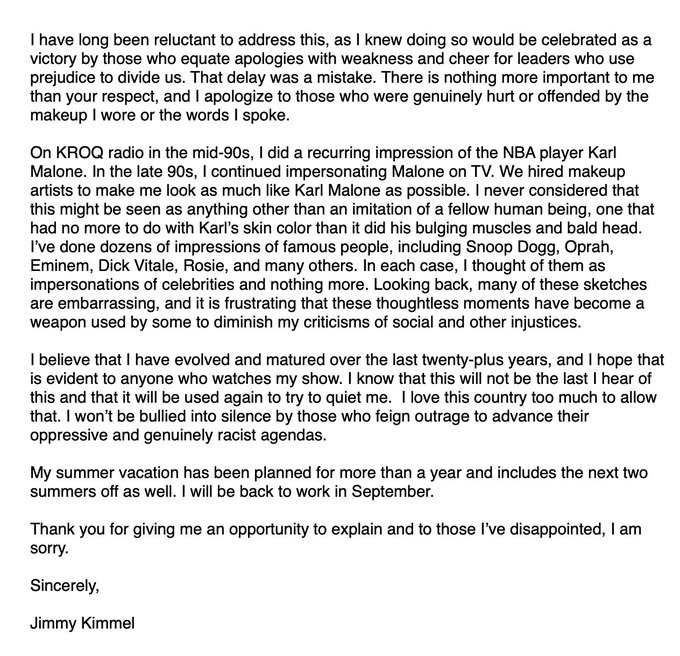 Disney knew he did this and hired him anyway. He used the N-word.
"Song of the South" is banned although no one used the N-word in it, but not Jimmy Kimmel? Now we know what Zip-a-Dee-Doo-Dah means.
ITEM 2
:
Project Veritas reported
, "Facebook Content Moderator: 'If Someone is Wearing a MAGA Hat, I Am Going to Delete Them for Terrorism.'"
The sanctimony by degenerates like this moderator amazes me.
I guess calling President Donald John Trump "Hitler" works in convincing weak minds that he and his supporters are sub-human just like, well, Hitler convinced Germans that Jews are. This will end well -- NOT!
ITEM 3
:
United Press International reported
, "A federal appeals court on Tuesday ruled that the Trump administration can move forward with a measure to more quickly deport undocumented immigrants although it faces legal challenges.
"The District of Columbia U.S. Circuit Court of Appeals reversed a preliminary injunction blocking the administration from expanding the Department of Homeland Security's ability to conduct expedited removals.
"The three-judge panel ruled 2-1 that a group of non-profits had legal standing to bring a lawsuit challenging the action but immigration law that grants broad authority to the Department of Homeland Security would make the case unlikely to succeed."
An Obama judge wrote to bring the crazy suit forward. A Trump judge voted the busybodies had no standing. What Democrats cannot win in elections, they try to win in courts.
ITEM 4
:
A blogger reported
, "NYT Is Threatening My Safety By Revealing My Real Name, So I Am Deleting The Blog."
He said, "I have a lot of reasons for staying pseudonymous. First, I'm a psychiatrist, and psychiatrists are kind of obsessive about preventing their patients from knowing anything about who they are outside of work. You can read more about this in this Scientific American article – and remember that the last psychiatrist blogger to get doxxed abandoned his blog too. I am not one of the big sticklers on this, but I'm more of a stickler than 'let the New York Times tell my patients where they can find my personal blog.'
"I think it's plausible that if I became a national news figure under my real name, my patients – who run the gamut from far-left anarchists to far-right gun nuts – wouldn't be able to engage with me in a normal therapeutic way. I also worry that my clinic would decide I am more of a liability than an asset and let me go, which would leave hundreds of patients in a dangerous situation as we tried to transition their care."
The New York Times has gone to court to defend the practice of protecting anonymous sources but threatens to out a blogger.
ITEM 5
:
Breitbart News reported
, "Ratings for last weekend's woke ESPY Awards crashed to the lowest numbers the show has ever recorded. The ESPYs only earned 482,000 viewers over both ESPN and ESPN2 combined, making it the smallest audience the show has ever reached dating back to its inaugural awards in 1993. The previous low occurred in 2011 when 1.98 million viewers tuned in, according to Sports Media Watch."
That was an 81% drop.
At the same time, President Trump drew a record 7.7 million viewers to Fox which broadcast his rally in Tulsa.
In 2015, the ESPYs drew 7.7 million when it awarded Caitlyn Jenner its Arthur Ashe Courage Award. The annual shows ratings have fallen ever since. Get woke, become a joke.
ITEM 6
: Andrea Mitchell covers what NBC calls peaceful protests.
Hmm.

@NBCNews

has hired big, burly security guys to protect Andrea Mitchell as she does an interview in front of the White House to tell people about the "peaceful" protests. Will she mention that a "peaceful demonstator" tried to attack her?

https://t.co/b9l7YzapMq

— Fred Fleitz (@FredFleitz) June 23, 2020
The blond in the bikini is not Andrea Mitchell.
ITEM 7
: The New York Times reported, "European Union officials are racing to agree on who can visit the bloc as of July 1 based on how countries of origin are faring with new corona virus cases. Americans, so far, are excluded, according to draft lists seen by the New York Times."
Oh no!
We cannot go to Eurostan.
Does that mean we can bring our troops home now?
ITEM 8
:
SBG reported
, "NBC has pulled several episodes of the 30 Rock television series from streaming and syndication because actors are shown in blackface. Tina Fey, the executive producer and series' star, apologized for the pain the episodes have caused, USA Today reported.
Not just once. Not just twice. Not just thrice. 4 times.
In April 2017, Fey slammed "white women" who voted for President Trump.
Fey said
, "I personally would like to make my own pledge to college-educated white women to not look away, not pretend that things that are happening now won't eventually affect me if we don't put a stop to it."
President Trump is ending blackface in America, and white liberal comics are angry.
ITEM 9
: Who did not see this coming?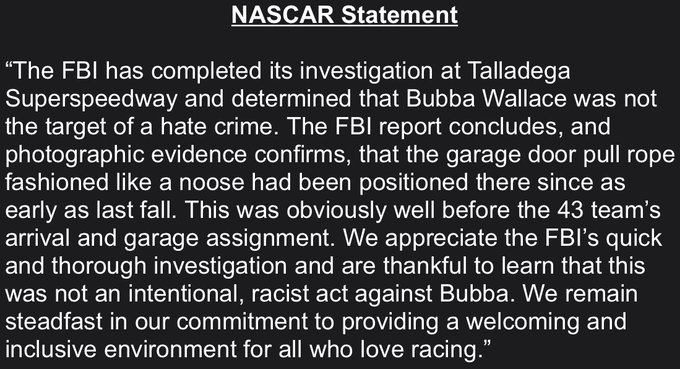 Ace called it NooseCAR
.
Will NASCAR reimburse the U.S. Treasury for the expense of investigating this Fake Noose?
ITEM 10
:
The Independent reported
, "Rhode Island has started the process of changing its full, official name from 'The State of Rhode Island and Providence Plantations,' due to its connection to slavery.
"The state's Democrat governor, Gina Raimondo, signed an executive order on Monday to shorten the name to it's colloquial title Rhode Island on government documents, CBS News reported.
"The state's legislature is also putting forward a bill to alter the name entirely for a referendum, after the state's only black senator, Harold Metts, introduced the bill."
10 years ago, voters overwhelmingly voted to keep the name, 78% to 22%. I guess voters will have to keep voting on this until they get it right, like the passage of a school bond levy.
The name has nothing to do with slavery, but since when did facts matter to Democrats?
ITEM 11
:
The New York Post reported
, "Lincoln County, Oregon, has exempted non-white people from a new order requiring that face coverings be worn in public — to prevent racial profiling.
"Health officials announced last week residents must wear face coverings in public settings where they may come within six feet of another individual who is not from the same household."
Yes, we would not want to racial profile. Death is better, right?
Power not only corrupts, it makes you stupid.
ITEM 12
:
United Press International reported
, "Subtropical Depression Four strengthened into Tropical Storm Dolly well off of the northeastern United States coast on Tuesday.
"Not only did Dolly become a rare June D-named storm, only the third in recorded history, but it also will go down in the history books as the second-earliest fourth-named storm in the basin."
We are back to naming every thunderstorm at sea so we can use up all the names to "prove" global warming.
ITEM 13
:
Fox reported
, "Armed protesters stood guard on Tuesday at an Atlanta-area Wendy's, the site where Rayshard Brooks, a black man shot twice in the back by an Atlanta police officer, died earlier this month.
"Earlier in the day, a group of people had 'taken over' the burned-out property in South Atlanta, according to local reports.
"People living in the area also have complained that the protesters who remained were no longer peaceful, but instead were using the space for their own gain and at times blocking people on the street from getting by."
Atlanta, once the city too busy to hate, has become Just Another City of H8.
ITEM 14
:
Rasmussen reported
, "64% Worry About Cop Shortage and Public Safety; Blacks Worry Most."
Oh?
The story said, "Blacks (67%) are the most concerned about public safety where they live, compared to 63% of whites and 65% of other minority Americans."
This is not surprising given that police have emphasized minority hiring, and given how crime-ridden many minority areas are.
President Trump's silent majority is more diversified than the Democrat Party.
ITEM 15
:
Just the News reported
, "Fired NY prosecutor was given Biden-Ukraine allegations in 2018 but didn't follow up, emails show."
The story said, "Ukraine prosecutors didn't want the political spectacle that became impeachment and simply sought to turn over evidence about Joe Biden and election interference to U.S. prosecutors, memos show."
The man failed to do his job, instead he wasted his time harassing the president's friends and relatives.
ITEM 16
: Democrats want to destroy the Emancipation Memorial which was built from money from slaves to commemorate their freedom. Most of the donors were black veterans of the Civil War.
Crowd cheers as calls are made to tear down "this motherfucker" Abraham Lincoln's Emancipation Statue

This is simply nuts.

pic.twitter.com/vRqr8s7jBo

— Siddak Ahuja (@SiddakAhuja) June 24, 2020
President Trump signed an order to defend our monuments.
The mob is not clueless. The mob is not ignorant. The mob wants to obliterate all memory of 300,000 white boys dying in a war to liberate 6 million black slaves because that would mean the reparations already were paid.
In blood.
The mob wants to destroy the most remarkable moment in American history because the mob is a bunch of anti-American thugs.
They want a race war.
Nope.
We ain't going to do that. United we stand, divided we elect Joe Biden.