Donald John Trump is still our president.
ITEM 1
:
Chemistry World reported
, "With just 10% of science, technology, engineering and maths (STEM) faculty at US universities coming from under-represented backgrounds, the Association of Public and Land-Grant Universities is sounding the alarm. The organisation says that too many members of minority groups are leaving science at pivotal stages along the road to becoming a professor.
"Although many universities have robust programs to support minority students during their undergraduate and graduate careers, the report concludes that such support often diminishes at the postdoctoral and early career stages. It makes several recommendations, including that higher education leaders should develop more rigorous programs to strengthen later parts of the pathway, focusing in particular on the transition from graduate student to faculty or postdoc roles, as well as early career support for faculty.
"The APLU further calls on policymakers to support efforts to capture and track student data to better understand the progress of individuals through the 'Stem ecosystem'. It also urges higher education leaders to 'shift their thinking' from a 'competition mindset' when it comes to recruiting and retaining students and faculty to one that considers how their efforts might broaden the Stem ecosystem by aligning activities with other institutions.
"Accompanying the report is a guidebook for universities to assess their STEM faculty diversity."
How to fix it.
Dump as majors black history, sociology, gender studies, women's studies, and all the other deplorable and divisive majors that even Forrest Gump could ace.
This would force minority students and women to take up real college courses. The problem is not in STEM, which has no problem attracting Asian-Americans.
The problem is all the Junk Academia that allows people to breeze through college. Like water, people take the path of least resistance.
The APLU's goal is not to promote STEM but to undermine it with racial quotas and the like.
Professors in other disciplines already know that they either lower standards for black students or face firing
.
ITEM 2
: President Trump stands up for women.
President Trump's justice department is defending women's sports from an Idaho lawsuit by transgender activists, and from the Supreme Court.

https://t.co/Hc3obVXhwb

— Breitbart News (@BreitbartNews) June 20, 2020
Either have women's sports or just have sports. Letting men compete as women is wrong. Everyone knows it, including John Roberts -- who nevertheless will pretend there is a right to wrong women like this.
ITEM 3
:
NPR reported
, "President Trump [fired] Geoffrey Berman, the U.S. attorney for the Southern District of New York, from office, ending the tenure of a top Justice Department official whose office has overseen the prosecutions of several of the president's associates.
"Attorney General William Barr announced the termination Saturday, less than a day after initially suggesting that Berman was resigning — only to be contradicted by Berman himself.
"'Unfortunately, with your statement of last night, you have chosen public spectacle over public service,' Barr said in a letter to Berman Saturday. 'Because you have declared that you have no intention of resigning, I have asked the President to remove you as of today, and he has done so.'"
The press spun this as Berman stepping down.
No, President Trump fired him.
Don't cry for Berman. He'll get a book deal. The title Orange Man Bad has not been taken.
ITEM 4
: President Trump rallied in Tulsa on Saturday.
Chris Wallace said, "The arena was empty."

He also called the BLM riots "peaceful protests."
Who's watching the big game in Tulsa tonight? I'm glad we found a substitute for sports.

— Scott Adams (@ScottAdamsSays) June 20, 2020
If Scott Adams is right, The Donald caught lightning in his bottle again.
— Brad Stoney 🇺🇸 (@BradStoney1776) June 20, 2020
In 2025, he can move to England, become their PM, and Make It Great Britain Again.
ITEM 5
:
Just The News reported
, "As Black Lives Matter activism continues to spread throughout the country — with demonstrators calling for the defunding of police departments and radical overhauls to significant portions of the United States — a video resurfaced this week in which one of the founders of the black activism group affirmed that she and her co-founder are trained Marxists who are well-versed in ideological theories.
"Though it is ostensibly a group dedicated primarily to fighting and ending racism and police brutality in the United States, Black Lives Matter itself deals heavily in language and rhetoric steeped in left-wing ideology. The group states on its website that it is dedicated to 'issues concerning racial injustice, police brutality, criminal justice reform, black immigration, economic injustice, LGBTQIA+ and human rights, environmental injustice, access to healthcare, access to quality education, and voting rights and suppression.'
"Those progressive fixations do not appear to be accidental. In a video interview from 2015, one of the group's founders admitted that she and her fellow co-founder are dedicated to the ideology of Karl Marx, the father of 'scientific socialism' and foundational figure of the international communist movement."
BLM is the Black Liberation Movement updated for the 21st century.
Once in power, BLM will shed all its fellow travelers beginning with LGBTQIA+.
Police brutality will be tanks running over protesters because that is how Marxism works.
ITEM 6
: They let Biden out this weekend.
— 100%Kag⭐️⭐️⭐️ (@KAGDonaldTrump) June 21, 2020
Six more weeks of lockdown.
ITEM 7
:
The New York Post reported
, "On the fourth anniversary of his death, Muhammad Ali's only biological son says that his father would be against Black Lives Matter, calling the movement racist and the protesters devils.
"The legendary boxer and activist stood up against racism throughout his life, but Muhammad Ali Jr. says his dad would have been sickened by how the protests have turned to violence and looting after the death of George Floyd.
"'Don't bust up s–t, don't trash the place,' he told The Post. 'You can peacefully protest. 'My father would have said, 'They ain't nothing but devils.' My father said, 'all lives matter.' I don't think he'd agree.'"
Communists (aka devils) are trying to divide Americans by race. Don't fall for it. BLM protesters no more represent black people than Antifa represent whites.
ITEM 8
:
News Busters busted Jim Acosta
.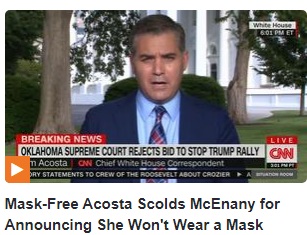 He is the Queen of the Karens at CNN.
He can write my manager at
DonSurber@GMail.com
ITEM 9
:
Australia's ABC reported
, "If you want to study arts and humanities, you will simply have to pay for it yourself.
"Experts say this is essentially the effect of the Federal Government's proposed overhaul of tertiary education.
"The plan more than doubles the cost of studying most humanities subjects at university, but slashes the cost to students of what the Government deems to be "job-relevant" courses.
"It means someone studying humanities or communications will be in the same fee bracket as law students."
The plan does not double the cost; it doubles the price.
President Trump should drop student loans for gender studies and the like while cutting the interest rates in half for STEM. We want to encourage STEM, right?
ITEM 10
: Tom Petty tweeted from his grave.
June 21, 2020
Alive or dead, he has no say on the matter. The campaign paid the license fee.
Interesting that Twitter blue-checked a dead man. I thought the whole purpose of those blue checks was to prevent someone from using a man's good name like this.
ITEM 11
: The New York Times reported, "TikTok Teens and K-Pop Fans Say They Sank Trump Rally."
The story said the expected overflow crowd did not show up because "teens" signed up for tickets then failed to show up. AOC -- the soul of the soulless Democrat Party -- cheered them on.
The rally was a shakedown for the fall campaign. Thank you, Democrats, for pointing out an exploitable flaw. Campaign manager Brad Parscale will adjust accordingly.
And thank you, Democrats, for cheating and proving you will sabotage vote-by-mail.
ITEM 12
:
The Associated Press reported
, "Motorists saw a startling scene Saturday morning as they drove along a Florida interstate: a mannequin dressed in a police uniform dangling from a rope at an overpass.
"Emergency crews in Jacksonville were dispatched shortly after 6:20 a.m. to investigate a possible suicide.
"But when they got there, they discovered a mannequin hanging from an I-95 overpass wearing a pig mask and dressed in what appeared to be a New York City police uniform."
Democrats never abandoned lynching.
They just changed the targets.
ITEM 13
:
ABC reported
, "As of Sunday morning, 60 people were shot, 9 fatally, across Chicago during Father's Day weekend.
"Four minors, including a 3-year-old boy, were among the victims who were fatally shot, police said."
The toddler (not named) was shot and killed while his father was driving at 6:30 p.m. on Saturday.
Say a prayer for the father.
The mayor tweeted.
Our city's collective heart breaks to hear the unfathomable news of a 3-year-old boy who was shot and killed tonight on Chicago's West Side. There are simply no words to describe such a heinous, unconscionable act of cowardice to shoot at a toddler.

— Mayor Lori Lightfoot (@chicagosmayor) June 21, 2020
It is completely fathomable. It happens all the time in Chicago.
When is she going to do something to stop the carnage? She's black. The victims are overwhelmingly black. The perps are overwhelmingly black. Make black lives matter more than a slogan.
ITEM 14
:
The Hill reported
, "Democrats are worried their party unity is fraying five months out from the presidential election as several contested primaries pitting progressives against mainstream Democrats go down to the wire.
"Some Democrats have begun pointing the finger at Sen. Bernie Sanders (I-Vt.), saying he's been consumed with down ballot elections at the expense of promoting Biden's bid for the White House. The Democrats, who are not affiliated with the Biden campaign, say Sanders needs to do more to make sure progressives fall in line behind Joe Biden in November."
Stay the course, Trumplicans. Democrats nominated a doddering old fool. The election is held November 3rd, not today.
ITEM 15
:
CNBC reported
, "A record $2 trillion surge in cash hit the deposit accounts of U.S. banks since the corona virus first struck the U.S. in January, according to FDIC data.
"The wall of money flowing into banks has no precedent in history: in April alone, deposits grew by $865 billion, more than the previous record for an entire year."
Now we know where those stimulus checks went.
ITEM 16
:
The Washington Examiner reported
, "Macy's said the black man who was caught on video attacking a white store employee in Michigan was unprovoked.
"The video has circulated on various social media platforms since last Monday, and the man who originally posted the video, a rapper known by the name FT Quay, said it was sparked by the Macy's employee saying the N-word to a black man in the store. The suspect is FT Quay's brother, according to the New York Post, and the attack 'was spur of the moment.'
"Macy's rejected this version of events.
"'We are deeply saddened about the incident that took place on Monday (June 15) at Macy's Genesee Valley as the safety of Macy's customers and colleagues is our top priority,' Andrea Schwartz, senior director of media relations for Macy's, said to a local Michigan outlet. 'Violence in the workplace of any kind is unacceptable. All the materials from the evening have been reviewed and it is clear that the attack was unprovoked. We are working closely with local authorities on this investigation, and will defer any further comments about the case to them per policy.'"
A corporation with backbone?
We shall see.
Remember, this is the company that dumped Donald Trump when he came out against illegal immigration.
ITEM 17
:
United Press International reported
, "Nearly half a year after the first corona virus cases were confirmed in Red China, the pandemic has spread worldwide and is nearing a milestone, 9 million cases.
"The total stands at 8,954,609, according to tracking by Worldometers.info. And about 5.2% of them have resulted in deaths: 467,461.
"Roughly 1.15% of the 7.8 billion people in the world have contracted the disease. And the death toll is 60 per million people."
Those numbers are BS because Red China has lied about its deaths.
The United States reported a total of 297 COVID deaths today, the lowest daily total since March 24.

Banner headlines tomorrow?

— Phil Kerpen (@kerpen) June 22, 2020
But cases don't matter. Deaths do. Deaths are falling.
ITEM 18
:
John Nolte reported
, "While left-wing Hollywood's running around declaring us racist, it's instructive to remember it was only 11 years ago that this same Hollywood nominated a blackface performance for an Oscar.
"Robert Downey Jr.'s iconic performance in Tropic Thunder (2008) not only earned him a Best Supporting Actor nod at the 2009 Academy Awards, his blackface performance was also nominated for a Golden Globe, a BAFTA (whatever that is), a Screen Actors Guild Award; as well as awards from something called the Alliance of Women Film Journalists (they sound like a load of laughs), the Awards Circuit Community Awards (do they know the word Awards appears twice in their name?) and at least a dozen more."
Blackface.
In the 21st century.
Really?
ITEM 19
: Thavolia Glymph is a professor of history and African and African American Studies at Duke University, specializing in Southern History.
She wrote on June 18, 2009
, "Today, Juneteenth is celebrated as something even grander, a 'holiday commemorating the end of slavery in the United States' or as the state of Virginia's 'Juneteenth State Holiday Observance Resolution of 2007,' put it, Juneteenth represents the day General Gordon Granger notified 'the last enslaved Americans of their new status almost two and one-half years after the Emancipation Proclamation.' Other state, senate and congressional resolutions and media accounts all offer up similar narratives. Strictly speaking, Juneteenth does not represent any of these things.
"There are several problems with how the story is told. It is doubtful that the slaves gathered in Galveston who heard the proclamation were as lacking in knowledge of events as the popular narrative would have us believe. This would not have been the first they had heard of the Emancipation Proclamation or the first time they had heard that the war had officially ended. Moreover, it is a narrative that installs General Granger as the hero of emancipation in Texas, thus effectively erasing the story of black people's own contributions to their freedom and their political consciousness which is, perhaps, the more significant story."
Marxists began tearing down this statue before we erected it because Marxists do not want to admit 300,000 white men died liberating 6 million black people.
Up next: how World War II was not about ending fascism in Italy, Nazism in Germany, and imperialism in Japan.
ITEM 20
: Readers wished me well and prayed for me on Father's Day, which is the first one after my youngest son's death on Good Friday. While I miss Michael, here is how I look at it. I never had a Father's Day when I was a kid. My parents divorced, and my father divorced his kids. Only when he was dying did he agree to meet me when I was 47.
Michael -- all three of my children -- gave me Father's Day, and I deeply appreciate it. Only one child could show up physically this year, but all three are in my heart.
By the way, my mom was a pretty good father too. I wished her a happy Father's Day before she died, and yesterday I wished her a happy Father's Day again.
FINALLY
, June is Accordion Awareness Month.
AC/DC should take the instrument up.