Donald John Trump is still our president
ITEM 1
:
Tulsa World reported
, "President Donald Trump will be in Tulsa on June 19 for this first campaign rally since the coronavirus pandemic started.
"He is planning more events in Florida, Texas and Arizona as well.
"Trump made the announcement during a roundtable with African American supporters Wednesday afternoon that did not appear on his public schedule."
As George Strait once sang,
Tell me something bad about Tulsa
So I won't have to go back
Believing I belong there
Again
A week from Friday, we will all want to be in Tulsa for an hour or two.
ITEM 2
:
The National Federation of Independent Businesses reported,
"The Small Business Optimism Index increased 3.5 points in May to 94.4, a strong improvement from April's 90.9 reading. Eight of the 10 Index components improved in May and two declined. The NFIB Uncertainty Index increased seven points to 82. Reports of expected business conditions in the next six months increased 5 points to a net 34%, following a 24-point increase in April. Owners are optimistic about future business conditions and expect the recession to be short-lived."
Their optimism is a relief.
My fear was corporate America would recover quickly at the expense of small business.
ITEM 3
:
United Press International reported
, "The U.S. Consumer Price Index, the gauge that measures change in the costs of goods and services, fell for the third month in a row in May.
"The Labor Department said in its monthly report the index declined by 0.1%, after an 0.8% drop in April. The figure added up to an overall 0.1% index increase over the past 12 months, it noted.
"The department said it's the first time ever the non-food and energy index has declined for three months in a row. All items not including food and energy also fell in May for the third straight month."
I guess I can just leave my
Whip Inflation Now
button in the junk drawer.
ITEM 4
:
Fox reported
, "The focus of so much of the recent George Floyd protests has been on police violence against demonstrators and others, but in New York City, the union that represents NYPD detectives is turning the tables.
"'If you assault a New York City Detective and there are no consequences from the criminal justice system, we have to have other means to protect our detectives,' said Paul DiGiacomo, president of the Detectives' Endowment Association, which has represented some 19,000 current and former detectives. He vowed to sue any protester, rioter or looter who attacked its members.
"'It's heart-wrenching because they are out there doing a job under very difficult circumstances, trying to protect the innocent people that are protesting while the criminal element is within that group, assaulting, looting and victimizing not only police officers and detectives out there, but also the people of the city.'
"The first lawsuit has been filed against a looting suspect accused of stealing items from a pharmacy in Manhattan and who allegedly attacked Detective Joseph Nicolosi. The detective claimed he was injured in the struggle when the 19-year-old suspect resisted arrest."
Defund the Riots.
ITEM 5
:
The Wall Street Journal reported
, "Tucker Carlson is leaving the Daily Caller, the conservative digital publication he co-founded a decade ago, a move that he said would help him focus on his prime-time opinion show on Fox News.
"'I'm just too absorbed in what I'm doing,' Mr. Carlson said in an interview. 'I wasn't helping in any way, because I've got an hour to do every night."
"Daily Caller co-founder and publisher Neil Patel said he bought out Mr. Carlson's roughly one-third stake, but declined to disclose the terms. Mr. Patel now owns a controlling stake in the website — the rest of which is owned by investor and major Republican donor Foster Friess and a few other small investors — which makes the Daily Caller the largest digital-media company owned by a person of color, according to Mr. Patel, who was born in India."
It always was odd that Carlson was associated with a competitor.
ITEM 6
: Citing covid-19 concerns, Georgia postponed its primary election three weeks, holding it on Tuesday. Chris Cuomo at CNN thought he would have Georgia election official Gabriel Sterling on to sweat about problems with the voting.
News Busters reported
, Sterling ate Fredo for lunch. There was record turnout. And there were new machines.
Cuomo said, "No, no, no. The machines are new, the problem is not. In 2018, 87,000 people were prevented from voting, a disproportionate number were people of color and young voters. I agree with you that you had anticipation of a turnout. You had to prepare for it, it doesn't seem you did. And it seems convenient, if you're going to be not able to handle the demand, it's nice that you do it in places that tend to vote Democrat. "
Sterling replied, "Those counties where people tend to vote Democrats are run by Democrats and they're the ones that set the elections boards, they're the ones who hire the staff. We have been saying for years there's problems in Fulton. Fulton County has paid hundreds of thousands of fines for violating election rules. It has repeatedly, over and over again. You can go back and look.
"And I'm sorry to say it that way. But we've have 159 counties and 150 of them had almost no problems whatsoever. And they all received the same level of training from the secretary of state. We trained the trainer, the counties are in charge of training the poll workers. We're all going to learn from this."
Hahaha.
Fredo will never learn.
ITEM 7
: The Washington Post reported, "Flynn committed perjury and his guilty plea of lying to FBI should not be dismissed as DOJ requests, court-appointed [friend of the judge] finds."
I hope Flynn's lawyer Sidney Powell finds a case where Judge Sullivan allowed someone to withdraw a plea of guilt without this unusual move that likely defies the canons of judicial behavior.
But we have a corrupt government in Washington where the innocent are railroaded and the guilty get book deals.
ITEM 8
: Mitt is a weathervane.
ROMNEY: "I'm confident that we will keep the majority in the Senate. And I actually have long predicted the president will be reelected - I continue to think that's the case." Cc

@realDonaldTrump

— Jake Sherman (@JakeSherman) June 10, 2020
He is so loyal that he became the first senator to vote to remove a president from his own party.
ITEM 9
:
Newsmax reported
, "Female leaders have performed better in general than their male counterparts in dealing with the corona virus around the world, according to former presidential candidate Hillary Clinton, Business Insider reported on Wednesday.
"'There is a correlation between countries with women leaders and very positive responses to covid-19,' Clinton said this week during a virtual summit sponsored by CARE, an international humanitarian agency. 'Women have been demonstrating the kind of inclusive, empathetic, science-based leadership that we should be trying to promote across the world.'
"The summit — which featured Clinton, Speaker of the House Nancy Pelosi and other notable figures — focused on the disproportionate impact the pandemic has had on women, as well as the efforts to overcome racial injustice."
People in Michigan disagree.
They call their governor Whitler because she acts like a governess.
By the way,
the virus has killed more men than women
. Hillary is never right, is she?
ITEM 10
: Blue Lives Matter.
law enforcement. Senior police officials in several major cities already at risk, according to DHS intel analysis, after information posted and shared on social media. READ

#MyHighlighter pic.twitter.com/DC4HRKfIbM

— Catherine Herridge (@CBS_Herridge) June 10, 2020
The left will do this until there is a penalty paid.
ITEM 11
:
The Washington Times reported
, "Seattle protesters demand city abolish police, hire black doctors to treat black patients."
Democrats are going old school. Separate but equal.
Meanwhile,
protesters in that city said
, "The first night in the so-called Capitol Hill Autonomous Zone that has formed in the wake of police giving up the week-long blockade of the East Precinct was rainy and peaceful and full of speeches from activists, agitators, poets, and socialist city council members."
Put a fence around the zone and do not let anyone in or out.
Oh, and the protesters put out a plea for vegan food and soy because the homeless people stole all their food.
ITEM 12
:
KEX reported
, "Portland Mayor Ted Wheeler has previously said that building walls is racist.
"Last year, he said 'we have an administration that's seeking to build a wall to divide us…We have a president who emboldens racist behavior.'
"Well, a little more than a year later Mayor Wheeler is having a plywood wall built around city hall to keep his violent and radical supporters out."
The Prince of Portlandia should build a moat.
Also,
the Portland Tribune reported
, "Mayor Ted Wheeler on Monday offered all city of Portland employees 40 hours of uncontested bereavement leave to mourn 400 years of African-American oppression, including the police killings of African-Americans across the country.
"Wheeler made the announcement in a June 8 email to city employees. The offer came after more than a week of large protests over police brutality, including the death of African-American George Floyd at the hands of Minneapolis police."
Taxpayers should also get a week off from paying taxes.
Uncontested leave, eh?
I suggest the entire police force take a week off together.
ITEM 13
: Which one is satire?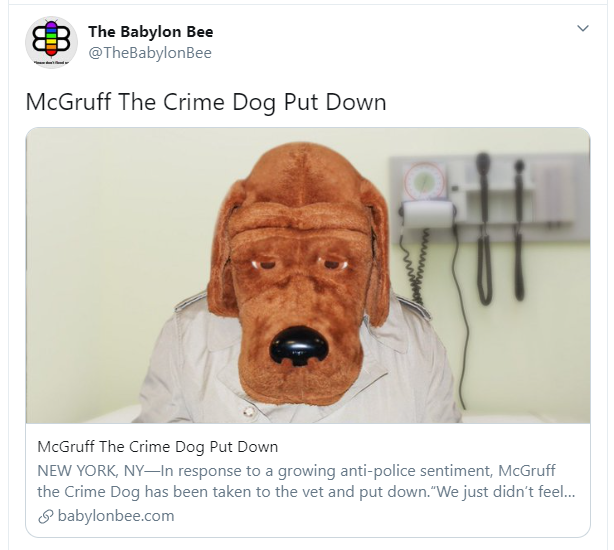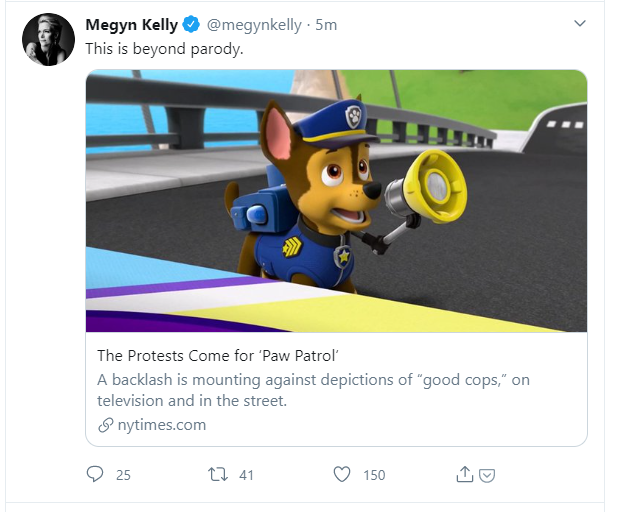 It's as if the left gets all its new ideas from Babylon Bee.
ITEM 14
:
Christian Toto asked
, "Are These 7 Movies on the Woke Mob's Chopping Block?"
He cited the temporary removal of Gone With The Wind as an example.
His list of soon-to-be-banned films include Blazing Saddles and Animal House. He is likely correct. Lefties are humorless scolds.
By the way, I did not like GWTW. Chick flick.
ITEM 15
:
The Daily Mail reported
, "Mayor de Blasio says NYC will rename a street in every borough after prominent black leaders and paint 'Black Lives Matter' on roads in each of the five 'crucial locations' - including one near City Hall."
I am sure residents on those thoroughfares will really appreciate having to change their address.
You elect ignorance, you get ignorance.
ITEM 16
:
The Detroit News reported
, "Gov. Gretchen Whitmer said Tuesday she supported the spirit of efforts to defund the police in the wake of George Floyd's death last month at the hands of Minneapolis police, a statement that her office later clarified did not indicate support for eliminating funding for law enforcement.
"The conversation surrounding the defund the police movement is really about reprioritizing resources, the Democratic governor told The Root in a Tuesday interview broadcast on Instagram."
Defund the police is just that.
I am so glad that this second-generation politician never had to live through a riot that forced her family to leave a house it had lived in for 42 years.
FINALLY
, June is National Accordion Awareness Month. Many readers don't like FDR but his death was mourned by a nation drained by a world war. The photo of Chief Petty Officer Graham Washington Jackson Sr. playing his accordion with tears streaming from his eyes is heart-rending even today.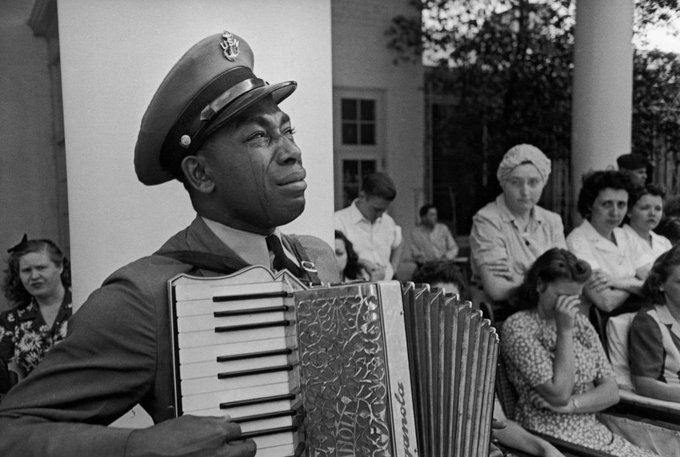 He was friends with the Roosevelts.
He was playing "Going Home," a 1922 song adapted by William Arms Fisher from Symphony No. 9 by Dvořák, his New World Symphony.
It is
the saddest accordion music I have heard
.