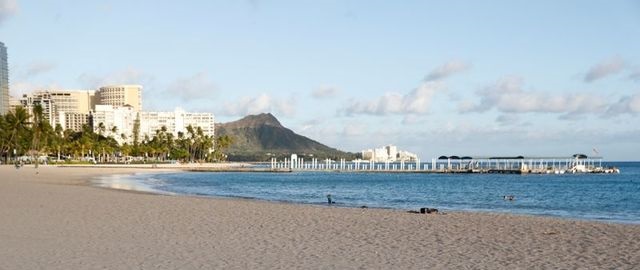 Hawaiian tourism hasn't been this low since Japan attacked Pearl Harbor. ABC is boo-hooing. Poor Hawaii.
ABC reported
, "The unemployment rate in Kahului skyrocketed to 35% in April -- nearly 10% higher than the national unemployment rate at the peak of the Great Depression -- and the highest of any metropolitan area in the U.S., according to the latest data available from the Bureau of Labor Statistics.
"As covid-19 decimated tourism and the planes stopped coming in, job losses on the island piled up with unprecedented furor. In March, Kahului had some of the lowest unemployment rates in the nation at 2.2%."
Covid-19 did not destroy tourism, the state government did by imposing a mandatory 14-day quarantine for all visitors indefinitely. That strangled the goose that laid the 2.2% unemployment egg.
Carl Bonham, the executive director and a professor at the Economic Research Organization at University of Hawaii, told ABC, "After 9/11 there were literally zero planes in the air. That was a very different situation in that we had a shutdown of tourism for a short period of time, but we didn't shut down the rest of the economy."
This is a story repeated by other states, none as severe. Governors told Americans there would be a two-week shutdown to flatten the curve. They lied. All of the governors who shut their states down lied because the unconstitutional and ineffective shutdowns lingered on and on long after they were necessary.
We know that because when Democrats took to the streets to riot and loot, they did not social distance themselves.
And the cops in many places left them alone to wreak havoc.
The governors also lied in that they did not shut everything down, most notably state government itself. Workers stayed home but their paychecks kept coming. Restaurants could not do that. State governments thought they could.
Wrong.
Not only did governors fail to reduce expenses (even as services dropped) but their actions led to a drop in tax revenue.
California believes it will run a $54 billion deficit.
These goofs think the federal government should just give them the money to cover their fascist closures and spendthrift.
Nope.
Make them borrow the money on the open market. Make California and Hawaii issue tax-free bonds to cover the debts they made. Interest rates are extremely cheap today.
Democrats used covid-19 as an excuse to tank the economy just as they used George Floyd's death as an excuse to riot and loot. Their promiscuous fascism gave them an economic venereal disease. Let them pay for their own penicillin.
Blue Hawaii should think again in the next election for governor.