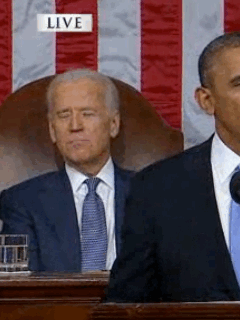 Joe Biden is the most ridiculous major party presidential candidate ever. On Friday, he cinched the nomination despite suffering a dementia that already requires him to be walked by his wife.
Democrats trust that the media will be able to paper over his problems. Democrats believe if the press doesn't mention his dementia, it does not exist.
But even before he began that dark and lonely journey into another dimension, Biden was mentally unfit. His inability to sit still through a presidential State of the Union address should have been the target of ridicule so loud that would have gotten him replaced on the ticket in 2012.
Instead of warning Democrats that their train will wreck in the first debate, the media is telling Democrats to pour on the steam.
CNN reported on April 30
, "President Donald Trump and his allies have zeroed-in on an attack against Joe Biden, going after the presumptive Democratic presidential nominee's mental fitness in a coordinated effort using smears and innuendo to paint him as ill-quipped for the presidency.
"The attacks are an early demonstration of how Trump will use the full Republican Party apparatus to run a scorched-earth campaign based on personal insults and baseless insinuations -- an intensified version of his playbook from 2016, when Trump and his allies, without evidence, cast doubt on Hillary Clinton's health. They have become a daily occurrence from Trump's campaign, aides and Republican allies across every medium possible -- on social media, in campaign email blasts and videos and on Trump-aligned media organizations like Fox News.
"Trump for months has questioned the mental acuity of the opponent he calls Sleepy Joe. Trump last week referred to Biden as 'a sleepy guy in a basement of a house,' and he has repeatedly suggested that Biden did not personally write statements issued by his campaign criticizing Trump's handling of the corona virus pandemic."
Biden indeed stayed in his house for 2 months.
And he does look sleepy or at least dull.
CNN blundered forward, stating, Trump's "campaign and the Republican National Committee have increasingly focused its attacks on Biden's propensity for on-camera verbal stumbles in recent weeks, as it seeks to define Biden after he emerged victorious from the Democratic primary."
His dementia is just on-camera verbal stumbles, CNN said.
I now disagree with those who say he will drop out in favor of his vice presidential nominee. Democrats clearly do not see Biden as the disaster-in-waiting that conservatives do. Democrats have their own reality.
Besides, changing candidates midstream will doom the ticket.
The CNN story showed that Democrats believe they can bluff their way to victory in November.
The Fake News outlet said, "Biden advisers argue that Trump's attempts to caricature Biden won't overcome the same qualities that insulated him in the Democratic primary: After five decades in the public eye and eight years as President Barack Obama's No. 2, voters feel like they know him."
Voters may feel like they know him, but they don't because who pays close attention to a vice president? It's been nearly two weeks since I even mentioned Pence on a political blog that has 15-19 items in a daily roundup and two or three posts. I doubt the general public much cares about him. And I doubt the general public paid much attention to Biden.
If voters paid attention, they would see that Biden is a corrupt political weathervane who got his son into the Navy without qualification, quietly sneaked his son out when he was busted for cocaine, got him a deal as a credit card lobbyist when Biden changed bankruptcy law to help credit card companies, and flew his son on Air Force Two to Beijing to collect a $1.5 billion investment from the Red Chinese. The son cheated on his wife with his brother's widow, and later had a child with a stripper.
The father is worse.
Nominating this corrupt and demented man reflects on just how sorry the party is. Obama is about to blow all his political capital -- and his party's final reservoir of credibility -- when they go all in for Biden this year.
Bernie Sanders could not possibly be worse because the platform will be the same as the party wants to fundamentally transform America into Chicago. The media ignore Biden's disqualifications. Democrats believe that makes the problem go away.
Boy are Democrats in for a surprise when voters finally see Biden up close and personal this fall.