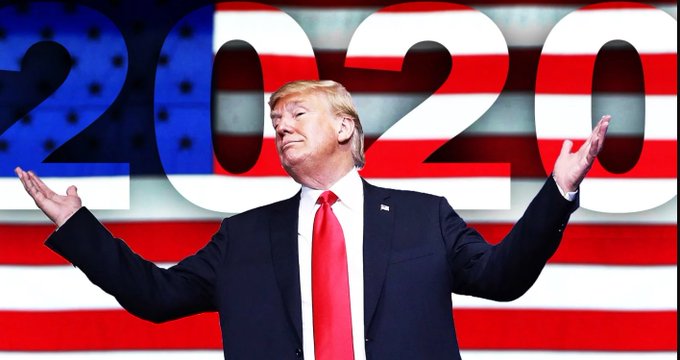 Donald John Trump is still our president.
The stupidity this weekend was so overflowing
that 22 items this morning were not enough
.
ITEM 1
:
BBC reported
, "Poland has admitted to briefly invading the Czech Republic last month in what the Polish Defence Ministry described as a misunderstanding.
"Polish troops guarding the frontier as part of corona virus measures took up positions by a chapel on the Czech side of the border. They apparently stayed there for several days.
"The soldiers prevented Czech visitors from accessing the site.
"Czech authorities eventually intervened by contacting Warsaw."
Always Czech and double Czech your maps.
ITEM 2
:
The Washington Examiner reported
, "House Majority Whip James Clyburn said he lives in more fear of police now than during racial segregation in the South."
Clyburn told CNN, "I didn't grow up in fear of police, even in a segregated environment. We never feared the police. All of a sudden, now I do fear the police. The young blacks fear the police."
If after dedicating his life to civil rights for 60 years things are worse than when he started, then he is a complete and utter failure.
But as I believe in the equality of Man, I realize that black politicians like Clyburn are just as good as white politicians like the Clintons when it comes to lying through their teeth.
And he didn't fear the police in the 1950s? That is fertilizer too strong to use on crops.
ITEM 3
:
Just the News reported
, "probe at the National Institutes of Health has led to the firings and resignations of 54 scientists after they failed to disclose foreign ties while registering for grants.
"The leading health agency opened investigations into nearly 200 scientists with unreported foreign ties; 93% of the undisclosed funding came from China. The NIH has, so far, removed 77 grant recipients from its databases.
"The investigation was a result of the NIH's effort to weed out foreign entities targeting researchers at the institutes to steal intellectual property and protected information."
Emoluments.
Accepting money from Red China. Just who do they think they are? Hunter Biden?
ITEM 4
:
CBC reported
, "Newly-released access-to-information documents reveal details about a shipment of deadly pathogens last year from Canada's National Microbiology Lab to China — confirming for the first time who sent them, what exactly was shipped, and where it went.
"CBC News had already reported about the shipment of Ebola and Henipah viruses but there's now confirmation one of the scientists escorted from the lab in Winnipeg amid an RCMP investigation last July was responsible for exporting the pathogens to the Wuhan Institute of Virology four months earlier.
"Dr. Xiangguo Qiu, her husband Keding Cheng and her students from China were removed from Canada's only level-4 lab over what's described as a possible policy breach. The Public Health Agency of Canada had asked the RCMP to get involved several months earlier. "
Et tu, Canada?
Let's all agree that Red China should never be trusted.
ITEM 5
:
Tom Rogan reported
, "JP Morgan: 'We will decline to comment.'
"Bank of America: No response. Morgan Stanley: No response. Goldman Sachs: No response.
"That's how those four banks reacted to my question on Thursday as to their position on the new Chinese security law in Hong Kong and whether they are opposed to said law. The recently announced law gives effect to Beijing's shredding of its treaty obligations under the Sino-British Joint Declaration and its subjugation of Hongkongers to mainland-style tyranny.
"But in the banks' response to my question, we see a rather striking dichotomy between the way in which major American banks are responding to the Black Lives Matter protest movement and Beijing's war on human rights. Indeed, the dichotomy is so striking that only one serious conclusion can be drawn from it."
Red China owns any company that is more fearful of its communist government than our own.
ITEM 6
:
Politico reported
, "National Economic Council Director Larry Kudlow reiterated Sunday the $600 additional weekly unemployment benefit created to aid those who lost their jobs due to the coronavirus pandemic will end in late July."
Kudlow said, "I mean, we're paying people not to work. It's better than their salaries would get. That might have worked for the first couple of months. It'll end in late July."
Shutting down the economy made no sense, but this helped mitigate the pain of that mistake. But surf's up, summer is here, and it is time to get on with our lives.
ITEM 7
:
The City reported
, "Over the two last weeks, Mayor Bill de Blasio and others have voiced concerns that packed police brutality protests across the city could trigger a new wave of covid-19 infections.
"Whether or not that's the case, however, remains unknown — and de Blasio's team won't be directly trying to find out.
"The hundreds of contact tracing workers hired by the city under de Blasio's new 'test and trace' campaign have been instructed not to ask anyone who's tested positive for covid-19 whether they recently attended a demonstration, City Hall confirmed to The City."
So not only did Red China shut down our economy with covid-19, it gave Democrats an excuse spy on every move you make. In the meantime, we are about to put the communist Black Liberation Movement (Black Lives Matter) in charge of the police who will be federalized.
I am just full of happy news today, aren't I?
ITEM 8
: Good news, not everyone in America is as insane as the activists want you to believe.
— Eric Trump (@EricTrump) June 14, 2020
God bless America, boaters, and President Trump.
ITEM 9
: The media, however, is another story.
News Busters reported
, "Towards the end of a very heated and contentious argument with Trump lawyer Jenna Ellis during Sunday's Reliable Sources, CNN host Brian Stelter was so triggered by being called fake news that he angrily lashed out at his guest; telling her that in 10 to 20 years her kids and grandkids were long to look back on her work for President Trump with disgust."
It was another meltdown by the Mr. Potato Head version of
Howard Beale
.
Well, someone had to take over for Keith Obermann.
ITEM 10
:
The Associated Press reported
, "Fitness junkies locked out of gyms, commuters fearful of public transit, and families going stir crazy inside their homes during the corona virus pandemic have created a boom in bicycle sales unseen in decades.
"In the United States, bicycle aisles at mass merchandisers like Walmart and Target have been swept clean, and independent shops are doing a brisk business and are selling out of affordable family bikes."
Bicycles, bicycles, bicycles everywhere. Just like Peking under Chairman Mao.
ITEM 11
:
United Press International reported
, "British Prime Minister Boris Johnson and officials of the European Union began talks Monday to break an impasse in negotiations concerning their relationship after the Brexit transition period ends in December.
"Johnson, European Commission President Ursula von der Leyen, European Council President Charles Michel and other top officials began the video conference hoping for progress toward a trade agreement for when the transition ends on Jan. 1.
"Britain's exit deal keeps it within the bloc's single-market customs union and other institutions only during the transition. After Dec. 31, if there's no agreement, the sides would revert to default World Trade Organization rules, under which there would be higher tariffs and barriers to the EU market."
They told Britain it could always leave.
The British voted to leave 4 years ago.
The British elected Boris Johnson prime minister after he promised to leave on October 31.
Britain will never be great again.
ITEM 12
:
Tulsa World published an editorial
, "This is the wrong time and Tulsa is the wrong place for the Trump rally."
Oklahomans overwhelmingly elected Donald Trump president.
The newspaper is on another planet. It is in the wrong time and the wrong place. Naturally, the Drudge Report linked it.
ITEM 13
:
NBC reported
, "Biden is far less unpopular than Hillary Clinton was four years ago, polling shows."
44 years of running for office and he is slightly less unpopular than Medusa.
ITEM 14
:
Politico reported
, "By most conventional indicators, Donald Trump is in danger of becoming a one-term president. The economy is a wreck, the corona virus persists, and his poll numbers have deteriorated.
"But throughout the Republican Party's vast organization in the states, the operational approach to Trump's re-election campaign is hardening around a fundamentally different view.
"Interviews with more than 50 state, district and county Republican Party chairs depict a version of the electoral landscape that is no worse for Trump than six months ago — and possibly even slightly better. According to this view, the corona virus is on its way out and the economy is coming back. Polls are unreliable, Joe Biden is too frail to last, and the media still doesn't get it."
Washington told us Hillary would win.
I'm sticking to my 37-state prediction of the 30 states he won last time plus Colorado, Maine, Minnesota, Nevada, New Hampshire, New Mexico, and Virginia.
ITEM 15
:
BizPac Review reported
, "Pelosi presenting special US flag to Floyd family sparks outrage; 'an insult to our service members.'"
Way to alienate every Gold Star family in America.
Sad.
ITEM 16
:
Barron's reported
, "Biden Has Proposed Reducing Tax Cuts. These 20 Stocks Would be Vulnerable."
Reducing tax cuts is an odd way of saying raising taxes.
ITEM 17
:
From November 11, 2019
, "Monty Python Icon John Cleese Has Brutal Assessment Of Trump's Fox News Fans."
8 months later he is whining about censorship by BBC
, "Fawlty Towers: John Cleese attacks 'cowardly' BBC over episode's removal."
Oh, BBC is cowardly and restored the episode. But I trust he got a taste of Trumpenfreude, and now realizes it is the conservatives -- not the liberals -- who protect our rights.