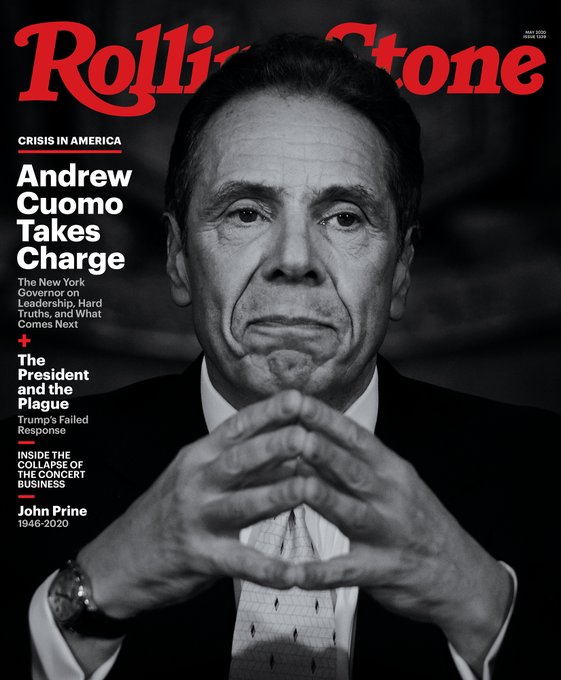 In April, the governor of New York made the cover of the Rolling Stone.
The story was headlined, "Andrew Cuomo Takes Charge. The governor of New York found himself at the center of a deadly crisis. His response has helped guide the nation."
The interview took place just a few days after he locked down the state. But he instantly was heralded as the savior of the country in a sappy interview.
He said
, "Well, look, nobody's been here before, right? These are all uncharted waters. So you use your experience, you use your knowledge, you use your instincts, and you feel your way through the situation. Nobody can give you a chart. They can't tell you the depths of the water. They can't tell you where the rocks are. But if you've navigated for years, you develop an instinct that helps. But also keep it simple. Tell the truth. Give people facts. Explain what you're doing, why you're doing it. I don't go out to impart confidence. You can appear confident, but you're not going to fool New Yorkers, right? They're going to hear what you're saying and watch what you're doing. They'll make their own decision whether or not it makes sense. Here's where we are, here's what I'm doing, here's what I've done, here's what I plan to do, this is why I'm doing it. These are dramatic actions. I'm going to close the schools. 'What? Why are you closing the schools? I want my kid to go to school.' I mean, that's a normal reaction. 'Well, this is why I'm doing it.' 'OK, that makes sense.' Or they think it doesn't make sense. But it's the actions and the facts that ultimately win or lose here, right? They've been watching what I'm doing for five, six weeks. So far, I think people think the actions we've taken make sense and are logical. But I think it's a function of the merits and the substance in the actions more than anything else. I don't care how many times you go out and brief. If what you're doing doesn't make sense to them, they will lose confidence very quickly. You know, confidence is earned. It's not declared."
Actually, the waters have been charted before.
Quarantines harken back to the start of civilization. They helped civilization survive. You isolate the sick and those exposed to the disease.
Duh.
Super Genius Cuomo isolated everyone.
And he failed to shut down or even disinfect the subways.
He said, "You can appear confident, but you're not going to fool New Yorkers, right?"
But that is exactly what he did, and he indeed fooled New Yorkers. He took charge and New Yorkers died by the thousands, and his popularity soared.
The death rate in New York is 14 times the death rate of Florida. The national press praises Cuomo while bashing Florida Governor Ron De Santis as a rube for not panicking. In the media's eyes, the Democrat is always smarter than the Republican.
And in the incestuous world of media and Democrat politics, Cuomo's brother is a CNN prime-time anchor. Despite the governor's lockdown order, the brother got covid-19 and gave it to his wife. This led to a second Rolling Stone piece, "Cristina Cuomo's Wellness Regimen Shows How the Rich Deal With Corona Virus. She shares some of her covid-19-fighting tips, including using a body charger and bathing in a half cup of Clorox."
Her treatments were exotic, expensive, and experimental.
The story said
, "Cristina Cuomo, wife of CNN anchor Chris Cuomo (and sister-in-law to New York Governor Andrew Cuomo), is the founder and CEO of a wellness publication called The Purist. So it is not exactly surprising that, following her own covid-19 diagnosis, she would blog about her family's corona virus health and wellness regimens, which are replete with wellness buzzwords such as Ayurvedic diets and oxygenation and cleansing shakes and body charger devices."
She did not use the one regimen that unsophisticated people around the world use: hydroxychloroquine and zinc. The sophisticates oppose it because President Donald John Trump suggested it might be a game changer.
Instead they drink laxatives ("cleansing shakes") and bathe in Clorox while chuckling at those rubes. Or so they tell us. Would they disclose using hydroxychloroquine and zinc given their politics?
Governor Cuomo has managed to both break the economy and fail to save lives. His actions offer a primer on how not to handle a pandemic.
His failure is legion, and it is drawing notice. A backlash grows against Democrat governors as people realized the ignorance of the actions by their state governments. The Pandemic Panic is the last straw for many people who are just plain tired of being governed by people who do not understand them.
Glenn Harlan Reynolds wrote
, "As a recent article in The Washington Times notes, residents of more rural parts of many states want to secede, because those states are dominated by the residents of large urban centers, who know little and care less about the lives of people out in the country. 'You've got Oregonians seeking to cascade into Idaho, Virginians who identify as West Virginians, Illinoians fighting to escape Chicago, Californians dreaming of starting a 51st state, and New Yorkers who think three states are better than one.'
"And this leaves out eastern Washington, which, like eastern Oregon, has been talking about breaking off from the liberal-dominated coastal regions. For that matter, California has produced multiple secession plans aimed at breaking the Golden State up into two, or as many as six, states.
"This phenomenon isn't new — I wrote an article about it for the Notre Dame Law Review over a year ago — but it seems to be gathering steam. The reason it's gathering steam is the same reason why most secession movements, including the American break with Great Britain in 1776, gain steam: the belief that the people who want to leave are being treated badly and callously by rulers over whom they have little or no influence. It's not just 'taxation without representation,' but also 'regulation without representation.' And a general sense of being held in contempt."
This is a continuation of the Tea Party movement a decade ago, as well as the election of President Donald John Trump.
But it mainly is geographic, just as America's revolution and its civil war were. It is said when Benjamin Franklin met with the Privy Council in 1770 he walked in an Englishman and walked out an American. They treated one of the world's leading scientists at the time as a rube.
The Cuomos of the world are not worldwise because they rarely leave their perch.
When they do, though, they learn.
Susan Jones of CNS News wrote in 2013
, "First Lady Michelle Obama, who grew up in the violent and murder-plagued City of Chicago, apparently found rural Iowa to be a scary place, even though its murder rate is much lower than that in Chicago, where Mrs. Obama grew up."
Her husband had given a speech for gun control. He recalled driving through Iowa. He said, "'And she says, 'You know, if I was living out in a farm in Iowa, I'd -- I'd probably want a gun too.' She said, somebody just drives up into your driveway, and you're not home, you don't know who these people are and you don't know how long it's going to take for the sheriffs to respond. And I can see why you -- you'd want some guns for protection.'"
Duh.
Cuomo and the rest of the Democrat governors chose to lock down their states instead of quarantining the sick and those exposed to the disease. Gretchen Whitmer shut down the Upper Peninsula for no apparent reason.
We know how sophisticated people acted. They locked everything down except the subways.
We also know how rubes reacted. Kristi Noem refused to shut down South Dakota. New York's death rate is 28 times that of South Dakota.
Cuomo's supporters will argue that the two states are not the same.
Duh.
America is not headed for a civil war but I cannot see how we can continue to run down this bumpy path with scissors in our hands without paying a huge price. Maybe we have and maybe the price we paid is a broken economy.
The real bailout we need is a change in leadership, and a reining in of the powers governors and health directors have.