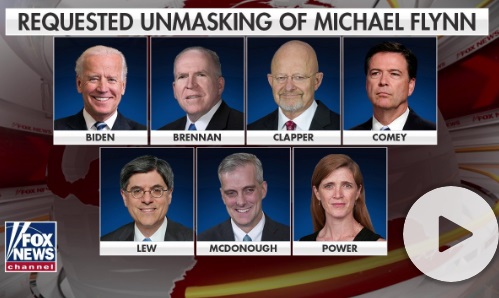 The New York Sun asked, "What Did Obama Know — and When Did He Know It?"
The short answer is everything — and all along.
But that is a tweet, not a blog post. Hindsight being 20/20 and this being the year 2020, let us look back at what we knew and when we knew it.
We know Obama has hated Donald John Trump for at least 30 years. We know that in 1991, Obama wrote in a Harvard Law essay that Americans were too stupid to adopt socialism.
He wrote, "(Americans have) a continuing normative commitment to the ideals of individual freedom and mobility, values that extend far beyond the issue of race in the American mind. The depth of this commitment may be summarily dismissed as the unfounded optimism of the average American — I may not be Donald Trump now, but just you wait; if I don't make it, my children will."
Normative is academic slang for stupid people who are patriotic, decent, and often Christian.
Fast forward 20 years, and Donald Trump revived the birther nonsense just to annoy the peevish prince. Obama got the Washington Post to bring The Donald to White House Correspondents dinner, where the flying monkeys ridiculed Donald Trump and not the president, whose only fault was not being socialist enough on the eyes of the main speaker, Seth Meyers.
Obama began spying on Donald Trump at some point. We can prove that he tried to make it legal as early as June 2016. I would say it began earlier but June 2016 is the earliest I can prove.
His henchmen in the FBI lied 17 times to get permission to spy on The Donald. The press tries to spin this as spying on the Trump campaign, but the target was Donald Trump. And it was personal for Obama.
He had to know because Peter Strzok was in charge of this, and as we know, Strzok was his favorite fixer,
having been placed in charge of the coverup of Hillary's crimes in sending copies of 30,486 emails to Red China
. Many contained classified information.
Strzok may be crazy but he is not a rogue low-level agent. Strzok was the Chief of the FBI's Counterespionage Section. The swamp trusted him.
In its editorial, the Sun said, "Mollie Hemingway in the Federalist presents a terrific timeline. It starts on January 4, 2017, at a time when the FBI was scrambling, as the Federalist's scribe puts it, to reopen a case against General Flynn. The January 5 meeting started as a briefing for the President and also included Deputy Attorney General Sally Yates, the CIA director, John Brennan, and the Director of National Intelligence, James Clapper.
"After the briefing, Ms. Hemingway reports, the intelligence chiefs were dismissed. Ms. Yates and Mr. Comey 'were asked to stay.' Writes Mrs. Hemingway: 'Not only did Obama give his guidance about how to perpetuate the Russia collusion theory investigations, he also talked about Flynn's conversations with Russian Ambassador Sergey Kislyak, according to both Comey and Yates.'"
Which brings us to unmasking, in which Strzok and company officially spied on foreigners but their purpose was to spy on Americans whose names were redacted. Under Obama, political appointees were allowed to unmask the redacted names, which is the antithesis of the reason names were redacted. In allowing the FBI to spy on Americans, a Democrat Congress and a Democrat president in 1978 promised the very safeguards that Obama removed.
The unmaskers included Brennan, Clapper, and Comey -- Obama's three stooges -- but also Jack Lew.
Huh?
Why does a treasury secretary have to have access to such information? Was General Michael Flynn going to counterfeit dollar bills?
Then there is Joe Biden, who unmasked but Obama did not. Biden can barely count to 10. I contend that either Biden's name was an alias for Obama or handed the information over to him. I base this on Biden originally saying he didn't unmask. Biden has a childish naivete that compels him to tell the truth. Consider his gaffe in 2008 that the Obama administration would put the coal industry out of business.
Besides, the vice president had no motive to unmask. Unmasking was not going to get Hunter one red cent in bribery.
I also base this skepticism on the White House visitor's log that Obama made public in 2009. People routinely signed in as Bill Ayers. Rush Limbaugh fell for this, believing that Ayers visited the White House 53 times.
Obama knew about the spying. He thought he covered his tracks. The Russian Dossier was supposed to be a cover story. Instead, it has exposed the deceit.