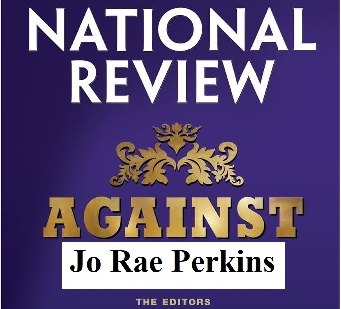 National Review looked at the Republican nominee in the Oregon Senate race, sniffed she's not our kind, and demanded that Republicans vote for the Democrat.
The boys who run NR learned nothing from 2016 when they demanded Republicans abandon their presidential nominee.
Over the years, NR has opposed Patrick Buchanan, Newt Gingrich, and several Senate and gubernatorial candidates because NR is run by highly principled folk who would rather see Merrick Garland on the Supreme Court than Neil Gorsuch or Brent Kavanaugh. Indeed, for most of President Donald John Trump's first year in office, Rich Lowry -- editor of NR --
promoted a But Gorsuch meme mocking Trump supporters
.
In the Oregon case, Republicans nominated Jo Rae Perkins in what is likely a Quixotic quest for the Senate in a state where sensible people are outnumbered by the numbskulls in Portlandia.
NR's editors wrote
, "The Oregon GOP says it will back her candidacy notwithstanding her associations with the QAnon movement. That's a mistake. Perkins is an unreconstructed exponent of a batty and corrosive conspiracy theory running a longshot campaign that carries only political downside for Republicans. They should do what they can to distance themselves from her candidacy."
Hmm, she supports "a batty and corrosive conspiracy theory"?
You mean she believes President Trump is a double agent for the left?
National Review published a John Fund column speculating this in 2015.
Fund ended his piece
, "Actually, I don't believe Trump is a double agent acting in the interests of liberals to discredit conservatism. But (to borrow some phrasing from Trump's conspiracy vocabulary), he is playing the useful idiot for the Left. He might as well be doing it on purpose."
I guess some conspiracy theories are OK, just not the batty and corrosive ones.
Just what QAnon is escapes me.
NR reported, "QAnon originated on an anonymous message board in late 2017 amid the uncertainty surrounding the Mueller investigation. A person calling himself Q and claiming to be a high-ranking official in the Trump administration began posting cryptic messages that weaved together numerology, close readings of Trump Twitter posts, and vague talk of a coming storm. It was said that Robert Mueller was secretly working with the president to conduct an investigation into a sinister cabal of cannibalistic pedophiles led by Democrats and elite business figures. It was predicted that martial law was imminent, and that Mueller would soon hand down indictments against Hillary Clinton. The theory took on a life of its own and attracted hundreds of thousands of adherents. It eventually crossed that fateful conspiracy-theory threshold past which absence of evidence for a claim becomes proof of a cover-up."
Hmm.
Sounds exactly like the Russian dossier, which Democrat Senator Jeff Merkley promoted along with every other Democrat in Washington.
It is not that NR hates conspiracy theories. It is just that NR dislikes the ones that are not popular in DC.
Republicans have a long history of abandoning candidates who get bad press. Paul Ryan, Mitt Romney, and John McCain dumped on Donald Trump throughout the 2016 campaign and his presidency. This was how loyal the 2008 and 2012 presidential nominees and the Speaker of the House were.
NR can virtue signal all it wants. But as long as Democrats are OK with Joe Biden, crazy Tim Kaine (2016 VP nominee), and Hank "Guam Is Gonna Tip Over" Johnson, I am backing Perkins.
While Republicans were all "vote for the crook, it's that important" when David Duke was their gubernatorial nominee in Louisiana, Democrats were toasting Klansman Bob Byrd, their former Senate leader.
Nine years after he got drunk and left a woman for dead in the Chappaquiddick, many Democrats wanted to nominate Ted Kennedy over an incumbent Democrat president in 1980.
Phooey on the snoots at NR and elsewhere in the media.
Perkins won her nomination fair and square. I expect readers in Oregon to vote for her. Hold your nose if you have to. Wear a gas mask if you have to. But for the love of country, vote for the Republican. It is that important.