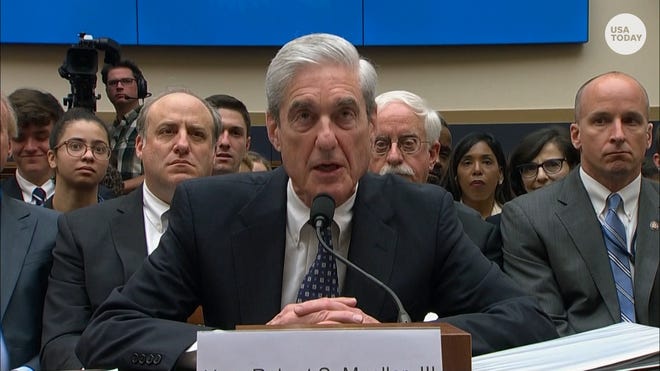 He was for a decade following 9/11 the federal government's police chief as FBI director. Thanks to fawning by the Washington press, Bob Mueller retired with a sterling reputation despite blowing the anthrax case.
In 2017, he came out of retirement and tried to frame President Donald John Trump. John Dowd, Trump's lawyer, provided the details to Gregg Jarrett of Fox.
Dowd told Jarrett
, "Mueller's scheme was the same one captured in the (newly released) FBI set-up notes pertaining to Flynn. They knew they had nothing, but using their official power they created and perpetuated the facade of an investigation."
Dowd said Mueller admitted he had nothing to the president's lawyers on March 5, 2018.
But the investigation dragged on for another year.
Dowd said, "As I look back, we had the most perfect trusting relationship with Mueller based on his word and handshake, which held throughout. No paper. Word was solid. They received everything they asked for without a hitch or page missing, including the most intimate notes of conversations with and by POTUS. Every witness they requested testified truthfully. No lying. No grand jury testimony. Mueller affirmed all of this in our March 5 meeting. How could there be a whisper of obstruction under these circumstances?"
Obviously, entrapment -- framing a fellow -- was standard operating procedure for Mueller, a longtime FBI man.
Jarrett wrote, "Despite no evidence of an underlying crime, Mueller insisted that the president be interviewed by the special counsel. Dowd knew it was a trap. Mueller had done it to Flynn and others. He was clearly angling for obstruction of justice and hoping to ensnare the president in the equivalent of a perjury trap if he consented to be interviewed."
Politics aside, this is unacceptable.
The left used to complain about J. Edgar Hoover spying on Americans, and rightly so. Hoover kept files on everyone in Washington in an abuse of power worthy of the Kremlin.
50 years later, the FBI is still at it.
Under Obama, the FBI lied to federal judges 17 times to get permission to spy on Donald Trump.
Instead of going after those real crimes, Mueller tried to frame President Trump.
We tried reining in the FBI. We failed because it still had too much power. It was an Americanized Stasi.
President Trump was only the latest politician to be targeted by the FBI. Ted Stevens, Bob Menendez, and Marion Barry are among the many people the FBI targeted. Yes, Mayor Barry was scum. But when he said, "Bitch set me up," something in me clicked. The ends do not justify the means. Sorry. The people of DC wanted him, cocaine habit or not.
Dowd told Jarrett, "They knew there was nothing to investigate. People subverted the system of justice. One corrupt act after another. It's staggering. The lies were monstrous. It was all pretense and fraud. Mueller should not walk. Rod Rosenstein should not walk."
But they will.
We all know that.
The only reform that will work is to get the federal government out of the crime-stopping game because the power of the FBI is too great for mortal man to resist.