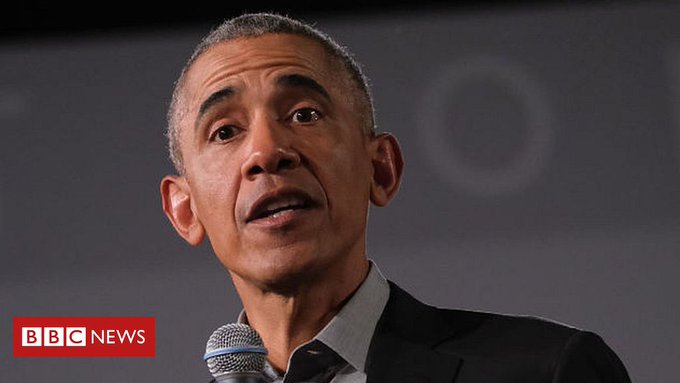 Mexican President Andres Manuel Lopez Obrador ain't happy with the United States.
Oh, he is pleased with President Donald John Trump.
For the first time ever, Mexico is patrolling its borders to stop Mexicans and others from entering the USA illegally.
No, AMLO is upset with Obama who armed drug dealers in defiance off Mexico's strict gun laws.
Reuters reported
, "Mexican President Andres Manuel Lopez Obrador said his government would send a diplomatic note to Washington for information on the 2009-2011 operation known as 'Fast and Furious,' a topic that has resurfaced in recent days amid a debate over historic U.S.-Mexico cooperation on security and possible corruption under previous administrations.
"Setting out to stop cross-border gun smuggling, the U.S. scheme allowed people to illegally buy arms in the United States and take them to Mexico so that the weapons could be tracked and lead law enforcement officials to drug cartel bosses. Some weapons were later blamed for gangland slayings in Mexico.
"'How could this be? A government that invades in this way, that flagrantly violates sovereignty, international laws,"' Lopez Obrador said at his daily news conference.
"To avoid a repeat, the matter needed to be cleared up, said Lopez Obrador, who noted that President Donald Trump had last year been respectful to Mexico in discussions over joint co-operation following two major security incidents."
Obama and Bush 43 used the ATF to arm drug dealers.
The story said, "Roberta Jacobson, a former American ambassador to Mexico appointed under U.S. President Barack Obama, had suggested both governments knew about possible corruption by Garcia Luna in an interview with Mexican magazine Proceso published at the weekend.
"Lopez Obrador has used the arrest of Garcia Luna to argue that corruption was rampant in past Mexican governments.
"But this week he has also asked whether previous U.S. administrations were complicit by working with Garcia Luna, whose period as minister coincided with Obama's first term in office and the final years of George W. Bush."
What should we do?
I would cooperate with the investigation, and extradite Obama and Bush 43 if indicted.
The only way to avoid another lawless administration that abandons the rule of law is to imprison those members of Obama's thug administration who did this to the American people.
Remember, everything Obama and his idiot supporters claim President Trump does is something they did.
Emoluments? Hillary accepted millions in bribes from foreign governments laundered through her phony charity.
Lies? You can keep your doctor.
Politicizing DOJ? Operation Crossfire Hurricane.