— Peter Ingemi (@DaTechGuyblog) May 30, 2020
The looting by white liberals in the name of justice for George Floyd puzzles some people. They view it as bad publicity. Surely a steady stream of scenes of destruction will turn the silent majority against the protest just like 1968.
Richard Nixon barely won in 1968.
More than a half century later -- after communists indoctrinated two generations into believing America must atone forever for slavery and racism -- I'd bet it does the other way.
But the left could not care less about the silent majority. This is about injecting enthusiasm for the election of Derelict, Demented, and Dishonest Joe Biden. The media is promoting once again that riots are righteous anger.
Consider CNN. Rioters attacked its headquarters last night but instead of Jeff Zucker demanding an end to the violence, CNN promoted it as outrage to an injustice.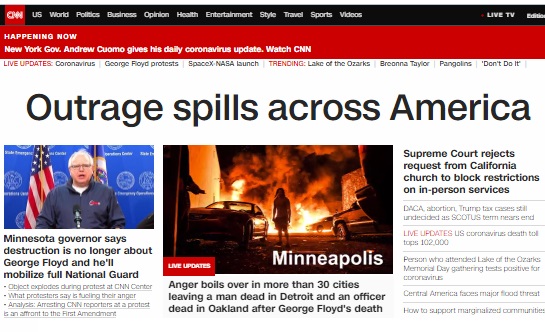 This complements the story of the owner whose restaurant was destroyed, but he sided with the rioters: "
Let my building burn
."
The calculation is that this divides the nation again, just as the deaths of Trayvon Martin, Michael D. Brown, Eric Garner, and Freddie Gray did. Each case featured a flawed victim. Martin certainly attacked and bloodied George Zimmerman. Both Garner and Gray were petty criminals who were familiar to the local cops. None of these cases resulted in homicide convictions, which was the whole point of selecting these cases as flashpoints. The left did not seek seek justice. They sought division.
In President Donald John Trump's America, however, racial division is not as easy as it was under Obama. The latter was a disappointment, while the former had brought record employment and income to all races until the pandemic panic.
Indeed, the protests -- the outrage CNN praises -- is store bought. The looters include white Antifa professionals.
The looting makes no sense until you realize that armies have long enjoyed pillage. To the victor goes the spoils. Even the Band of Brothers of World War II enjoyed Hitler's wine.
Just as Hitler's wine banded the brothers, so does the theft of goods and the torching of Target.
And the arson is self-righteous. Capitalists must pay for the death of Trayvon, er Michael, um whats-his-name. They will never forget. Until the next time.