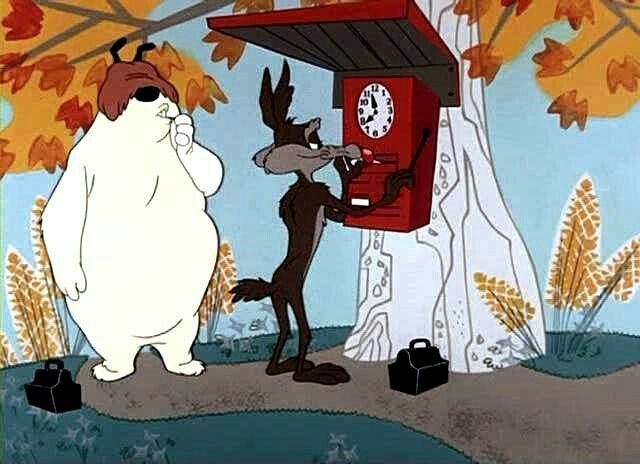 Ralph Wolf and Sam Sheepdog teamed up for a string of Road Runner-style cartoons in the 1950s. They were a wolf and sheepdog act who were buddies when the whistle blew. Now that Roger Ailes is gone. Under Murdoch's son, Fox is another network running endless Ralph-and-Sam political debates.
On Sunday, Chris Wallace hosted Jonah Goldberg, Donna Brazile, and somebody else in yet another panel discussion of just how evil the president is.
Goldberg blasted press secretary Kayleigh McEnany, who had served on these panels until she decided Donald John Trump is not Hitler and went to work for the president.
Jenna Ellis, the president's lawyer, took Goldberg down a peg on Twitter.
Congrats to Jonah. Before today, no one knew it was possible to be outclassed by Donna Brazile.

— Jenna Ellis (@JennaEllisEsq) May 25, 2020
Goldberg tried to laugh it off.
And failed.
LOL.

@donnabrazile

is one of my favorite people and an old friend of mine. We disagree on a lot. Regardless, Jenna, you'll go down in history being an apologist for this guy. Have fun telling your kids that when this administration is over. And I'll be happy to remind people.

— Jonah Goldberg (@JonahDispatch) May 25, 2020
His argument is we can disagree with one another politically, but still be civil.
And yet he was uncivil to Miss McEnany. Never Trump now. Never Trump tomorrow. Never Trump forever.
Ellis pointed his discrepancy out.
Your mind reading skills need work

— Jonah Goldberg (@JonahDispatch) May 25, 2020
Her mind-reading skills were merely going by what he said. And he did not answer her question because he maintains the facade of political disagreement with Brazile by being truthful. This is one lie he has chosen not to tell.
The answer to my headline question is Brazile was hired as a Ralph Wolf to be beaten by the Sam Sheepdogs. She is the new Alan Colmes or Pat Caddell, the opposing viewpoint that is easily defeated by the Sam Sheepdogs at Fox.
Over time, she has become a Sam and Goldberg is a Ralph, just like those Republican strategists at CNN and MSNBC are.
Upon the departure of Ailes following allegations of Matt Lauer-style impropriety, I wrote
, "Murdoch's kids will take the network over and turn it into another heaping, steaming, smelly, revolting pile of liberalism. I predicted this feces follies when the story broke two weeks ago. The heirs are itching for power."
Now they have it, plus $2 billion a year in revenues.
But I caution Fox. Ralph and Sam never were as popular as the Road Runner because once their audience knew it was all a game, the game was over.