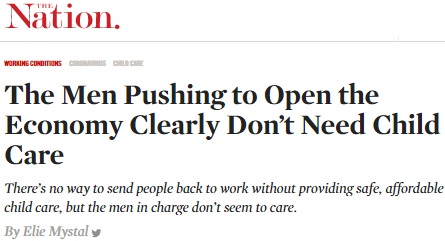 Elie Mystal of the Nation does not want to go back to work without "somebody to come take my children. A school bus. A babysitter. A freaking traveling circus. It doesn't really matter. My economy cannot reopen, life cannot return to normal for me, until fully functional child care comes back on line."
That is very telling.
He does not care who takes care of his children -- a freaking traveling circus will do -- just so long as it is not him.
Mystal also wrote
, "I live in the future and have subscriptions to approximately 18,000 streaming services."
So those are his priorities. He wants to stream entertainment and shove his kids off on a freaking traveling circus. Perhaps cutting back on streaming subscriptions would free up money to take care of his children.
Here is how affordable child care worked in the Surber household in the 1990s. I worked first shift, my wife worked second.
That is what the Child Care Fairy gives a parent, a partner. Not every mother has a handy-dandy father to help, likewise not every father has a mother to rely on. But for most people, that is how it works. For a brief period in the 20th century, most middle class women got to stay home with the kids.
His argument for the government to take her brood off his hands is undercut by the fact that the government already does that.
He wrote, most correctly, "For most families, there is no child care without school. In America, school is pretty much the only free or subsidized child care our government provides. Without reliable, affordable, and COVID-free child care, going back to work is simply not an option for many parents."
If the schools had to close for COVID-19, why would his imaginary child care not have the same problem?
But liberals never think things through. They also never let a crisis go to waste to push their pet projects.
He ended his piece, "I bet if we elected more women, the order of operations for reopening the economy wouldn't be so ass-backwards."
There is a thought. How would President Palin handle COVID-19?
I say we all chip in and find a freaking traveling circus to take his children off Mystal's hands.