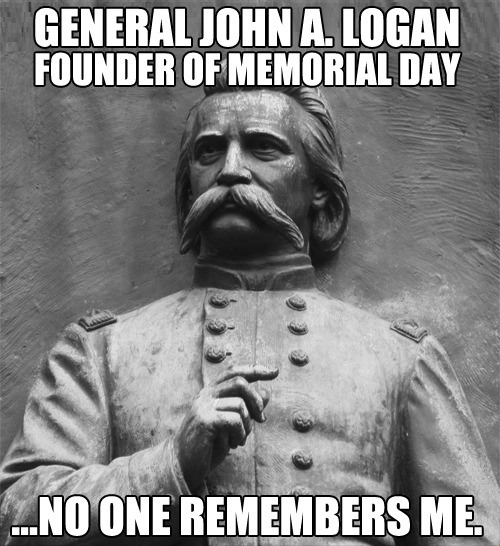 John Alexander Logan was born in Illinois on February 9, 1826. He fought in the Mexican War, and was a Union general in the Civil War.
After the war, General Logan became the second Commander-in-Chief of the Grand Army of the Republic, a veterans group akin to the Veterans of Foreign Wars. He championed Decoration Day, or as it became known, Memorial Day. It has survived him by 134 years.
ITEM 1
:
Just The News reported
, "President Trump says he is making inroads in taming Washington's permanent bureaucracy, which he likes to call the deep state.
"'What am I doing? I'm fighting the deep state,' Trump said in an exclusive interview with Full Measure with Sharyl Attkisson. 'I'm fighting the swamp…If it keeps going the way it's going, I have a chance to break the deep state. It's a vicious group of people. It's very bad for our country.'"
This is not a bureaucracy.
The deep state is a police state that lies to spy on the political opposition.
Obamacare was not the communism Obama brought to America. This was.
The transcript is here
.
ITEM 2
:
Axios reported
, "The president's son-in-law and top adviser has told confidants he wants to shrink the GOP's extensive platform of policy beliefs and principles down to a single card that fits in people's pockets. That's a huge change. The 2016 platform runs 58 pages — the product of extensive debate and heated negotiations.
"Jared Kushner told colleagues he wanted 'something like the 10 principles we believe in,' per two sources familiar with his comments. He asked the Trump campaign's Bill Stepien to find historical examples of Republican platforms that look more like a mission statement, per a source familiar with one of their meetings.
"Another source familiar with the discussions pointed to the GOP platform of 1856 as an example of a platform that is similarly short. The source used this example to argue that the idea of a one-page platform isn't so new or radical after all."
This is a great idea, reminiscent of the Contract With America.
The 1856 platform was to stop expanding slavery, to admit Kansas as a free state, to ban polygamy, to build a transcontinental railroad, and to improve the rivers and harbors.
All that happened. How much of that 58-page 2016 monstrosity has any hope of becoming reality?
ITEM 3
: The news media was outraged that the president golfed on Memorial Day weekend.
News One defended the president.
It said
, "A small s**t storm is stirring over the fact that President Obama chose to spend part of Memorial Day golfing. Yes, he did engage in the honorary practices typical of a president on this day in terms of laying a wreath on the Tomb of the Unknown Soldier. And then, in my humble opinion, the president spent it like everyone else — enjoying simple pleasures with family and friends. This makes President Barack Obama a human being, not the insensitive traitor that some people are making him out to be because he did not engage in deep mourning."
The date of the post was June 1, 2011.
ITEM 4
: The New York Times filled its Page One with the death notices of 1,000 people
the publication claimed died of covid-19
. (But
who believes the Times
?)
You would need 36,000 front pages to list all 36 million Americans who lost their jobs because of the pandemic panic.
Harsh?
— Andrew Malcolm (@AHMalcolm) May 24, 2020
You really have to screw up to tick off Andrew Malcolm. He's like the Geppetto of conservatism.
ITEM 5
:
The Daily Caller reported
, "Richard Grenell, the acting director of national intelligence, said Friday he is working on declassifying transcripts of phone calls between former national security adviser Michael Flynn and former Russian ambassador Sergey Kislyak.
"Grenell revealed his plans in an exchange on Twitter with Democratic California Rep. Eric Swalwell regarding a request Friday from House Intelligence Committee Chairman Adam Schiff for transcripts of the Flynn-Kislyak calls.
"Schiff, a Democrat, requested the call transcripts as well as records related to 39 so-called unmasking requests that Obama administration officials made for intelligence reports that mentioned Flynn. Grenell declassified that list earlier this month, and it was released on May 13."
As a public service,
I will link to countries with no extradition treaty with the USA
.
Vanuatu seems nice
.
ITEM 6
: Here, feel good about America.
Look what Charlie Daniels sent to General Flynn!!! Good people take care of one-another!! Beautiful gesture!! 🥰

pic.twitter.com/yNs04QgAzA

— Friends Of Trump UK🇬🇧& Commonwealth Affairs 🇺🇸 (@trump_friends) May 23, 2020
The devil is sooooooo jealous
.
ITEM 7
:
CNBC reported
, "The rise of artificial intelligence will make even software engineers less sought after.
"That's because artificial intelligence will soon write its own software, according to Jack Dorsey, the tech billionaire boss of Twitter and Square. And that's going to put some beginning-level software engineers in a tough spot.
"'We talk a lot about the self-driving trucks in and whatnot' when discussing how automation will replace jobs held by humans, Dorsey told former Democratic presidential hopeful Andrew Yang on an episode of the Yang Speaks podcast.
"But A.I. 'is even coming for programming' jobs, Dorsey said."
A.I. learns to code.
By the way, good luck, Twitter, with the ambulance chasing lawyers when your A.I. truck driver has a collision with a school bus.
ITEM 8
:
Andrew Korybko reported
, "Trump stands vindicated for accusing Biden of trying to cover up his son's corruption in Ukraine after one of that country's lawmakers released audio recordings of the former Vice President's numerous conversations with former President Poroshenko to that effect, proving that the real Ukrainegate scandal has been about the Democrat front-runner all along.
"Ukrainian lawmaker Andrei Derkach released audio recordings that he claims to have received from journalists which convincingly sound as though they're truly of former President Poroshenko's numerous conversations with former Vice President and current Democrat front-runner Biden.
"The content of their chats concerns the latter's efforts to pressure the then-Ukrainian leader to remove General Prosecutor Shokin, which Trump and many of his surrogates have claimed was undertaken in an attempt to cover up his son Hunter's corruption at the Burisma gas company where he was employed and which was the subject of an investigation by Shokin.
"The recordings are remarkably frank, with Poroshenko proudly pledging fealty to Biden and regularly updating him on the progress that he's made in keeping what he refers to as his "promises" to the former Vice President."
President Trump was the whistle blower.
Democrats impeached him.
ITEM 9
:
Agence France Presse reported
, Red "China said Sunday that relations with the United States were 'on the brink of a new Cold War,' fueled in part by tensions over the corona virus pandemic, as Muslims around the world celebrated a muted end to the holy month of Ramadan."
Brink of a cold war?
We are in one. And Chairman Xi is employing Osama bin Laden's playbook. Launch a sneak attack and if anyone cries foul, label them racist.
By the way, what was so bad about the Cold War? We won it.
ITEM 10
:
Just The News reported
, "Democrats are far more likely than Republicans to say they'd report neighbors for holding a social gathering in violation of corona virus stay-at-home orders, according to a new Just the News Daily Poll with Scott Rasmussen.
"'There is a huge partisan difference,' Rasmussen said. 'By a 44% to 31% margin, a plurality of Democrats would turn in their neighbors. By a 60% to 25% margin, Republicans would not. Independents are evenly divided. Other data I've released shows that a plurality of Republicans now believe the worst of the pandemic is behind us. Democrats strongly disagree.'"
It's true.
Democrats are the rat fink party. Karen has replaced the jackass as their symbol.
ITEM 11
:
The Associated Press reported
, "An alligator that many people believe once belonged to Adolf Hitler has died in the Moscow Zoo.
"The zoo said the alligator, named Saturn, was about 84 years old when he died on Friday.
"According to the zoo, Saturn was born in the United States and later sent to the Berlin Zoo, from which he escaped when the zoo was bombed in 1943. His whereabouts were unknown until 1946, when British soldiers found him and gave him to the Soviet Union, the zoo said."
That's another reason President Trump is not Hitler. He does not have an alligator.
ITEM 12
:
Daniel Horowitz reported
, "The CDC estimates the death rate from covid-19 for those under 50 is 1 in 5,000 for those with symptoms, which would be 1 in 6,725 overall, but again, almost all those who die have specific co-morbidities or underlying conditions. Those without them are more likely to die in a car accident. And schoolchildren, whose lives, mental health, and education we are destroying, are more likely to get struck by lightning."
Governor Cuomo immediately extended the lockdown until Big Pharma develops a vaccine for lightning.
ITEM 13
:
The New York Post reported
, "A roughly $21 million Brooklyn field hospital authorized by the de Blasio administration at the height of the corona virus pandemic opened and closed without ever seeing one patient, according to city officials.
"The Brooklyn Cruise Terminal in Red Hook was one of several sites across the five boroughs converted into a medical facility as a way to relieve the city's overburdened hospital system as the covid-19 crisis mounted.
"Mayor Bill de Blasio announced plans on March 31 — a day after the USNS Comfort hospital ship arrived in New York Harbor to aid in the corona virus fight — for the $20.8 million Red Hook field hospital with an estimated capacity for 750 beds.
"The field hospital was built by Texas-based construction company SLSCO."
My question for the Justice Department is who owns SLSCO?
UPDATE: A reader researched it and
found SLSCO is on the up-and-up
.
I should have researched. Sorry.
ITEM 14
:
Headline of the day
: "Bolivian orchestra stranded at 'haunted' German castle surrounded by wolves."
The New York Post has a reputation to uphold when it comes to headlines.
Once again, it met the challenge.
ITEM 15
: The governor of Ohio may be as popular as That Team Up North.
— GadsdenJazz (@GadsdenJazz) May 24, 2020
Hayes won the Republican primary for Greene County prosecutor in Xenia. Democrats have no candidate.
Locking down vast stretches of rural America for an urban disease should come with a penalty.
ITEM 16
:
Matthew Clark reported
, "The U.S. Senate approved legislation Wednesday that would require companies listed on stock exchanges to certify they aren't under the control of a foreign government.
"It specifically takes aim at companies based in China that could be working under the influence of the Communist government in Beijing.
"The news sent shares of Chinese e-commerce giant Alibaba Group Holding Ltd. tumbling Wednesday. Shares were down another 3% through afternoon trading Thursday.
"Lawmakers have expressed concern that American money is funding Chinese efforts to dominate fields from artificial intelligence to internet data collection."
Remember how Animal Farm ended with the pigs dining with the farmers?
Let's stop being those farmers.
Kick.
Them.
Out.