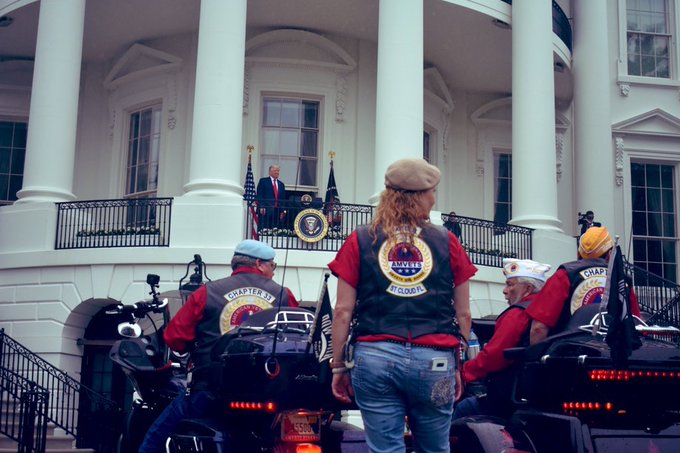 Donald John Trump is still our president.
ITEM 1
:
Judicial Watch announced
, "In a major development, Judicial Watch forced the declassification and release of an FBI memo or electronic communication (EC) that officially launched the counterintelligence investigation, termed"Crossfire Hurricane, of President Trump's 2016 presidential campaign."
The announcement said, "The redacted document details seemingly third hand information that the Russian government "had been seeking prominent members of the Donald Trump campaign in which to engage to prepare for potential post-election relations should Trump be elected U.S. President." The document also alleges Trump campaign adviser George Papadopoulos claimed to an unnamed party that 'they (the Russians) could assist the Trump campaign with the anonymous release of information during the campaign that would be damaging to Hillary Clinton.'"
The document is dated July 31, 2016.
You can read it here
.
This should be front page news in America. Sadly, Democrats control the press.
ITEM 2
: Earlier this week, a Taiwan company (TSMC) announced it would make semi-conductors in Arizona.
Democrats are livid because this helps Taiwan and America at the expense of Red China.
Semiconductor Engineering reported
, "Senator Patrick Leahy (D-Vt.), Senator Chuck Schumer (D-N.Y.) and Senator Jack Reed (D-R.I.) have sent a letter to officials from the Trump administration, demanding answers about TSMC's recent announcement to build a fabrication factory in Ariz. As reported, TSMC has announced its intention to build and operate an advanced semiconductor fab in the U.S. The fab, to be built in Arizona, will move into production in 2024.
"The senators believe that it's important to have a strong U.S. semiconductor industry, but they want to know if TSMC was offered incentives. They also contend that TSMC's proposed and one-time fab is inadequate in terms of rebuilding the technology base in the U.S."
When I said AOC was the soul of the soulless Democrat Party that was not hyperbole. Her success in blocking Amazon in New York City was just one of many attempts by Democrats to sabotage capitalism in America.
Think not?
Look at who runs most of the cities and states that refuse to re-open.
ITEM 3
:
MLive.com reported
, "Owners of a collapsed dam that caused major flooding in Michigan say they were pressured by the state to maintain elevated water levels on Wixom Lake behind it, despite concerns about the structure's ability to handle flooding. It is an accusation a state agency spokesperson calls misinformation.
"Boyce Hydro Power LLC owners accused Michigan regulators of being more concerned with preserving aquatic life and appeasing property owners than ensuring public safety in a statement following the catastrophic Edenville Dam collapse on Tuesday, May 19.
"The resulting flood has displaced about 10,000 people and focused national attention on Michigan as floodwaters inundated the Midland area. Federal energy regulators have ordered Boyce Hydro to conduct a third-party investigation.
"The dam's license to generate power was revoked in 2018.
"(Democrat) Michigan Gov. Gretchen Whitmer vowed the state will 'pursue every line of legal recourse' against those responsible for the calamity. On Thursday, she suggested that such critical infrastructure should not be in private hands."
Legal recourse? Is she going to sue or jail the regulators who did this?
Government ran Flint's water system. Its water still isn't safe.
ITEM 4
: His press spokeswoman said he was joking.
— Herschel Walker (@HerschelWalker) May 22, 2020
But Biden later apologized. Dang. We missed hearing Obama defend Biden with one of O's huffy this-is-not-who-we-are-as-Americans scoldings.
ITEM 5
: The Fabulous Thunderbirds need to rewrite their biggest hit to "Am I Black Enough?"
— Will Steakin (@wsteaks) May 22, 2020
Give the Trump Campaign props for their deftness.
ITEM 6
: Journalists learned nothing from 2016.
Biden's fortunate that he's overperforming with so many other groups -- seniors, suburbanites et al.

If it was 2016 again, this gaffe would matter. But even lackluster turnout with younger black voters probably won't be decisive like it was four years ago.

https://t.co/G1zYpzw7vf

— Josh Kraushaar (@HotlineJosh) May 22, 2020
Call him Joe Hare. He has Tortoise Trump by a country mile.
ITEM 7
:
BBC reported
, "Captain Tom Moore said he was overawed to find out he was being awarded a knighthood for his fundraising efforts.
"The war veteran raised more than £32 million for NHS charities by walking 100 laps of his garden before his 100th birthday in April.
"Captain Tom's initial reaction was 'this can't be true' when told about the honor."
"The centenarian received the special nomination from the prime minister."
He walked into history.
ITEM 8
:
KGO reported
, "Doctors at John Muir Medical Center in Walnut Creek say they have seen more deaths by suicide during this quarantine period than deaths from the covid-19 virus.
"The head of the trauma in the department believes mental health is suffering so much, it is time to end the shelter-in-place order.
"'Personally I think it's time,' said Dr. Mike deBoisblanc. 'I think, originally, this (the shelter-in-place order) was put in place to flatten the curve and to make sure hospitals have the resources to take care of covid patients.We have the current resources to do that and our other community health is suffering.'
"The numbers are unprecedented. He said, 'We've never seen numbers like this, in such a short period of time. I mean we've seen a year's worth of suicide attempts in the last four weeks."
California had 4,491 deaths by suicide in 2018 (
latest year I could find
). It has had 3,683 covid-19 deaths.
Add the extra cancer deaths because the states suspended early detection as non-essential, and you have one helluva mess.
ITEM 9
: On that note, there are 58,000 names on the Vietnam War memorial wall. But
the number of soldier deaths because of the boneheaded decision to enter Vietnam is double that because of suicides
.
Let us be more judicious with the use of our military.
ITEM 10
: Sarah Sanders has nothing on her.
— Maria Bartiromo (@MariaBartiromo) May 22, 2020
The WHCA is glad school is out for the Memorial Day weekend. The substitute teacher is tougher than Mrs. Sanders.
ITEM 11
: Hertz may be headed for bankruptcy court to seek protection from creditors.
— Don Surber (@donsurber) May 23, 2020
My late father-in-law worked his way up from parking cars to managing Hertz at Hopkins International Airport.
"Good Neighbor Sam" is an underappreciated classic.
ITEM 12
:
The New York Post reported
, "(Democrat) Mayor Bill de Blasio insists city businesses forced to close because of the corona virus outbreak are doing just fine and will be able to stay shuttered for months to come — despite a new report that found the Big Apple's private sector has shed one in four jobs.
"'I've talked to lots and lots of business leaders, especially the smallest businesses. They're very worried about their futures understandably, but they also are hanging on and they know it can be a matter of months until they'll be back in action,' de Blasio said on WNYC Friday.
"A caller named Cassius from Brooklyn urged Hizzoner to take a more surgical approach to the city's covid-19 response by finding a way to protect the elderly and health care workers while allowing businesses to reopen."
Cassius said, "We're on the precipice of destroying the whole city basically."
De Blasio said, "I couldn't disagree more with that core analysis. Rushing back is consistently proven to have the boomerang effect and make things worse and cause bigger shutdowns because it's not just about a small number of particularly vulnerable people."
The mayor has no clue.
And frankly, I don't care what happens to NYC. It elected and re-elected this Marxist Mayor. Let it go without dry cleaners, restaurants, and barber shops. They refused to shut down their subways or even disinfect the cars.
ITEM 13
:
The New York Post reported
, "President Trump announced Friday that all houses of worship would be considered essential services and urged governors to do the right thing and reopen them immediately — adding that he would override them if they didn't.
"'Today, I am identifying houses of worship, churches, synagogues, and mosques, as essential places that provide essential services,' Trump said in a sudden White House briefing.
"'Some governors have deemed liquor stores and abortion clinics as essential, but have left out churches and other houses of worship, it's not right. So I am correcting this injustice and calling houses of worship essential. I call upon governors to allow churches and places of worship to open right now,' the president said, adding that he'd overrule governors who don't comply."
In times of trouble, the nation has always turned to God.
This time it hasn't.
The president is leading our way to correcting that.
ITEM 14
:
The New York Post reported
, "A probe by the Department of Education into colleges that accept foreign investments and donations has uncovered $6 billion in previously unreported foreign donations from US adversaries including China and Russia.
"House Republicans were monitoring the investigation into the schools to determine if they were violating Section 117 of the Higher Education Act of 1965, which prohibits an Institution of Higher Learning from failing to properly report foreign gifts of $250,000 or more.
"In a letter from the department, general counsel Reed Rubinstein said that while some colleges recognized that foreign cash from US adversaries could pose a security risk, others had become addicted to the money."
$6 billion unreported?
This smacks of money laundering, and I wonder how much of the money went to buy Democrat congressmen and presidents.
Lori Loughlin went to prison for a half-million bribe.
At that half-million bribe rate, 12,000 administrators, professors, and bribers ought to be in prison. We are going to need a bigger Super-Max.
Oh, and now you know why Democrats were so adamantly opposed to Betsy DeVos heading the education bureaucracy. Their gravy train is being stopped.
ITEM 15
:
United Press International reported
, "FBI Director Christopher Wray on Friday ordered a review of the investigation into former national security adviser Michael Flynn, who pleaded guilty to lying to the FBI.
"Wray directed the bureau's Inspection Division to conduct an after-action review of its probe related to Russia's interference in the 2016 presidential election. The review will determine whether current employees engaged in misconduct and if any changes should be made to the FBI's protocols."
I liked the part where he said round up the usual suspects.
Ric Grenell, FBI director, has a nice ring to it.
ITEM 16
:
United Press International reported
, "The U.S. Military Academy announced plans Friday to ensure the safety of cadets at their June 13 graduation ceremony.
"The cancellation of the remainder of the semester was announced March 19, when cadets were ordered to return home instead of the West Point, N.Y., college and officer training school. They have not been back since.
"President Donald Trump has indicated he plans to attend the ceremony.
"There has been criticism over the demand that West Point's 1,000-member Class of 2020 return, citing travel complications relating to the covid-19 pandemic, the necessity of many returning cadets passing through viral hot spot New York City and the possibility that a large gathering of future Army officers could promote transfer of the virus."
The sound you just heard was the eyes of every veteran rolling.
They have more than 2 weeks to get there.
ITEM 17
:
Just The News reported
, "While former Vice President Joe Biden leads among registered voters nationally, President Trump holds a significant advantage in battleground states key to election victory, according to a CNN poll conducted by SSRS.
"51% of registered voters indicated that they are more likely to vote for Biden, while just 46% indicated that they would more likely vote for Trump.
"However among battleground state voters the tables turned — just 45% said they would favor casting their ballot for Biden while 52% indicated they would more likely choose Trump."
Four years ago, in May 2016, CNN reported
, "As Donald Trump captures the mantle of presumptive Republican nominee, a new poll finds he begins his general election campaign well behind Democratic front-runner Hillary Clinton.
"The new CNN/ORC Poll, completed ahead of Trump's victory last night, found Clinton leads 54% to 41%, a 13-point edge over the New York businessman, her largest lead since last July."
Which is more accurate, presidential polls or covid-19 predictions?