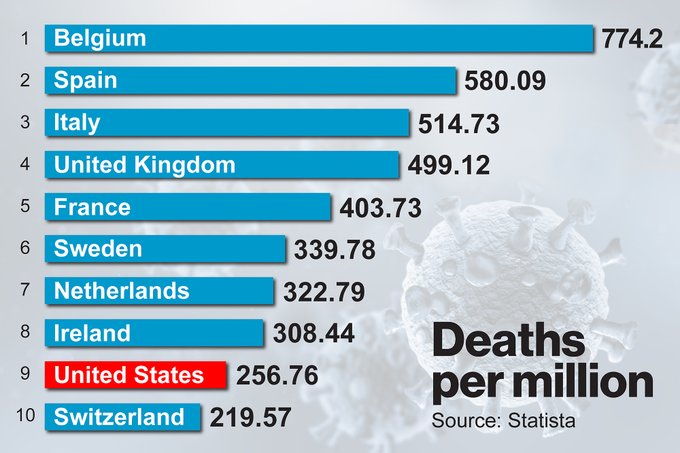 Donald John Trump is still our president.
ITEM 1
:
Taiwan Semiconductor Manufacturing Company announced
, "its intention to build and operate an advanced semiconductor factory in the United States with the mutual understanding and commitment to support from the U.S. federal government and the State of Arizona.
"This facility, which will be built in Arizona, will utilize TSMC's 5-nanometer technology for semiconductor wafer fabrication, have a 20,000 semiconductor wafer per month capacity, create over 1,600 high-tech professional jobs directly, and thousands of indirect jobs in the semiconductor ecosystem. Construction is planned to start in 2021 with production targeted to begin in 2024.
"TSMC's total spending on this project, including capital expenditure, will be approximately $12 billion from 2021 to 2029. This U.S. facility not only enables us to better support our customers and partners, it also gives us more opportunities to attract global talents. This project is of critical, strategic importance to a vibrant and competitive U.S. semiconductor ecosystem that enables leading U.S. companies to fabricate their cutting-edge semiconductor products within the United States and benefit from the proximity of a world-class semiconductor foundry and ecosystem."
$12 billion in an investment will do more good for the economy than $1.2 trillion in handouts (stimulus) from Washington.
ITEM 2
:
The FBI announced
, "A former Cleveland Clinic employee was arrested Wednesday without incident by law enforcement. Dr. Qing Wang is being charged with false claims and wire fraud related to more than $3.6 million in grant funding that Dr. Wang and his research group at the Cleveland Clinic Foundation received from the National Institutes of Health.
"Agents from the Federal Bureau of Investigation, along with the United States Department of Health and Human Services, Office of Inspector General, conducted law enforcement activity at Dr. Qing Wang's residence in Shaker Heights, Ohio. Dr. Wang was placed into custody at approximately 12:30 p.m."
Hmm.
U.S. Attorney Justin Herdman of the Northern District of Ohio reported, "As alleged in the complaint, this defendant misled the National Institutes of Health about support he received and research he conducted in [Red] China.
"Federal law enforcement remains vigilant to fraudulent claims for grant support from any researcher who fails to disclose support from foreign governments and competing research interests in other countries. We appreciate the cooperation of this defendant's former employer, the Cleveland Clinic, in the investigation and highlight the important partnerships between federal agencies, law enforcement, and the private sector demonstrated in this case."
So before Red China gave us covid-19 it put a researcher at Cleveland Clinic on its payroll.
I have noticed stories like this keep popping up.
ITEM 3
: Court Anderson reported Tony Fauci has headed the National Institute of Allergy and Infectious Diseases since 1984, nearly half his 79 years.
Anderson wrote
, "It would seem that he enjoys the freedoms and power the position affords him. Fauci has grown the NIAID budget from just under $320 million in 1984 to nearly $3 billion last year. He has done so in a methodical manner that consists of five steps:
Identify a disease or syndrome
Request funds to study the disease
Build labs to study the disease
Study the disease
Don't cure the disease, but create new drugs to treat it
"As the saying goes, there's no money in the cure, and Fauci is no dummy. He graduated at the top of his class in medical school at Cornell before interning at New York Hospital-Cornell Medical Center, then in 1968, he joined the NIH where he rose quickly through the ranks. He has worked under the NIH umbrella through 10 presidential administrations."
Fauci does not work for the government. He works for Big Pharma.
ITEM 4
:
Jay Greenberg reported
, "A Bill Gates-funded COVID-19 tracking program has been shut down by the U.S. Food and Drug Administration (FDA), according to reports. The Seattle-based initiative, Seattle Corona virus Assessment Network, or SCAN, has been ordered to halt its at-home corona virus testing scheme by the federal authorities.
"The FDA has ordered SCAN to stop screening for the virus, putting the program, that has been providing hundreds of home testing kits each day, on pause. As of Wednesday, all links to the project's website now redirect to a notice stating its operations are 'currently paused' due to a conflict with the FDA."
Gates has used his billions to gain a foothold in the medical community dealing with pandemics. Through his tax-exempt foundation,
he is the second-largest donor to WHO after the United States
.
Money is power. WHO sided with Red China. That Gates did not side with our country is telling.
The FDA fight is odd. Usually the bureaucracy rolls over and plays dead when it comes to the rights of citizens.
ITEM 5
:
The Political Insider reported
, "Fox News host Martha MacCallum asked Rand Paul on Tuesday, 'Do you think that it is right to let the American people know who decided to unmask General Flynn from those phone call transcripts?'"
Senator Paul replied, "Absolutely and I don't believe any of this could have happened without President Obama. I completely believe that not only did he know — and others have already said that he knew about the conversation, he knew about trying to go after General Flynn and that it was being directed from the White House.
"So I have every expectation that President Obama is in the middle of this. But I think it's worse. I think you go back to Operation Crossfire Hurricane, the whole fake dossier and all the stuff, all of the FISA warrants that were I think improperly and illegally gotten started on the Trump campaign, I really strongly believe that President Obama gave specific and direct oversight and direct permission for this."
The list of unmaskers would be damning to Obama if our nation still had a free press.
ITEM 6
: Gee, I wonder why people homeschool.
I didn't vote for Trump - and I'm not a Republican.

But political indoctrination in the classroom needs to stop.

This is from a school's "geography" lesson.

pic.twitter.com/1tMOacah1F

— Corey A. DeAngelis (@DeAngelisCorey) May 14, 2020
As a kid, I was told the Soviet schools indoctrinated kids with anti-capitalist propaganda.
Tell me again, who won the Cold War?
ITEM 7
:
The Associated Press reported
, "They carry high-powered rifles and wear tactical gear, but their Hawaiian shirts and leis are what stand out in the crowds that have formed at state capital buildings to protest covid-19 lockdown orders. The signature look for the boogaloo anti-government movement is designed to get attention.
"The loose movement, which uses an '80s movie sequel as a code word for a second civil war, is among the extremists using the armed protests against stay-at-home orders as a platform. Like other movements that once largely inhabited corners of the internet, it has seized on the social unrest and economic calamity caused by the pandemic to publicize its violent messages.
"In April, armed demonstrators passed out 'Liberty or Boogaloo' fliers at a statehouse protest in Concord, New Hampshire. A leader of the Three Percenters militia movement who organized a rally in Olympia, Washington, last month encouraged rally participants to wear Hawaiian shirts, according to the Anti-Defamation League. On Saturday, a demonstration in Raleigh, North Carolina, promoted by a Facebook group called Blue Igloo — a derivation of the term — led to a police investigation of a confrontation between an armed protester and a couple pushing a stroller.
"Another anti-lockdown rally is planned for Thursday at the state Capitol in Lansing, Michigan, site of an angry protest last month that included armed members of the Michigan Liberty Militia. Michigan Gov. Gretchen Whitmer, a Democrat, has been the target of violent threats on Facebook forums, including a private one called The Rhett E. Boogie Group.
"One user said Whitmer should be 'guillotined' after another suggested the governor should be hanged from a noose, according to a screenshot captured by the Tech Transparency Project research initiative.
"The corona virus pandemic has become a catalyst for the boogaloo movement because the stay-at-home orders have 'put a stressor on a lot of very unhappy people,' said J.J. MacNab, a fellow at George Washington University's Program on Extremism. MacNab said their rhetoric goes beyond discussions about fighting virus restrictions — which many protesters brand as tyranny — to talking about killing FBI agents or police officers to get the war going."
Compare and contrast to media coverage of Antifa.
ITEM 8
:
The New York Post reported
, "Voters concerned by the sexual assault allegations of his former Senate staffer, Tara Reade, should 'vote their heart,' Joe Biden said on MSNBC — and if they believe her, they shouldn't vote for him at all.
"'If they believe Tara Reade, they probably shouldn't vote for me,' the presumptive Democratic presidential nominee told host Lawrence O'Donnell.
"'I wouldn't vote for me if I believed Tara Reade,' he added.
"Biden continued to strongly deny Reade's account — that in 1993 he pinned her against a wall and sexually assaulted her."
That was a good way to deny it and get the conservative media to cover it. As Lee Iaccoca said, if you can find a better car, buy it. Sure, people mock Biden but the mockers were never going to vote for him anyway. This helps him reassure doubting supporters.
ITEM 9
:
CBS reported
, "A North Texas mother and father are celebrating a rare blessing, growing their family by four during the corona virus pandemic.
"Hudson, Harrison, Henry and Hardy were born at Texas Health Presbyterian Hospital Dallas on March 15, just one day before the mandatory stay-at-home and social distancing regulations began in Dallas County."
This is what happens when you cannot decide on a baby's name.
ITEM 10
:
Business & Politics Review reported
, "Questioned Thursday morning by a Democrat-friendly CNN reporter about the three unmasking requests he made in late 2016 and early 2017, former Director of National Intelligence James Clapper essentially pleaded the fifth by claiming someone else had made the requests on his behalf and alleging that he doesn't even remember why.
"His answers were difficult to believe."
Clapper is a spook.
Spooks lie.
In fact, that is their profession, They lie, a skill they share with many journalists.
ITEM 11
:
Breitbart News reported
, "Speaking Friday to Spectrum News's 1 SoCal podcast, Rep. Maxine Waters (D-CA) urged black Americans to 'keep your ass at home' to prevent the further spread of the Chinese corona virus."
Her full quote was, "Some people may be offended by what I'm about to say, but this is aunty Maxine and she keeps herself permission to say what's in her heart and I want black people, my people, to keep your ass at home, and don't be out on the street. Don't be socializing, because in the final analysis, you've got to take care of yourself. A lot of people out there don't care about you."
Fact-check: True. Socialists don't care about anyone but themselves.
ITEM 12
:
Rachel Uranga and Sam Blake reported
, "Studios, theaters, production companies and entertainment venues have laid off or furloughed more than 14,000 workers in Los Angeles County over less than two months, according to state filings. The April and May records reflect only a sliver of the job losses in the entertainment industry, but they provide a window into just how widespread the pain has been felt by workers from Disney to independent production studios and sports networks.
"One of the hardest hit employers, according to documents from the state's Economic Development Department, was the Los Angeles office of Fox Sports Productions, where 3,595 people were temporarily laid off at the end of April. The Labor Department reported Thursday national filings for unemployment claims totaled just shy of 3 million for the most recent reporting period, bringing the total to 36.5 million since the pandemic forced states into lockdown.
"At Paramount Pictures, a subsidiary of ViacomCBS, 638 people were furloughed in late April and early May.
"The long list also includes Sony Pictures and NBC Universal. Even one of Tinseltown's strongest unions, the 160,000-member Screen Actors Guild-American Federation of Television and Radio Arts, had to temporarily let go of 27 workers."
Even the union laid off workers.
Instead of doing PSA propaganda to stay home, celebrities should hit the streets and demand that California re-open.
Georgia re-opened. It passed Hollywood in film production 4 years ago. This should widen its lead.
ITEM 13
:
The Daily Mail reported
, "5% of New York City's population has fled since the corona virus pandemic gripped the city, new smartphone data reveals.
"From March 1 to May 1, about 420,000 residents of the Big Apple -- home to nearly 8.4 million people -- particularly from the wealthiest neighborhoods left, reported The New York Times.
"While there was relatively little change in some zip codes, others such as SoHo, the West Village, Morningside Heights, the Upper East Side, the Financial District, Midtown, Gramercy and Brooklyn Heights emptied by at least 40 percent.
"Meanwhile, Manhattan's overall population has fallen by almost 20% as the lockdown enters its third month."
The question is not will they return?
The question is why would they?
ITEM 14
:
News Busters reported
, "Sky News Australia definitely didn't pull any punches in its criticisms of CNN's nutty idea to put Greta Thunberg alongside health experts on a corona virus town hall Thursday night.
"Sky News Australia's The Bolt Report host Andrew Bolt took CNN to task along with guest commentators Gemma Tognini and Jenna Clarke, both of whom write for the newspaper The West Australian.
"Bolt began the segment: 'Greta Thunberg, right? She's just 17. She's most famous for NOT going to school. She's a priestess of the global warming movement, of course.' Bolt continued, with him and his guests barely able to contain their laughter at the humor of it all. 'But now it seems she's actually a guru of the corona virus — tragedy — whatever as well. CNN has put her on its panel tonight to discuss the corona virus crisis.'"
CNN is the world leader in being a journalistic joke.
ITEM 15
:
ABC reported
,"The Trump administration announced Friday that it is waiving several regulations in order to fast-track construction of nearly 70 miles of border barriers and roads in Webb and Zapata counties.
"The move marks a significant step in fulfilling Trump's election-year goal to have hundreds of miles of fencing or wall in place by the end of the year. The waiver allows the Department of Homeland Security to circumvent regulations mandated in the National Environmental Policy Act, the Federal Water Pollution Control Act and the National Historic Preservation Act, among others, according to text of the notice posted in the federal register Friday.
"The White House said in February its goal was to build 450 additional miles of barrier by the end of 2020. The 69 miles would be in addition to a 52-mile project also underway in Webb County, according to a Customs and Border Protection wall tracker...
"The 69-mile area of the proposed project begins in Webb County at the Columbia Solidarity Bridge and extends southeast to San Ygnacio in Zapata County."
We started construction of the first transcontinental railroad amid a civil war.
ITEM 16
: Covering the news is the last thing the media does.
Georgia has now been open for three weeks & cases, hospitalizations and deaths continue to decline. Why isn't Georgia the number one story in America? Simple: because the news is good.

pic.twitter.com/YmNRCrPuWu

— Clay Travis (@ClayTravis) May 15, 2020
Time to open the country.
FINALLY
:
Beethoven's 9th by the Cleveland Symphony conducted by George Szell

Also, Whipped Cream and Other Delights, Herb Alpert and the Tiajuana Brass

https://t.co/muVzFeqC5P

— Don Surber (@donsurber) May 16, 2020
Alpert is one reason the 20th century was better than this one.
Taste of Honey
.
Green Peppers
.
Tangerine
.
Bittersweet Samba
.
Lemon Tree
.
Whipped Cream
.
Love Potion No. 9
.
El Garbanzo
.
Ladyfingers
.
Butterball
.
Peanuts
.
Lollipops And Roses
.
If that doesn't make you happy, you don't want to be happy.