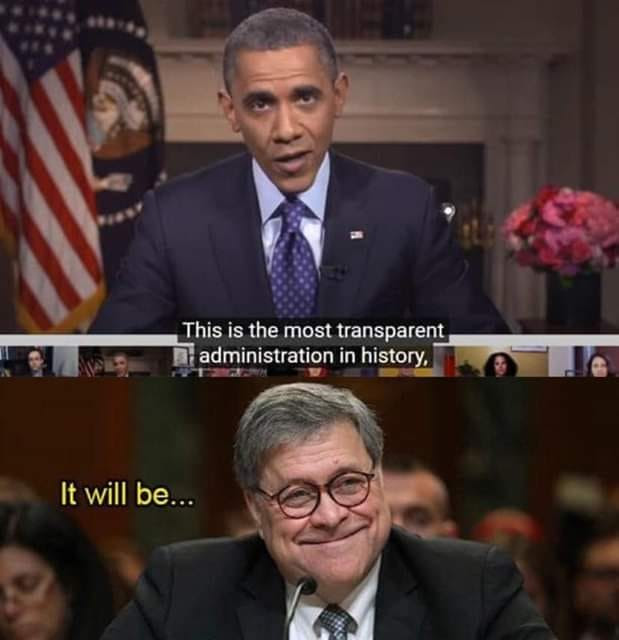 By unmasking the unmaskers, Ric Grenell is forcing Bill Barr to prosecute.
ITEM 1
:
Fox reported
, "Top Obama administration officials purportedly requested to unmask the identity of former national security adviser Michael Flynn during the presidential transition period, according to a list of names from that controversial process made public on Wednesday.
"The list was declassified in recent days by Acting Director of National Intelligence Richard Grenell and then sent to GOP Sens. Chuck Grassley and Ron Johnson, who made the documents public. The roster features top-ranking figures including then-Vice President Joe Biden -- a detail already being raised by the Trump campaign in the bare-knuckle 2020 presidential race where Biden is now the Democrats' presumptive nominee.
"The list also includes then-FBI Director James Comey, then-CIA Director John Brennan, then-Director of National Intelligence James Clapper, and Obama's then-chief of staff Denis McDonough."
Biden spied and then lied.
In so doing, he broke the law because such unmasking is reserved only for our top spies.
That Fox framed this Bigger Than Watergate story as "a detail already being raised by the Trump campaign" proves Fox is no more interested in the truth than a kangaroo is interested in baseball. Fox is Fake News with a smiley face.
ITEM 2
: Schiffless is exposed.
Newly released documents show Adam Schiff knew all along that there was no proof of Russia-Trump collusion.

https://t.co/Zb4r2CgeZk

— Kimberley Strassel (@KimStrassel) May 12, 2020
To be fair, we all knew Russiagate was Fake News.
The tell was Kremlin officials saying Donald John Trump hired hookers to pee in a bed the Obamas slept in. That is the kind of kinkiness one expects of spooks and Democrats.
You have to understand, Adam Schiff is head of House intelligence not to provide scrutiny of the intelligence community, but to protect it.
ITEM 3
:
Just The News reported
, "The Senate Homeland Security and Governmental Affairs Committee on Wednesday scheduled a vote for next week to issue a subpoena to a Democratic consulting firm that has emerged as a key figure in the probe of Hunter Biden's business activities in Ukraine.
"The move by Sen. Ron Johnson, R-Wisconsin, the committee's chairman, signals the panel's probe is escalating after months of interviews and gathering of documents, including Obama-era memos obtained from the National Archives.
"The focus of the probe is whether Vice President Joe Biden, who led Obama's policy on Ukraine, engaged in the appearance of a conflict of interest or took any actions to assist the Ukrainian natural gas firm Burisma Holdings while his son Hunter worked on its board and was paid more than $3 million to his U.S.-based firm."
I doubt the Senate will subpoena the coke-addled son. Too many politicians in Washington have equally wastrel adult children whom they protect. Markers will be called to stop this precedent.
ITEM 4
:
Just The News reported
, "U.S. District Judge Emmet Sullivan on Wednesday appointed a retired federal judge to argue against dropping the charges in the case of former National Security Advisor Michael Flynn. Sullivan also tasked the former federal judge with discussing if the retired lieutenant general deserves to face contempt for perjury.
"'The Court exercises its inherent authority to appoint The Honorable John Gleeson (Ret.) as amicus curiae to present arguments in opposition to the government's Motion to Dismiss,' Sullivan wrote in the order. 'It is further ORDERED that amicus curiae shall address whether the Court should issue an Order to Show Cause why Mr. Flynn should not be held in criminal contempt for perjury,' the judge also wrote.
"Sullivan appointed retired New York federal Judge John Gleeson just one day after revealing his intent to allow for the filing of amicus curiae briefs in Flynn's case, a move which meant that Flynn's case will not immediately conclude."
My prediction: DOJ will file petition for writ of mandamus and seek reassignment on remand.

— Margot Cleveland (@ProfMJCleveland) May 14, 2020
This is above my pay grade.
ITEM 5
: To be fair, she knows as much about covid-19 as anyone does.
CNN promoting teenage activist Greta Thunberg as an expert panelist for its next "Coronavirus: Facts and Fears" town hall.

— Josh Kraushaar (@HotlineJosh) May 13, 2020
Spike Lee was a panelist on covid-19 last week.
ITEM 6
:
The New York Post reported
, "A teen accused of being involved in the videotaped March attack on a 15-year-old girl who was robbed of her Air Jordans was shot dead in Brooklyn on Tuesday, law enforcement sources said.
"Tyquan Howard, 16, was shot about 1 p.m. in front of a building on St. Johns Place near Rochester Avenue and died hours later at Brookdale Hospital, police said.
"It's unclear what sparked the shooting and no arrests had been made as of early Wednesday, cops said."
Some call it karma.
I call it what happens when you elect a Democrat mayor.
Don't worry. The cause of death will be listed as covid-19. Gotta keep those numbers and the ensuing panic up.
ITEM 7
:
United Press International reported
, "Grocery prices in the United States increased by 2.6% in April -- with the largest spike, 16.1%, in the cost of eggs -- the Labor Department said in its monthly consumer price report.
"The report, released Tuesday, said food prices saw their largest one-month increase since February 1974 during the oil crisis.
"April's spike was led by higher costs for meat and eggs, which collectively saw a 4.3 percent increase. Breakfast cereal and baked goods saw a 2.9% increase, and fruits and vegetables inched up 1.5%, the report said.
"The greatest increase came for eggs, which have seen high demand as consumers stocked up on groceries at home during the corona virus pandemic. States' stay-at-home orders shuttered most dine-in restaurants and forced more Americans to eat at home."
Mass unemployment followed by inflation.
We panicked and became Venezuela.
ITEM 8
:
United Press International reported
, "The Senate on Wednesday passed an amendment providing increased protections for targets of Foreign Intelligence Surveillance Act warrants but failed to approve new restrictions on the federal government's ability to search Internet history.
"An amendment by Sens. Mike Lee, R-Utah, and Patrick Leahy, D-Vt., adding protections for the targets of surveillance warrants in FISA court passed by a vote of 79-11, while an amendment by Sens. Steve Daines, R-Mont., and Ron Wyden, D-Ore., that would prevent searches of browser and search history without a warrant fell short of the 60-vote threshold to pass with a vote of 59-37."
Just repeal the damned law.
The abuse by Obama -- including perjury by his henchmen -- renders FISA a threat to the nation bigger than al-Qaeda. They brought down the the Twin Towers. Obama almost brought down the presidency itself.
ITEM 9
:
The Milwaukee Journal Sentinel reported
, "The Wisconsin Supreme Court has struck down Gov. Tony Evers' order shutting down daily life to limit the spread of coronavirus — marking the first time a statewide order of its kind has been knocked down by a court of last resort.
"The state's highest court sided with Republican lawmakers Wednesday in a decision that curbed the power of Democratic Gov. Tony Evers' administration to act unilaterally during public health emergencies.
"The 4-3 decision was written by four of the court's conservatives — Chief Justice Patience Roggensack and Justices Rebecca Bradley, Daniel Kelly and Annette Ziegler.
"The court's fifth conservative, Brian Hagedorn, wrote a dissent joined by the court's two liberals, Ann Walsh Bradley and Rebecca Dallet.
"The ruling immediately lifts all restrictions on businesses and gatherings imposed by administration's order, and keeps in place the governor's order to close schools until fall. It comes after Evers had already begun lifting some restrictions because the spread of the virus has slowed for now."
This is why we bother having constitutions.
ITEM 10
:
The New York Post reported
, "California officials say they've reached a truce with Tesla over the company's efforts to restart its Bay Area factory in spite of the coronavirus crisis.
"Alameda County's Public Health Department agreed that Tesla can ramp up operations at its Fremont car plant this week and fully reopen as soon as Monday if it takes sufficient steps to protect workers from the virus, officials said late Tuesday.
"The announcement marked a detente in the tense dispute over the factory, where the electric-car maker restarted production Monday in defiance of a lockdown order aimed at controlling the corona virus."
He should still move to Texas.
ITEM 11
:
Breitbart News reported
, "Facebook is facing another censorship showdown in court, based on a suit brought by the owner of a censored viral news page set to appear before the Ninth Circuit Court of Appeals this June.
"The case is brought by Jason Fyk, who ran the viral page WTF News until it was shut down by Facebook in 2016. At the time of the page being removed, Fyk says it had 14 million fans on the platform.
"Much as in other Big Tech censorship cases, Facebook has argued in court that Section 230 of the Communications Decency Act allows it wide purview to censor its users as and when it sees fit. The U.S. District Court for Northern California previously accepted Facebook's arguments, which will now be reviewed by the Ninth Circuit Court of Appeals."
By censoring content, Facebook makes itself responsible for all uncensored content.
That is not a prudent thing to do.
ITEM 12
:
The Los Angeles Times reported
, "Federal agents seized a cellphone belonging to a prominent Republican senator on Wednesday night as part of the Justice Department's investigation into controversial stock trades he made as the novel corona virus first struck the U.S., a law enforcement official said.
"Sen. Richard Burr of North Carolina, the chairman of the Senate Intelligence Committee, turned over his phone to agents after they served a search warrant on the lawmaker at his residence in the Washington area, the official said, speaking on condition of anonymity to discuss a law enforcement action.
"The seizure represents a significant escalation in the investigation into whether Burr violated a law preventing members of Congress from trading on insider information they have gleaned from their official work.
"To obtain a search warrant, federal agents and prosecutors must persuade a judge they have probable cause to believe a crime has been committed. The law enforcement official said the Justice Department is examining Burr's communications with his broker."
There is a probable cause.
The intelligence committee was told of the depth of the covid-19 pandemic panic on the stock market. He bugged out of the market when it was at a record peak.
— Cernovich (@Cernovich) May 14, 2020
What's good for Martha Stewart is good for the gander.
ITEM 13
:
Bloomberg News reported
, "The Ninth Circuit refused to reconsider a February ruling that allowed the Trump administration to restrict taxpayer-funded family planning clinics from performing, promoting, or referring someone for an abortion.
"The U.S. Court of Appeals for the Ninth Circuit on Friday denied a request to review the 11-judge decision that tossed out lower court orders blocking the administration's so-called gag rule.
"The Department of Health and Human Services' rule, which kicked in March 4, requires family planning providers that receive federal funding under Title X of the Public Health Service Act to physically and financially separate their abortion services from other reproductive care."
Baby killers hardest hit.
ITEM 14
:
The Associated Press reported
, "State regulators on Wednesday suspended the license of a 77-year-old Michigan barber who insisted on cutting hair despite an order to stay closed during the corona virus pandemic.
"Karl Manke has pledged to keep his shop open 'until Jesus comes.' A judge declined the state's request to shut down his shop Monday without first holding a hearing. Regulators took a different path by suspending his barber license and his shop license.
"'It is paramount that we take action to protect the public and do our part to help save lives,"' Attorney General Dana Nessel said.
"Manke can ask for an immediate hearing with an administrative law judge at the Department of Licensing and Regulatory Affairs.
"'It's pure retribution. It's abuse of power: How dare you stand up to me?' said Manke's attorney, Dave Kallman."
Power corrupts. It rots the brain as well.
ITEM 15
:
The Department of Justice announced
, "A reality TV personality who stars in Love & Hip Hop: Atlanta, has been arrested on federal bank fraud charges arising from a Paycheck Protection Program (PPP) loan that he obtained in the name of Flame Trucking.
"Maurice Fayne, aka Arkansas Mo, 37, of Dacula, Georgia, was charged with bank fraud and made his initial appearance this afternoon before U.S. Magistrate Judge Justin S. Anand.
"'The defendant allegedly stole money meant to assist hard-hit employees and businesses during these difficult times, and instead greedily used the money to bankroll his lavish purchases of jewelry and other personal items,' said Assistant Attorney General Brian A. Benczkowski of the Justice Department's Criminal Division. 'The department will remain steadfast in our efforts to root out and prosecute frauds against the Paycheck Protection Program.'"
Who does he think he is?
Hunter Biden?
ITEM 16
:
The New York Post reported
, "New York City's health commissioner blew off an urgent NYPD request for 500,000 surgical masks as the coronavirus crisis mounted — telling a high-ranking police official that "I don't give two rats' asses about your cops," The Post has learned.
"Dr. Oxiris Barbot made the heartless remark during a brief phone conversation in late March with NYPD Chief of Department Terence Monahan, sources familiar with the matter said Wednesday.
"Monahan asked Barbot for 500,000 masks but she said she could only provide 50,000, the sources said.
"'I don't give two rats' asses about your cops,' Barbot said, according to sources. 'I need them for others.'"
She's a pediatrician. Her claim to fame is being the first Latina to serve as the city's health director. Instead of seeking firsts, how about appointing competent people?
I mean, who is going to enforce her draconian orders if not the cops?