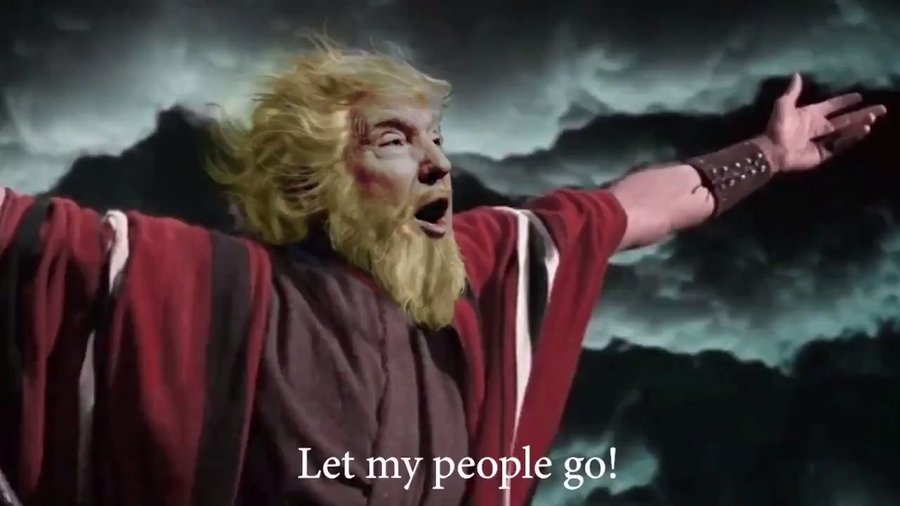 Donald John Trump is still our president. (Graphic
via Babylon Bee
.)
ITEM 1
:
WOIO reported
, "While the FDA said they appreciate industry's willingness to step up and make alcohol-based hand sanitizer to help meet the demand during the COVID-19 pandemic, they are asking manufacturers to make it taste worse.
"According to the FDA, more than 1,500 additional manufacturers have registered with the U.S. Food and Drug Administration to produce hand sanitizer during the pandemic.
"Simultaneously, the FDA said they are addressing safety concerns related to products being sold that do not comply with FDA policy, as well as others being marketed with unproven claims.
"The FDA said adding denaturants to the alcohol used in the hand sanitizer is needed to make the product more bitter, and therefore less appealing to ingest, especially for young children."
Now do Tide pods.
We live in a world of smart technology, and really, really dumb people.
ITEM 2
:
Fox News reported
, "Justice Samuel Alito this week ordered the Pennsylvania government to respond to arguments from a variety of Pennsylvanians asking the Supreme Court to halt enforcement of Gov. Tom Wolf's strict stay-at-home order, aimed at fighting the corona virus, because they say it is unconstitutional.
"The Pennsylvanians behind the suit – called petitioners in Supreme Court parlance – are arguing that their rights under the First, Fifth and 14th Amendments have been violated through Wolf's order. The petition lays out a variety of grounds on which it says the order is unconstitutional."
A republic, if you can keep it. OK, baby boomers, it's our turn to keep it.
ITEM 3
:
The Detroit News reported
, "The Michigan House approved a resolution Thursday that authorizes Speaker Lee Chatfield, R-Levering, to file a legal challenge against unilateral efforts Gov. Gretchen Whitmer has taken to prevent the spread of COVID-19.
"House members adopted the resolution in a voice vote as a feud continues in Lansing over Whitmer's emergency powers. The vote also happened as dozens of protesters, some of them armed, gathered outside the House chamber."
By unilateral, the newspaper means unconstitutional.
She is a tyrant who needs to be brought back to Earth.
ITEM 4
:
Newsweek reported
, "Dr. Fauci Backed Controversial Wuhan Lab with Millions of U.S. Dollars for Risky Corona Virus Research."
A wise criminal defense attorney once told me there is no such thing as a coincidence.
I misread Fauci.
Completely.
ITEM 5
:
CNBC reported
, "Big money donors are pressuring Joe Biden to not choose Sen. Elizabeth Warren as his running mate, even while the centrist former vice president tries to appeal to progressive voters.
"Biden and his team, according to people familiar with the matter, have heard from many donors in the business community about who they think would be best to be chosen as his vice presidential nominee.
"Those conversations have recently included attempts to push the campaign away from picking Warren and encouraging the choice of other candidates purportedly on his list, such as Sens. Kamala Harris and Amy Klobuchar, and Michigan Gov. Gretchen Whitmer. Many Biden contributors spoke on the condition of anonymity as these conversations, both with Biden and among his associates, were in private."
Whatever donors want, donors get. And little squaw, donors don't want you.
ITEM 6
: I figured how to get the COVID-19 numbers down.
"They're writing

#COVID

on all the death certificates. Whether they had a positive test, whether they didn't." - Michael Lanza Funeral Director, Colonial Funeral Home

pic.twitter.com/QqHWQGU6qe

— Project Veritas (@Project_Veritas) April 30, 2020
Stop giving them money for each COVID-19 death.
ITEM 7
:
News Break reported
, "A Central Florida gym owner is defying the state's plan for business openings and opening anyway, even though fitness clubs are not eligible to reopen yet."
I dunno if I would want to arrest someone who can bench press twice my weight.
ITEM 8
:
Law and Crime reported
, "The 'Bombshell' That Wasn't? Lawyers Say the FBI's Tactics in Michael Flynn Case Were 'Routine."
Really?
The story said, "The documents released Wednesday suggest the FBI — or at least the person who wrote the handwritten note most people are zeroing in on — was debating approaching Flynn with a several-pronged attack during a Jan. 24, 2017 interview: (1) to seek a prosecution on the merits of his contacts with Russian Ambassador Sergey Kislyak; (2) to catch him in a lie; and/or (3) to get him fired. Flynn had spoken with Kislyak after the 2016 election."
If trying to frame or entrap a political opponent is routine at the FBI -- get rid of it.
Nothing in the Constitution envisions a central government police agency.
ITEM 9
:
The Miami Hurricane reported
, "A University of Miami instructor was teaching a business analytics class over Zoom and sharing his screen when students spotted something unexpected– a pornographic bookmark tab describing college girls. Videos, photos and social media posts capturing the incident soon went viral, and the lecturer, John Peng Zhang, is no longer employed at UM.
"The chain of events began on March 26 when a student left his microphone on during a business analytics Zoom class. He noticed a bookmarked tab on the professor's screen that read 'Busty College girl fu…', and he pointed out the tab for the whole class to hear. With this, much of the class soon took notice, aside from the professor. Zhang continued teaching the class as normal, while the students quickly snapped photos and videos of the incident."
Busted.
ITEM 10
:
Newsmax reported
, "Controversially bold Georgia GOP Gov. Brian Kemp is lifting shelter in place orders for all but elderly and medically vulnerable residents at the stroke of midnight Thursday.
"He also extended the public health state of emergency through June 12 in his state and will keep businesses on strict social distancing and sanitation rules until May 13.
"But he announced, in a video posted on Twitter, he is signing an executive order to keep elderly and medically vulnerable to continue to shelter in place at least June 12."
What?
Quarantine the sick and allow the healthy to go back to business? That's crazy talk.
ITEM 11
:
Fox News reported
, "President Trump said Thursday he has seen evidence suggesting that the corona virus originated from a laboratory in China, while continuing his criticism of the World Health Organization's ties to Beijing, comparing the group to a public relations agency.
"Trump was speaking to reporters about protecting America's senior citizens when Fox News and others asked if he knew of anything that gave him confidence that the outbreak originated in the Wuhan Institute of Virology.
"'Yes, I have,' he said, without further explanation. 'And, I think that the World Health Organization should be ashamed of themselves because they're like the public relations agency for China.'
"He earlier speculated about whether China knew about the virus sooner than it has let on and withheld information about the outbreak."
Speculated?
It did.
ITEM 12
:
Breitbart News reported
, "Gov. Phil Murphy on Thursday visited President Donald Trump at the White House to thank him for helping the state of New Jersey during the fight against the corona virus.
"'I thank you for the enormous help in our darkest hour of need,' Murphy said to the president, as the pair met in the Oval Office and spoke to reporters.
"Murphy noted his state was crushed by the corona virus, with 6,770 fatalities, and thanked the president for providing ventilators, masks, personal protection gear, field hospitals, and testing sites to his state."
The attitude of the press is that the president should magically have everything any state would ever need at all times.
It was nice to have someone understand and appreciate the job President Trump is doing.
ITEM 13
:
NOQ Report reported
, "Several days of Michael Flynn bombshells yield ZERO coverage from leftist Drudge Report."
The story said, "The scandals surrounding the FBI's investigation of Flynn are exactly the type of content one would expect to see on Drudge. Even left-leaning websites like Politico and Vox are talking about it. The news is THAT big and the revelations are THAT damning to the Federal Bureau of Investigations. It's perfect fodder for Drudge… at least it would have been before the site became the progressive echo chamber it is today.
"There are alternatives, as we've often discussed on NOQ Report. Our favorites are The Liberty Daily, Citizen Free Press, WhatFinger, Rantingly, and 63Red, but there are others. We've looked at Bongino Report and Gab Trends in the past as well and both show promise despite being newer. There's simply no need for conservatives and Trump supporters to continue to visit Drudge Report. It's a leftist haven now.
"Whether Drudge has just evolved into a progressive or if he has always been one, it's clear his site is not what it used to be. Some have speculated he was bought out, blackmailed, or both by the Chinese Communist Party, George Soros, or someone else who has a problem with President Trump. Either way, his site is no longer conservative-friendly and based on the limited public interactions he's had over the past three years, neither is he."
He cashed in his chips with a non-disclosure agreement tacked on it.
The devil is the expert in temptation.
ITEM 14
:
Fox News reported
, "After testing the concept in 2018, Chick-fil-A is bringing meal prep kits to participating locations nationwide. The move comes after the chain's restaurants were forced to shut down their dining rooms due to the corona virus pandemic. With grocery stores also facing challenges due to panic-buying and social-distancing regulations, Chick-fil-A says the meals will also address challenges customers may be facing at dinner time."
No thanks.
I'll just donate some money to the Salvation Army. Fool me once, shame on you.
By the way, my Gillette Toxic Masculinity beard is doing fine. If you grew up in Cleveland in the 1960s,
you may understand the look I am going for
.
ITEM 15
:
Breitbart News reported
, "A 2008 column in the far-left magazine CounterPunch accusing Joe Biden of 'loutish sexual advances' in the U.S. Senate has become a lightning rod in the debate over Biden and his former staffer Tara Reade's allegation of sexual assault in 1993.
"The article, written by the late Alexander Cockburn, lamented then-presidential candidate Barack Obama's choice of Biden as a running mate in August 2008. Biden, in Cockburn's view, was an empty and worthless swamp creature, a D.C. insider chosen purely to improve Obama's electoral odds who would ultimately stifle any progressive agenda for the candidate of Hope and Change.
"Yet just five paragraphs in, Cockburn made an aside about Biden's character that accused him of harassing women who worked in the Senate, even while he was supposedly grieving over his wife's death."
Democrats know as Republicans do. The entire swamp knows. Now you know too.
ITEM 16
:
Medscape reported
, "One of five physicians in front-line treatment roles has prescribed hydroxychloroquine for COVID-19, according to a new survey from health care market research company InCrowd.
"The most common treatments were acetaminophen, prescribed to 82% of patients, antibiotics (41%), and bronchodilators (40%), InCrowd said after surveying 203 primary care physicians, pediatricians, and emergency medicine or critical care physicians who are treating at least 20 patients with flulike symptoms.
"On April 24, the Food and Drug Administration warned against the use of hydroxychloroquine or chloroquine outside of hospitals and clinical trials.
"The InCrowd survey, which took place April 14-15 and is the fourth in a series investigating COVID-19's impact on physicians, showed that access to testing was up to 82% in mid-April, compared with 67% in March and 20% in late February. The April respondents also were twice as likely (59% vs. 24% in March) to say that their facilities were prepared to treat patients, InCrowd reported."
It's the game changer that President Trump said it might be.
The swamp does not like it because they want the game to continue forever.
ITEM 17
:
The College Fix reported
, "Since the Department of Education began cracking down on the failure to report riches from abroad, colleges across the country have become much more meticulous in their disclosure of assets from foreign funding, with some digging up records dating back to 2013.
"A D.C.-based nonprofit has found that U.S. schools previously failed to report $1 billion, based on its comparison of the new disclosures with last year's, now revealed to be massively incomplete."
Betsy DeVos is draining the other swamps.
ITEM 18
: Democrat governor vs. Republican governors.
California did everything right, shutting down the state before it needed to. Deaths per 100,000: 5.

Florida and Texas did everything wrong, acting too late, leaving beaches open. Deaths per 100,000: Florida: 6, Texas: 3.

— Patrick Ruffini (@PatrickRuffini) April 30, 2020