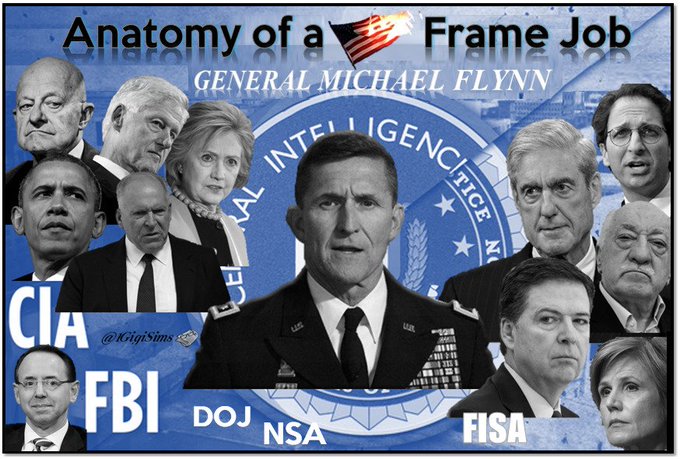 Obama and his posse of henchman from his thug administration framed an innocent man -- Lieutenant General Michael Flynn -- in the hope of flipping him to incriminate President Donald John Trump. To get justice and make himself whole again, General Flynn and his lawyer, Sidney Powell, need to use an old liberal trick called sue and settle.
Ballotpedia's definition is
, "Sue and settle (sometimes hyphenated as sue-and-settle) is a term used to describe cases in which a federal agency is sued by an interested party, declines to defend itself in court, and negotiates a settlement with the plaintiff in a non-adversarial process. Through sue and settle, outside groups sue an agency in order to reach a settlement on terms favorable to the regulatory goals of both. These settlements may require the agency to issue a rule on a particular subject or within a certain timeline.
"Sue and settle practices have frequently occurred in response to environmental lawsuits involving the Environmental Protection Agency (EPA) and the U.S. Fish and Wildlife Service (FWS). Scott Pruitt, former EPA administrator under President Donald Trump (R), issued a directive in October 2017 that ended the practice of sue and settle at the EPA."
Flynn and Powell can sue for, oh, $100 million and President Trump could agree to an out-of-court settlement of $10 million. He can claim to save taxpayers $90 million while General Flynn sails away with $7 million after paying a contingency fee to Powell.
I prefer this method to being awarded money by Congress or the president because this approach also would expose to the greater public the sue and settle trick liberal lobbyists when they have a liberal in the White House.
Plus the wattle quivering indignation by the pinheads on the left would be laugh-aloud fun. Purple rage would engulf them. Heck, we might get another impeachment out of the deal. Fake conservatives like Mittens Romney can fret and wring their hands about setting a dangerous precedent. The hypocrisy from liberals like him entertains me now.
Make no mistake, what happened to General Flynn was not funny. It was a national travesty. Shame on all those who defend this persecution and abuse of power.
Judicial Watch said
, "We commend the heroic work of General Flynn's legal team, led by Sidney Powell, which exposed the criminal conduct by FBI and DOJ officials behind Flynn's illicit prosecution. This corruption, as we have exposed from the get-go, is the tip of the iceberg. The required next step for justice is the prosecution of the coup cabal who tried to destroy General Flynn and overthrow our president."
The gormless New York Times said, "'Never Seen Anything Like This': Experts Question Dropping of Flynn Prosecution. Abandoning the case is the latest step in a pattern of dismantling the work of the Russia investigators. A former prosecutor likened it to eating the department from the inside out."
The conspiracy theories promoted by the Times are almost worthy of the defunct Weekly World News. (I miss
Bat Boy
, don't you?)
Obama and his henchmen (and women) are upset.
Yahoo reported,
Obama said in a web talk with members of the Obama Alumni Association
, "The news over the last 24 hours I think has been somewhat downplayed — about the Justice Department dropping charges against Michael Flynn.
"And the fact that there is no precedent that anybody can find for someone who has been charged with perjury just getting off scot-free. That's the kind of stuff where you begin to get worried that basic — not just institutional norms — but our basic understanding of rule of law is at risk. And when you start moving in those directions, it can accelerate pretty quickly as we've seen in other places."
Translation: Obama and company are in deep doo-doo.
The story said, "The Flynn case was invoked by Obama as a principal reason that his former administration officials needed to make sure former Vice President Joe Biden wins the November election against President Trump."
They need Biden to stop any prosecution of Obama and company for perjury and othjer high crimes and misdemeanors.
A sue and settle lawsuit might send Obama off the deep end. That would be almost as good as an indictment.