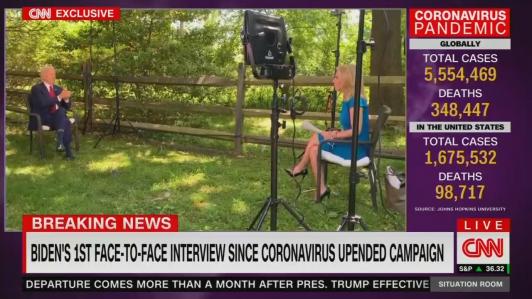 News Busters reported
, "Loyal Lackey: CNN's Bash Goes Soft on Biden, Helps Push Conspiracies."
What struck me was the graphic used to illustrate the report. The interviewer was a good 10 feet from Biden.
As the illegal Democrat lockdown on America recedes, Biden is crawling out of his hole.
He looks ridiculous.
He is wearing a mask that looks like someone took a black magic marker to his photos.
— DeAnna Lorraine 🇺🇸 (@DeAnna4Congress) May 27, 2020
One criterion for being elected president is to look healthy.
Biden does not.
Monica Showalter wrote
, "Joe Biden made his big comeback Monday, emerging after two months of covid-19 isolation from his Delaware mansion basement. Wearing his covid mask with matching dark glasses, he came out to lay a wreath for Memorial Day.
"It wasn't a pretty picture. His appearance was more like 'the thing that came from the crypt.' He looked frail, unwell, unfit, and certainly not happy to be there. The glasses in particular looked unnecessary under the circumstances, and coupled with a sepulchral black mask, made him look like that guy who was shrinking and morphing into an insect, saying 'help me' in the old movie 'The Fly.'
"The simple task of laying a Memorial Day wreath raised questions about the state of his health. Biden showed a halting walk and appeared confused about where to deposit his wife when he approached his limo."
I get that the campaign has to take him out for a walk now and then.
But dang, he is worse than Hillary when she was drunk on 9/11.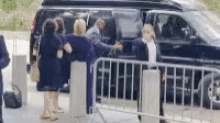 Brit Hume mocked the Masked Man.
Hume said
, "He is with his wife, with whom he's been quarantined for, what, 10 weeks? Something like that. Nine weeks? He's not a covid carrier. So the idea you're wearing a mask to protect someone else doesn't seem to apply here, especially the fact that [he] is outdoors, where there's very little empirical data indicating that the virus spreads very easily outdoors."
Evidently, Biden's staff believes wearing a mask is presidential.
After all, Chairman Xi wears one.
Biden said, "The president's supposed to lead by example. I watched the president yesterday wearing no mask – and some making fun of the fact that I wore a mask. The truth of the matter that I think you're supposed to lead by example."
President Trump is leading. He is leading us out of our homes and into the sunlight.
Biden? He has no clue as to where he is or where he is going.
But his campaign thinks covid-19 is his ticket to the White House