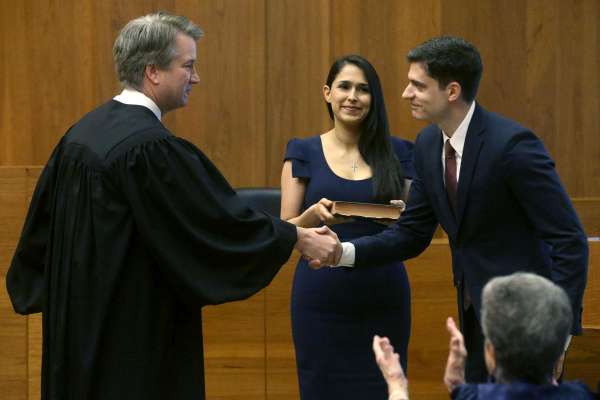 As you read this post, ask yourself this: would you give up a seat on the Supreme Court for justice?
I wouldn't.
I could rationalize the decision all the livelong day. Yes, I screwed the country on this, but only to serve justice on all those Supreme Court decisions. I call this principled cowardice.
But this is a question John Bash will have to answer for himself.
Just the News reported
, "Attorney General William Barr has asked a federal attorney from Texas to review the practice of unmasking during the 2016 presidential election.
"The attorney, John Bash, is a U.S. attorney for the Western District of Texas.
"The probe was announced Wednesday night by Justice Department spokeswoman Kerri Kupec on Fox News."
No excitement without an indictment, and John Durham is slow-walking the prosecution of the perjurers in the Department of Justice who framed General Michael Flynn and who tried to frame President Donald John Trump.
Barr came in heralded by conservatives (including me) but he has done jack.
I figure Bash is a safe choice.
That is not to bash Bash. The man's resume is impeccable: Harvard, Harvard Law, an editor of the Harvard Law Review, and he clerked for two Supreme Court justices: Antonin Scalia and Brett Kavanaugh (before he was a justice). As an assistant solicitor general, he argued 10 cases before the Supreme Court.
This screams that the wheels are greased for high office. This man has impressed not just President Trump but his predecessor.
[UPDATE: I do not mean an immediate Supreme Court appointment. But certainly he could be on that track.]
Why would he risk all that by trying to indict Susan Rice or any of Obama's other lackeys? Why poke the hornet's nest? Even if he somehow got a DC jury to indict, and another one to convict, how would this help his career?
He just busted the FBI and everyone in DC not named Donald Trump fears the FBI.
Bash is an earnest young man with a great future ahead of him. This is a favor for Barr and the rest of the swamp. It will be repaid.
Lower your expectations and you will never be disappointed again.
Bash's job is to get past November 3 when we see who the president will be for the four years after that.