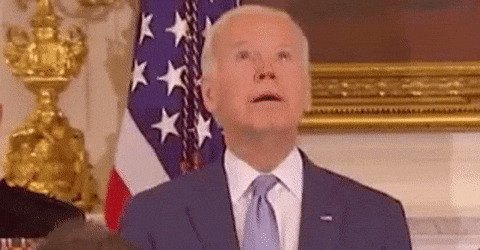 Democrats are an odd lot. The people most upset that Joe Biden is white are white Democrats.
Pew Research asked a bunch of Democrats if it bothered them that Biden is old and white.
70% of black Democrats and 72% of Hispanic Democrats said no.
49% of the white Democrats said yes, they are bothered by his age and race.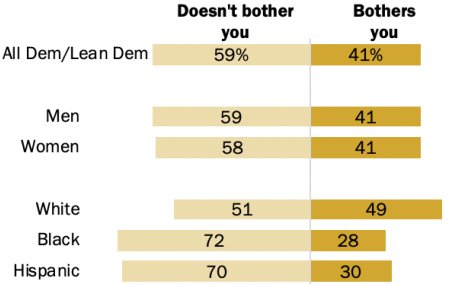 Of course, this is just virtue signaling. White people are at the bottom of the Democrat totem poll now, especially men. It is hip to be racist -- against whites.
And for all their blubbering about Biden's color, that does not keep them from voting for him.
The story ended
, "Democratic registered voters who are bothered the likely nominee is an older white man are slightly more likely than those who are not bothered by it to say they would vote for Biden in the November general election contest against Trump (89% vs. 83%). And they are especially likely to have a negative evaluation of the president: Nearly all in this group (97%) say they disapprove of the way Trump is handling his job in office, including nine-in-ten who strongly disapprove. Among Democratic voters who are not bothered the presumptive nominee is an older white man, 85% disapprove, including 72% who do so strongly."
Brad Polumbo saw it differently.
He wrote in the Washington Examiner
, "What a sad worldview. Liberals and Democrats rightfully care about the history of racial injustice in this country, but they increasingly seem to have abandoned the goal of racial equality and a colorblind society in favor of a winner-take-all, regressive, and tokenistic approach to racial diversity.
"So, too, there's something deeply paternalistic and likely offensive about white Democrats tut-tutting about the need for racial diversity, while most actual minority Democrat voters don't seem to care about the nominee's race.
"After all, Biden is only the nominee because of black voters and the way they lifted his campaign, starting with the South Carolina primary. They have overwhelmingly backed him, a white male, since nearly day one of the campaign. But apparently white, well-educated Democrats think they know what's best for minorities better than those silly, actual black Americans, or something."
It is all about power.
Democrats were the party of the klan until they saw the opportunity of embracing black voters and importing Hispanics. The immigration reform of 1965 began our nosedive into open borders. At the same time, the Voting Rights Act of 1965 guaranteed a quota of black congressmen, slots Democrats filled mainly with socialists.
What should bother Democrat voters is not Biden's age or color, but his dementia.