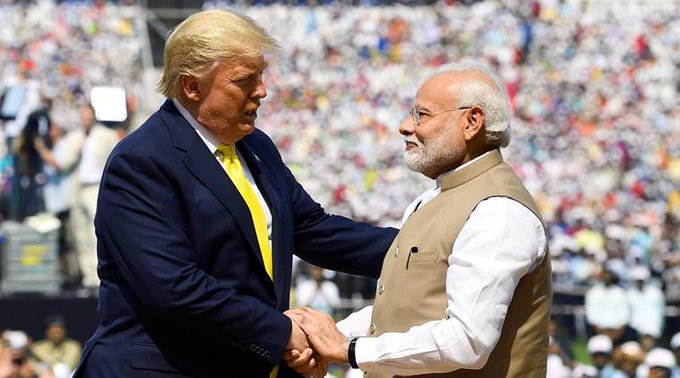 President Donald John Trump wanted antimalarial drugs. Indian Prime Minister Modi wanted access to the U.S. drug market.
They cut a deal. A big deal.
May time for India to get relaxation in FDA restrictions, the while malaria medicine can land big for Indian Pharma, the stocks up by 10% today

pic.twitter.com/Hmuy85HaHS

— घर में रहेगी बसंती 🇮🇳🇮🇳🇮🇳 (@Basanti4India) April 7, 2020
This was not without some drama. Hey, it involves Donald Trump.
On Saturday, Modi banned exporting the antimalarial drugs because his nation might need them. Good move. India First.
At Monday's COVID-19 briefing, a reporter asked, "Are you worried about retaliation to your decision to ban export of medical goods, like Indian Prime Minister Modi's decision to not export hydroxychloroquine to the United States and other countries?"
The president replied, "I don't like that decision, if that's — I don't — I didn't hear that that was his decision. I know that he stopped it for other countries. I spoke to him yesterday. We had a very good talk. And we'll see whether or not that is. I would be surprised if he would, you know, because India does very well with the United States. For many years, they've been taking advantage of the United States on trade So I would be surprised if that were his decision. He'd have to tell me that.
"I spoke to him Sunday morning. I called him. And I said, We'd appreciate your allowing our supply to come out. If he doesn't allow it to come out, that would be okay, but, of course, there may be retaliation. Why wouldn't there be?"
Tough talk.
And of course Indians howled about retaliation.
But within 24 hours, they cut a deal because that is how business operates.
USA want

#hydroxycholorquine

urgently from India

@SunPharma_Live

INDIA Gov. in return asked

1. Unrestricted Access to USA market for it's pharmaceutical comp.

2. Lift all bans and close all warning letter incl. 483 to Indian Pharma.

3. FDA will not harss to Indian Pharma.

— Ashutosh Mishra (@ashu199019) April 7, 2020
Indians are happy. President Trump did not mess around quibbling.
Opening our pharmaceutical market to India raises a big question: aren't we just swapping our dependency on drugs from Red China to India?
The shift away from Red China is a good move. And I doubt India will be foolish enough to include fentanyl in its shipments.
And we shall see if American manufacturers will re-open factories here once we cut Red China off.
Oh, and we will do that. Never again, baby. Red China is going to pay.
With an apparent cure in hand and spring arriving, the time has come to open the nation for business. Waffle House can lead the way, just as it does after hurricanes.
Maybe the FDA will approve chloroquine for treatment of COVID-19 before the presidential election.
In 2024.