— CBS News (@CBSNews) April 4, 2020
Many readers believe President Donald John Trump is being bamboozled by Dr. Fauci and others. They argue that COVID-19 is not serious enough to warrant the wall-to-wall panic in this country.
I understand full well their concerns.
One reader wrote, "I applaud you for your robust defense of Donald Trump. It is partly due to your efforts I recognized the lies of the Russia Collusion hoax and I came to appreciate Trump for his abilities, despite his flaws.
"However, on Coronagate, Trump is being bamboozled and his window for correcting his errors is shrinking. If the lies about the Corona virus are not made public, if the economy is not opened up and people encouraged to live normal lives, then the American experiment is over. The technocrats will have accomplished their coup and the Trump presidency will be over.
"For why bother having Trump as president if he is going to let a bunch WHO Communists and Bill Gates Globalists dictate US domestic policy?
"You should not be praising Trump when he is a willing participant in the oppression being placed on the American people."
This is a very big problem. Let me explain how this works out.
I found this at TheDonald.win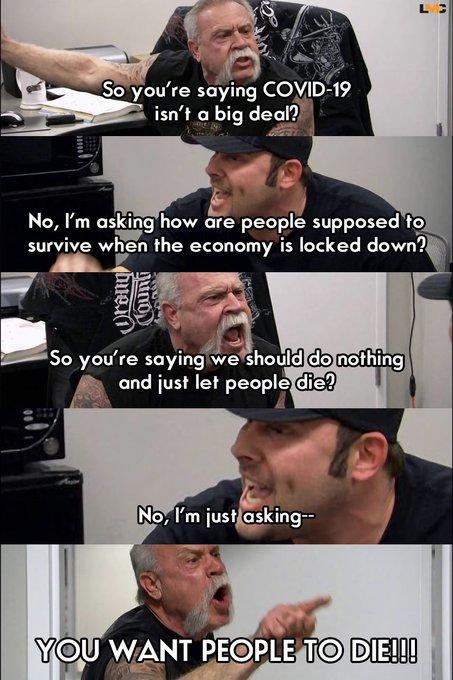 The headline was "The absolute state of the Internet."
Which reminds me of the story about the time the warden took some nuts from the mental hospital to the ballpark. These nuts were happy to be out, and they were very obedient. When the warden said, "Sit, nuts," they sat. When the National Anthem played, he said, "Stand, nuts," and they stood.
Everything was going fine until a vendor came along and shouted, "Peanuts! Peanuts!"
My point is the nation right now is a bunch of Paul Teutuls screaming at Paul Junior. How do you lead people who are nuts?
President Trump finds he must act nuts but remain sober. He switched from a very sane policy of taking COVID-19 seriously but not letting the fear run our lives. That failed because in America too many people suffer TDS.
He adapted. He changed tactics. He got ahead of the pack by agreeing to the panic and then tried to steer the Pauul Teutuls toward sanity. OK, he said, we will go through this until Easter.
That was pushed back to April 30.
The Democrat plan is to delay re-opening America until we elect a Democrat president. It is extortion.
But the president cannot act until enough people say to heck with this, I want to go back to work. They are the horses you can lead to water but you cannot make drink. Being right about chloroquine helps build public confidence.
Paul Mirengoff -- a Never Trumper -- wrote
, "Even with the U.S. in lockdown, it might take the us many months to beat the virus back, with no reason to be confident that there won't be a second wave once we go back to work. It will probably be more than a year until a vaccine is ready for general use. In the meantime, our best hope might reside in keeping hospitals adequately supplied and in the development of treatments to minimize deaths among the infected.
"If we are largely helpless in preventing the spread of this virus, that's an argument for reopening the economy sooner rather than later. The more helpless we are on the epidemiological side, the fewer lives we can save through restrictive measures. We are less helpless, I hope, on the economic side."
Once we realize we cannot stop it with a lockdown, we will go back to work.
Mirerngoff offers hope.
President Trump offers hope and a plan.
Does Trump really trust Fauci or is he just using him to set impossible expectations Trump can easily beat.

— Bill Mitchell (@mitchellvii) April 6, 2020