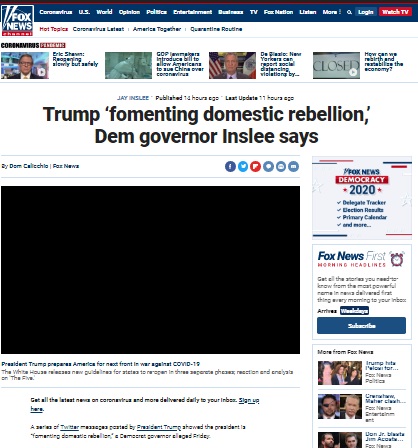 Democrat governors and mayors are going nuts with power. The pandemic panic has them turning into King George IIIs. He had an excuse. He was mentally ill.
For some reason, parks and beaches are closed across the nation but subways aren't. I fail to see how being 60 feet away from anyone on the shore is a public health threat, but being jammed in a rapid transit car is perfectly OK.
In San Clemente, California, skateboarding is now a crime.
CBS reported
, "California is not messing around when it comes to social distancing to prevent the spread of corona virus during this pandemic. After skaters ignored the no trespassing signs on a popular skatepark in San Clemente, extreme measures were taken to prevent people from going to the spot. To be certain no one would go there to hang out or skate, the park was filled with sand -- a whopping 37 tons of it, according to CBS Los Angeles.
"All parks in California have been shut down since April 1, but some people took the ruling more seriously than others. According to the San Clemente Times, city officials say they noticed many people of all ages going in and out of the park that they should not be there.
"Getting the idea from other cities, they decided to fill the park with sand, so now it's more of a sandbox than a skatepark."
We went from a government of the people to a government against the people, comrade.
In New York City, Mayor Bill de Blasio is bringing in the Stasi to stop people from being outside.
— Mayor Bill de Blasio (@NYCMayor) April 18, 2020
But the subways remain open.
Hospitals stopped performing non-emergency procedures to make room for COVID-19 patients, who never arrived. COVID-19 led to layoffs of hospital staffs, nurses, and doctors. Our trusted public health officials turned out to be Chicken Littles. Now we all will meet Foxy Loxy.
The idiocy is global. In Britain, Brendan O'Neill wrote, "The lockdown is killing people, too. The culture of fear around COVID-19 is seriously harming people's health."
He wrote
, "Anyone who raises questions about the lockdown is instantly condemned as anti-old-people and even as pro-death. They are told that they don't care about the elderly and the vulnerable and are shamefully engaging in a trade-off between those people's lives and the economy. Let's leave to one side the fact that the massive hit the economy is going to take as a result of the lockdown and the corona virus crisis more broadly – in the form of an unprecedented 35 per cent shrinkage, according to the Office for Budget Responsibility – will harm health and life expectancy, too. The more pressing issue is that right now the lockdown is hurting people. So the supposedly virtuous pro-lockdown lobby is implicitly making a trade-off too – between lives at risk from COVID-19 and lives at risk from the lockdown. They have decided, it seems, that the latter are not very important.
"There is no easy solution to this problem. But it strikes me that there is one thing we can do right now to try to make things better: be honest about the lockdown and its impact on work, livelihoods and life itself, and initiate a serious, open debate about whether the lockdown is the right approach and – with apologies to Ms Dorries – when it will end."
Mayors and governors are power mad right now.
People are becoming restless. President Donald John Trump is helpless to do anything because this is a local matter.
Fox News reported
, "A series of Twitter messages posted by President Trump showed the president is 'fomenting domestic rebellion,' a Democrat governor alleged Friday.
"Washington state Gov. Jay Inslee leveled the charge in a statement that also accused the president of encouraging 'illegal and dangerous acts,' Q13 FOX of Seattle reported.
"Inslee's accusations came on the same day that others -- such as New York Gov. Andrew Cuomo and U.S. Sen. Angus King of Maine -- raised the temperature of their rhetoric against the president and his administration as much of the nation remained under stay-at-home orders resulting from the corona virus outbreak.
"The attacks also came one day after the president unveiled guidelines titled Opening Up America Again, a series of steps for reopening and reviving the U.S. economy."
They are loco.
The media, which comes and goes as it pleases, have the backs of these madmen.
Mary McCord of the Washington Post wrote, "Trump's 'LIBERATE MICHIGAN!' tweets incite insurrection. That's illegal."
She should make a citizen's arrest of the president.
Power corrupts. It also leads to madness.