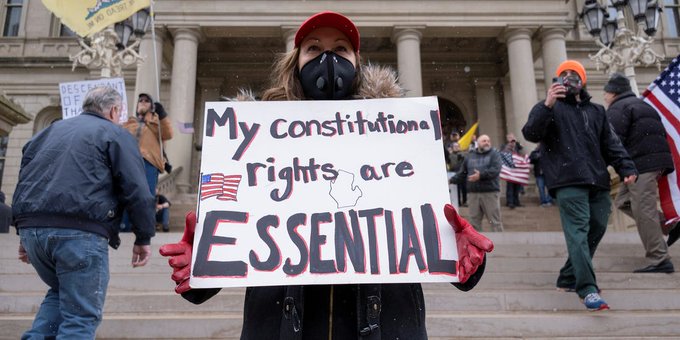 11 months ago,
National Review said
, "Trump's insistence to the contrary notwithstanding, most of the cost of tariffs is paid by American consumers (through higher prices), not by the countries being sanctioned. For instance, it is estimated that the president's latest round of tariffs on China will cost the American family an average of at least $767."
$767 a year.
For a little over $2 a day, you could walk outside. Stores would be stocked with toilet paper. Murderers would be in prison. Diehl's would still be closed but only because it is a Monday. It would have been open on Sunday.
The price of saving the editors and staff at National Review a couple of bucks a day is enormous.
Easily $10 trillion dollars. That's the equivalent of 10 million millionaires losing everything they own.
The writer of the National Review piece was Michael Tanner, a senior fellow at the Cato Institute. He wrote the Inclusive Economy: How to Bring Wealth to America's Poor.
The policies of one-way trade with Red China turned President Donald John Trump's 3.5% record-low unemployment into a Hooverian 35% in less than 30 days.
Tanner wrote about bringing wealth to the poor. His policies brought poverty to the middle class.
In blasting President Trump's call for sanity, Tanner wrote, "Studies show that the lower your income is, the harder you'll be hit by tariffs. Tariffs imposed by Trump last year have already cost poor families 0.33% of after-tax income, as opposed to 0.28% for wealthy families, and hurt single parents even more than they hurt families."
Oh no! This will cut their after tax income by 33 cents for every $100. That's a nickel more than the rich will pay. To the guillotines!
The after tax price paid for adoption Tanner's policies is $33 per $100.
OK, that's a figure I made up. But if one-third of American workers lose their jobs, then one-third of the wages in America are gone. Poof.
All because we opened our country to Red China. Businesses moved their factories to Red China to escape the very labor and environmental laws many of those CEOs championed.
Fake conservatives cynically labeled this hollowing of the American economy free markets. They lectured us on how it works.
But here is how it works, we give Red China $3 trillion over 8 years, and they give us CIOVID-19.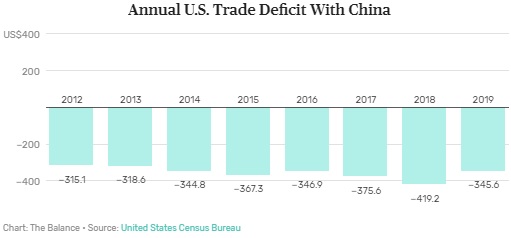 Tanner wrote, "If that wasn't bad enough, there is little doubt that an extended trade war with China will damage the broader American economy. Some economists estimate that Trump's tariffs on Chinese goods and China's retaliatory tariffs on American goods will cost the U.S. economy $62 billion in lost output. One research group, Oxford Economists, fears that if the trade war expands and tariffs on both sides are extended to the full range of traded goods, it could reduce U.S. GDP by more than 2%, and even push the U.S. economy into a recession. The Trade Partnership, an industry group, warns that anywhere from 900,000 to 2 million jobs could be at risk if the trade war drags on, roughly eight jobs lost for every job saved. Very few of those lost jobs are held by 'elites.'"
Shutting down trade with Red China would cost us 2 million jobs.
Trading with the communists just cost us 35 million jobs.
We could have paid $767 a year for 20 years and had an economy.
Instead, we went on the cheap and lost everything.
Liberals and fake conservatives sold us out. I had better stop this post now before I get angry. Never write in anger.
And never trust National Review.